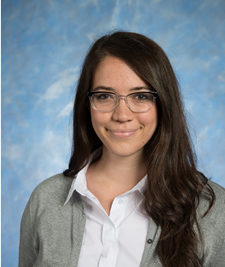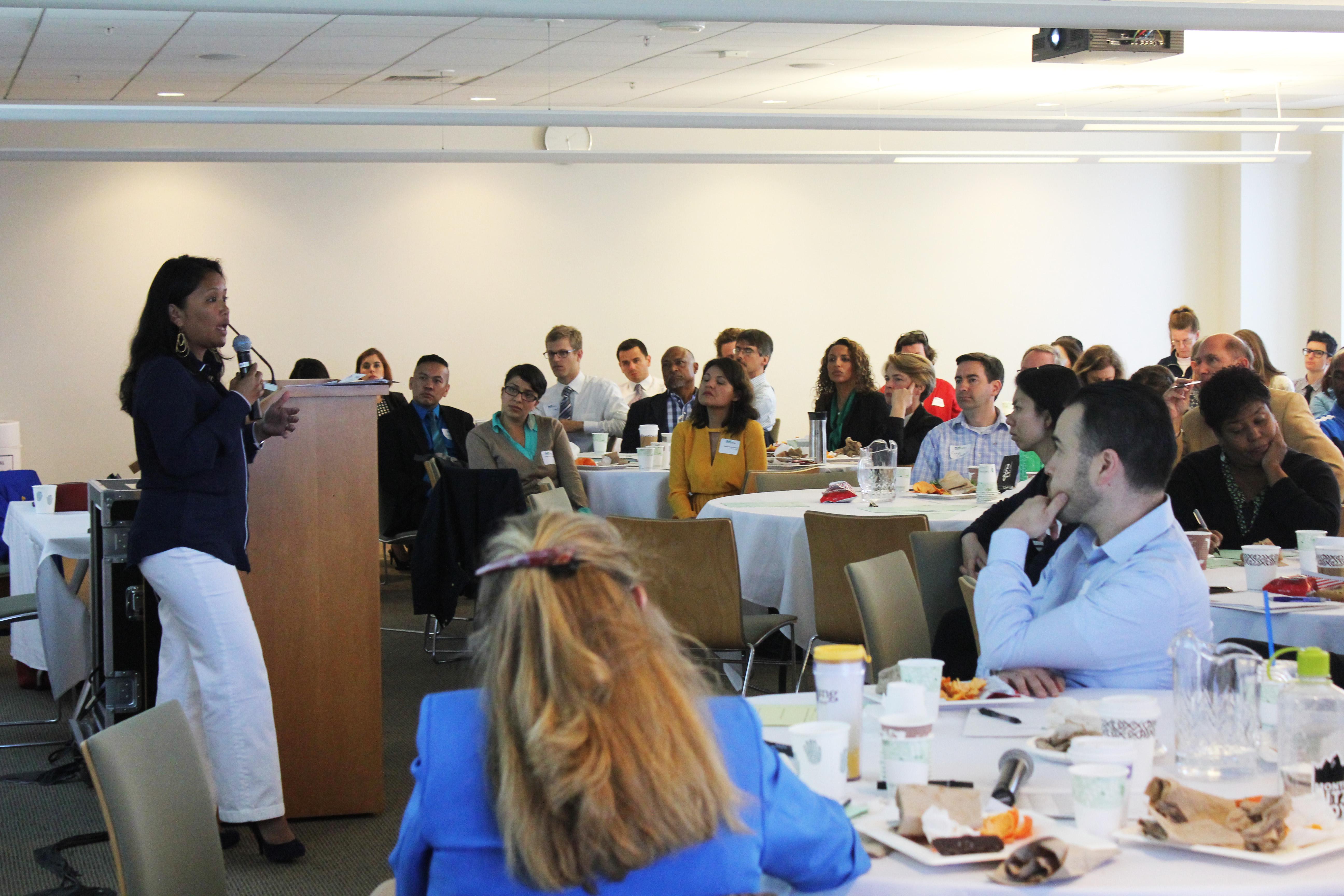 Alejandra's passion lies at the intersection of education and social policy. Her current work for the Oakland Unified School District reflects her interests as she examines the dilemma of assessing opportunity and increasing awareness around school facilities.
Alejandra is a first year Masters of Public Polity student at Berkeley's Goldman School of Public Policy. Before entering into graduate school she served as a college readiness advisor through AmeriCorps VISTA in the San Antonio Independent School District.
No matter the context, school facilities departments across the country face a common dilemma: on the one hand, the quality of school facilities play an important role in the education of all students; yet on the other hand, facilities issues are somewhat technical, arcane, and not readily accessed by individuals beyond those whom are trained in facilities minutia.
Questions of how to merge the interests of the parent and school district community with those of school facilities are especially salient in light of California's changing landscape of education accountability. In joining the PLUS team supporting the Facilities Department of the Oakland Unified School District (OUSD), I have taken on the role of assessing opportunities within this new accountability context to communicate the importance of facilities and to increase awareness and devotion to facilities on behalf of parents and the school district alike.
My efforts to explore opportunities for community outreach exposed me to exciting developments in accountability within the district. In particular, I attended two sessions of Parent Advisory Committee (PAC) meetings, where elected parent representatives representing each voting region of Oakland give input into the school district's Local Control and Accountability Plan.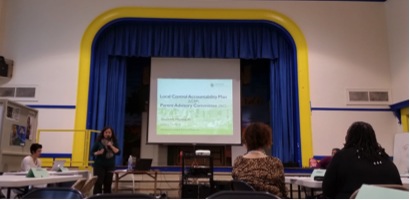 Raquel Jimenez, Coordinator at OUSD's Student, Family, and Community Engagement Office introduces the topics for the LCAP Parent Advisory Committee Session.
During these meetings, my inner education policy nerd was thrilled to observe parents and stakeholders work through contentious issues in education and develop rules of governance around them. This was my first time truly witnessing the intersection of policy development with local community organizing. I walked out of the meetings excited about the PAC as an avenue by which to communicate with parents and work together toward incorporating the voice of facilities into local accountability priorities.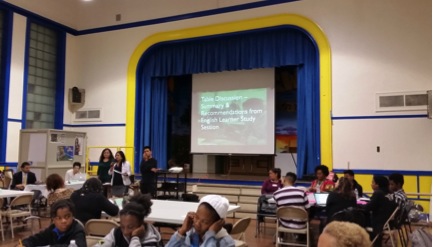 Parents review findings from an English Language Learner Study session. The OUSD LCAP requires ELL Parent representation within PAC governance.
Yet as I delved further into the project, it has come to my attention that much more is needed to bridge the gap between students' day-to-day interface with school facilities and actual advocacy around school repair, maintenance, and operations. While an increased emphasis on parent and stakeholder involvement in local accountability is a step in the right direction, this project has demonstrated the important role that explicit data and policy development plays in ensuring that proper attention is paid to facilities.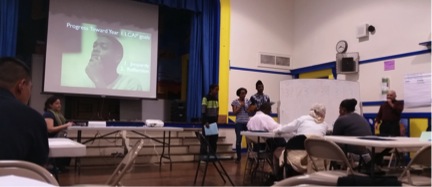 Student PAC representatives facilitate a session of Jeopardy to foster leaning around the OUSD school report card. Oakland is currently the only district in California that formally incorporates student leadership into the PAC, a development spurred by student advocates in Californians for Justice.
In the wake of California's gaping facilities funding deficit, it still begs the question: how do we galvanize the community around the issue of facilities? This is where communications and advocacy comes in: educating and mobilize audiences around the importance of pushing for good repair is critical! It is my hope and ambition that our PLUS team's project will help in this effort and I am certain that I will carry my lessons forward in the future.
Photos: Alejandra Barrio
Want to find out more about the PLUS Fellows Program? Click here!
---
Sari is currently working with Oakland Unified School District to increase the manner and effectiveness in which school repair is communicated with stakeholders. Her hope is that through her impact, more attention will be paid to the importance and necessity of good school facilities. Sari is a first year Masters of Public Policy student at the Goldman School of Public Policy. She previously worked as an analyst at the Massachusetts Department of Labor Standards on occupational health data and has spent time working to integrate sustainable agriculture into public school curricula. Effective communication is the all-encompassing tool that has the potential to mobilize a wide range…
---
Max's interests in health equity and public policy led him to pursue a PLUS Fellowship working with the Oakland Unified School District. Max Gara is a Master of Public Health student emphasizing in Health and Social Behavior. Before coming back to school, Maxwell worked for Oakland Unified School District and Cowlitz County Health Department focusing on environmental health issues. John Oliver has a knack for transforming obscure, arcane policy conversations into biting, populist calls to action. He recently turned his attention to the declining investment in maintaining and operating our national infrastructure and its consequences: Our…
---
On February 11, 2015, California's Assembly Education Committee held a hearing on the future of the state role in K-12 public school facilities funding. Currently, this future is somewhat up in the air: there currently is no money indentified and Gov. Brown has said he is strongly opposed to going the traditional route of statewide general obligation bonds because it adds to the state's debt burden. However, the CBIA and CASH have joined forces to get a statewide ballot initiative going and there are two bills (Lui; Holden) in the legislature this session on the topic. Here at CC+S we've done alot of research…
---
[This is an initial reflection by me - Jeff Vincent, PhD, Deputy Director, Center for Cities + Schools - on the news yesterday that there will not be any new funding for K-12 school facilities in California in the near future] Yesterday, Governor Brown officially said "no" to a 2014 school construction and modernization bond to go before the voters in November. Despite the efforts of lead authors Asm Joan Buchanan and Asm Curt Hagman - and many other stakeholders around the state - California school districts will continue to go without facility funding from the state. Our last state…