A NEW UC BERKELEY CENTER FOR CITIES+SCHOOLS STUDY FINDS THAT MORE THAN HALF OF CALIFORNIA'S K-12 SCHOOL DISTRICTS UNDERSPEND ON THEIR FACILITIES, COMPARED TO BEST PRACTICE SPENDING STANDARDS. THIS IS A GUEST BLOG REFLECTING ON THE RESEARCH FINDINGS AND IMPLICATIONS FOR CALIFORNIA STATE POLICY.
The new study from UC Berkeley's Center for Cities and Schools on school facilities spending patterns in California hits home in my school district, San Juan Unified School district (SJUSD). In the study, "Going it Alone: Can California's K-12 School Districts adequately and Equitably Fund School Facilities?", Jeff Vincent and Liz Jain document school district efforts across California to address their facilities maintenance and building renewal needs. Not too surprisingly, the gap between what is being spent on facilities and what the capital needs are is actually quite disparate.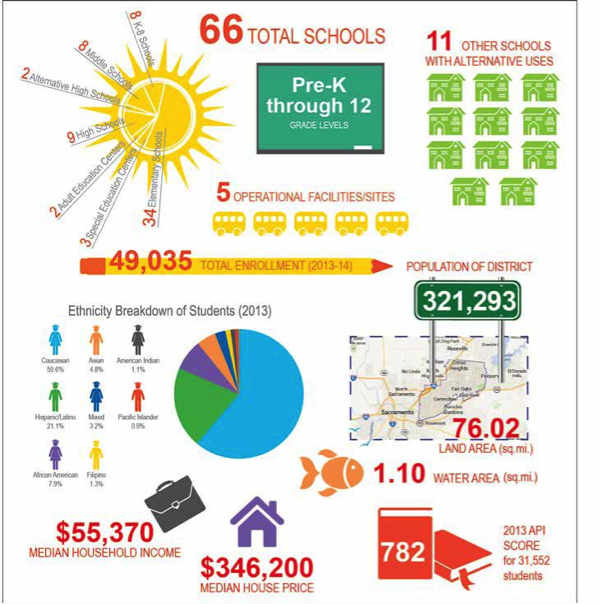 In the SJUSD alone, we have extraordinary facility need according to the recently completed facility master plan. The combined cost for the Master Plan Improvement Projects (MPIP) and the Facilities Conditions Improvement Plan (FCIP) is a staggering $2.4 billion. This involves upgrades to all 66 schools across the district. Of particular interest, as it relates to Vincent & Jain's study, is that the identified maintenance and repair costs alone are estimated to be $140,000,000.
With an annual deferred maintenance budget of less than $5,000,000, it could conceivably take 28 years to meet the maintenance needs of the district. And that would only happen as long as no other buildings in the district aged and assuming there is no escalation in cost over those 28 years (not likely to happen!). Thanks to the good voters of the SJUSD, the district has experienced some success in the passage of local bonds that boost the districts efforts at capital improvements.
The school facility annual spending standards presented by Vincent and Jain are a common sense approach to facility budgeting guidelines. We should be using these as rules of thumb to gauge our needs, both within individual districts and across the state. Vincent and Jain also lay out sound policy recommendations for California to achieve adequacy and equity in our school buildings.
To stabilize the facility needs of school districts, state funding is paramount – especially for those districts that have low assessed valuation. Statewide equity in funding should be forefront in any new standard. It's up to us at the local level to plan well to best use those funds, but financing school construction and repair has to be a partnership.
Brett A. Mitchell, MaEd, EdD Candidate, is Director of Facilities Construction and Modernization, San Juan Unified School District. All views here are his own.