A NEW UC BERKELEY CENTER FOR CITIES+SCHOOLS STUDY FINDS THAT MORE THAN HALF OF CALIFORNIA'S K-12 SCHOOL DISTRICTS UNDERSPEND ON THEIR FACILITIES, COMPARED TO BEST PRACTICE SPENDING STANDARDS. THIS IS PART OF A SERIES OF BLOG POSTS ON OUR RESEARCH FINDINGS AND THEIR IMPLICATIONS FOR STATE POLICY.
UC Berkeley Center for Cities and Schools' recent study, "Going it Alone: Can California's K-12 School Districts adequately and Equitably Fund School Facilities?" benchmarks school maintenance and operations (M & O) and capital spending to building industry best practice standards for the first time ever in California. Doing so gives us a far better picture of the needs across the state for adequate school facilities for our children and our public responsibility to ensure it. In the study, Jeff Vincent and Liz Jain compare what has been spent to what should be spent. The gap between these two is what we need to focus on – providing high quality public education for all public school students in our state.
Prior to the 2008 Great Recession, the standard in California for school facility maintenance spending was 3% of the school district's General Fund dollars. This was a requirement if a district participated in the State's School Facilities Program. The vast majority of school districts did participate, so this requirement served as a standard. While this standard was well-intended, it was not linked to actual facilities needs – it was simply a percentage of the budget many thought should be devoted to maintenance and operations. This spending requirement was "flexed" by the legislature during the Great Recession as school districts were presented with the dilemma of keeping their doors open verses needed repairs and maintenance of school buildings. In 2015-16, the flexibility provisions expired. However, budget language continues to allow some flexibility through 2020. There is no capital spending standard in California.
"Going It Alone" provides great guidance, by introducing a long-standing industry standard to the school facilities research and policy discussion in California: a minimum of 2.5-3% of a building's current replacement value (CRV) should be spent every year maintaining and operating that building, and 1.5-2% of the CRV should be spent on major repair, alterations and replacement of building systems to sustain the useful life of the campus. While not a new way to plan for and deploy dollars for commercial buildings, it is a new way of looking at our school building spending needs.
The spending standards presented in Going it Alone give California school districts the opportunity to plan their M&O and capital spending to quantifiable benchmarks that will help set priorities, and inform the state, school boards and communities about the long-term cost of underinvesting. It also helps state lawmakers better gauge the magnitude of school facility needs statewide (in the absence of detailed facility conditions assessments).
To understand the cost associated with underinvesting, the graphic below clearly illustrates the service life of a building with and without proper maintenance. Without normal maintenance investment, buildings hit catastrophic failure quickly. Adequate maintenance greatly extends the life of these school building assets. That is, if we take care of our buildings, they will last longer (and be more healthy, safe, and functional to boot).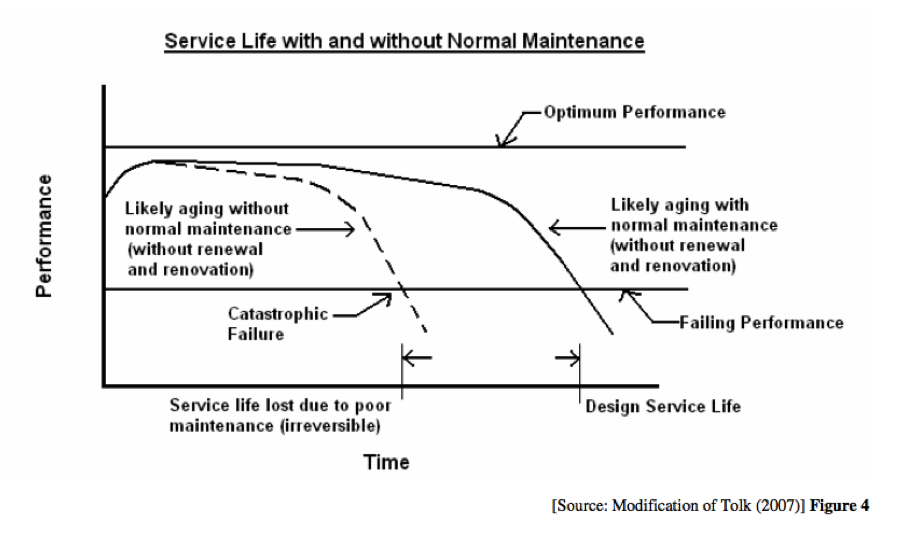 Graphic Source: Bello and Loftness. (2010). Addressing Inadequate Investment in School Facility Maintenance. Carnegie Mellon University.
But the most important point for me of Berkeley's Going it Alone study is that many – if not all – school districts, county offices and charter schools cannot go it alone, and the State of California has a moral (and probably also a legal) responsibility to help local districts, particularly those with low tax wealth, to provide and maintain school facilities that are safe, healthy, sustainable, and educationally appropriate for the 21st century.
Kathleen Moore served as the director of California Department of Education's School Facilities and Transportation Services division from 2004-2014. Before that she managed construction and renovation of 49 schools in Elk Grove Unified School District. All views here are her own.