Center for Cities and Schools, Enterprise Community Partners, Mile High Connects, National Housing Conference, and the Natural Resources Defense Council
In many parts of the country it is difficult for families, particularly low- or moderate- income families to afford a suitable home in a transit-rich neighborhood with good schools. This report synthesizes the ideas and policy recommendations from a national convening of local, state, and federal stakeholders from across the country on innovative policy and practice at the housing, transportation, and schools ("H/T/E") nexus – specifically, discussing ways to design or emphasize the 
city as a place for families to stay and thrive.
---
Beyond "Accidents of Geography": Using Housing Policy to Improve Access to Quality Education
Written by Elizabeth J. Mueller and Shannon S Van Zandt, with commentary by Deborah L. McKoy
Chapter 12 in Education, Land, and Location, edited by Gregory K. Ingram and Daphne A. Kenyon
The chapters in this volume explore the links between education, location, and land based on the proceedings of the 8th Annual Land Policy Conference of the Lincoln Institute of Land Policy. Three policy outcomes are the focus: academic achievement of schoolchildren; racial, ethnic, and socioeconomic segregation; and equality of opportunity, all of which have broad relevance to U.S. public policy.
View more information about the book and read Chapter 1.
---
Deborah L. McKoy and Ariel H. Bierbaum
The HOPE SF Housing & Education strategic planning study investigates how to meaningfully integrate public education into the revitalization of the Bayview Hunters Point neighborhood. The study provides an overall understanding of the current educational landscape at Hunters View; highlights opportunities to maximize resources and outcomes for all residents and families; and assists in creating an action plan for HVCP and their city and school district partners.
---
Schools trying to be integrated and serve their local communities often face a challenging question: Are "diversity" and "walkability" compatible? This summary document, drawn from a national dialogue among leaders in health and public education, with accompanying research, answers this question in the affirmative. The report highlights key obstacles and outlines the full range of factors that determine how and where schools are built, who attends which schools, and how patterns of population and settlement continue to reproduce inequality in communities across the country. The report presents a preliminary agenda for tackling the challenges, listing action steps for promoting diverse, walkable, high-quality schools for all children.
The original framing paper was written by Jeffrey Vincent and Deborah McKoy of the Center for Cities and Schools at the University of California, Berkeley and Mary Filardo of the 21St Century School Fund in collaboration with PolicyLink, the Safe Routes to School National Partnership, and ChangeLab Solutions.

---
Housing and Education: The Inextricable Link
Deborah L. McKoy and Jeffrey M. Vincent
In Segregation: The Rising Costs for America
(Edited by James Carr and Nandinee Kutty)
The complex relationship between housing and education - the "housing-school nexus" - is found across the United States in varying degrees. As increasing evidence reveals that housing values rise and fall with test scores, real estate agents say that the quality of schools is now a central driving force behind the country's most expensive housing markets.
---
Robin Smith, G. Thomas Kingsley, Mary Cunningham, Susan Popkin, Kassie Dumlao, Ingrid Gould Ellen, Mark Joseph & Deborah McKoy
This paper considers how to effectively evaluate outcomes and measure success in comprehensive community transformation efforts, such as the U.S. Department of Housing and Urban Development (HUD)'s proposed Choice Neighborhoods Initiative. It is a product of the Urban Institute and was supported by the What Works Collaborative.
---
Jeffrey M. Vincent, Deborah L. McKoy, Ken Alex, Connie Mitchell & Kathleen Moore
On December 6, 2012, UC Berkeley's Center for Cities + Schools, in collaboration with the California Department of Education, California Department of Public Health, Governor's Office of Planning and Research, Strategic Growth Council, and Health in All Policies Task Force, brought together leaders from across California to discuss the alignment of important policy agendas: ensuring high-quality, opportunity-rich schools in healthy, sustainable communities. This brief highlights key themes from the conversation and outlines next steps identified by participants.
---
Deborah L. McKoy and Ariel H. Bierbaum
This report offers a comprehensive overview of the first six years of the PLUS (Planning and Learning United for Systems Change) Leadership Initiative administered by CC+S. PLUS began as a concerted response to the growing recognition among planning and educational practitioners, policy makers and funding agencies that the complex challenges facing students, families and their communities in the Bay Area and across the nation will require a new generation of leaders.
---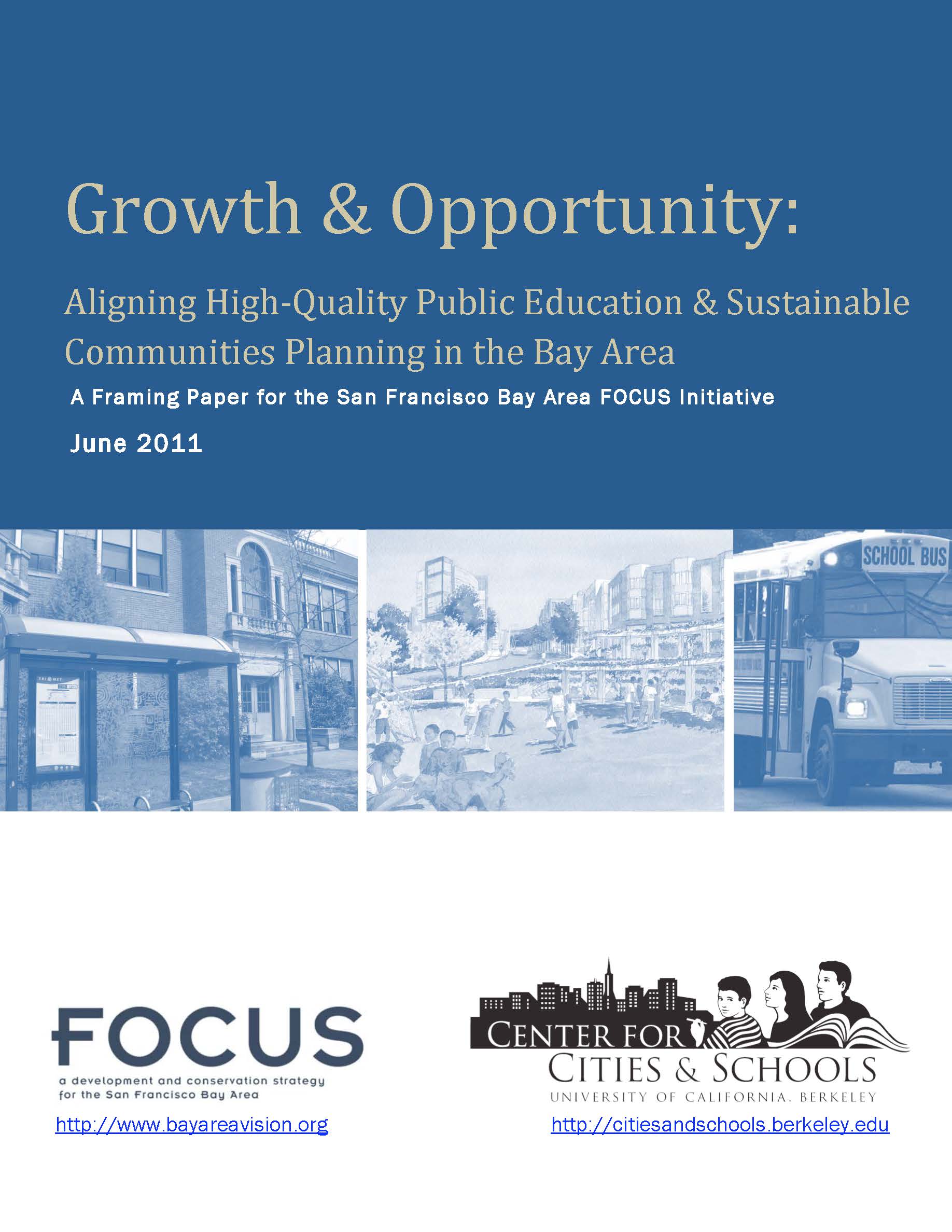 Ariel H. Bierbaum, Jeffrey M. Vincent and Deborah L. McKoy
CC&S and ABAG partnered to support and inform local and regional innovation connecting schools to the Bay Area's regional development and conservation strategy (FOCUS) and the Sustainable Communities Strategy as mandated by California's climate change legislation, Senate Bill 375. Our new report identifies tangible policy levers at both the regional and municipal levels that realize the co-benefits of pursuing complete communities and high-quality education in tandem. We describe the regional educational landscape and develop recommendations about specific strategies to achieve cross-sector "win-wins."
What are the educational impacts of non-school policies, such as housing, transportation, and other regional planning investments?
What are the impacts of educational efforts on non-school issues, such as housing choice, sustainable transportation utilization, and community-building opportunities?
How can the region's policy and practice interventions and investments in housing and transportation be made to strategically support improving school quality?
FOCUS Homepage
Association of Bay Area Governments Homepage
---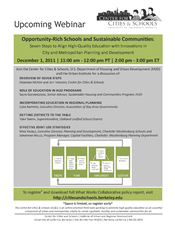 Hosted by the Center for Cities & Schools, U.S. Department of Housing and Urban Development (HUD) and the Urban Institute
Overview of Seven Steps - Deborah McKoy and Jeff Vincent, Center for Cities + Schools
Role of Education in HUD Programs - Salin Geevarghese, Senior Advisor, Sustainable Housing and Communities Program, HUD
Incorporating Education in Regional Planning - Marisa Raya, Regional Planner, Association of Bay Area Governments
Getting Districts to the Table - Tony Smith, Superintendent, Oakland Unified School District
Effective Joint Use Strategies - Mike Raible, Executive Director, Planning and Development, Charlotte-Mecklenburg Schools and Jonathan Wells, Program Manager, Capital Facilities, Charlotte- Mecklenburg Planning Department
---
Deborah L. McKoy, Jeffrey M. Vincent and Ariel H. Bierbaum
CC+S contributed a chapter to the book Changing Places: How Communities Will Improve the Health of Boys of Color (edited by Christopher Edley, Jr. and Jorge Ruiz de Velasco; University of California Press 2010). The book draws attention to the urgent need— both economic and moral—to better understand the policy and community- based factors that serve as incentives or barriers to young men and boys of color as they make critical life decisions. Our chapter investigates the ways in which unhealthy environments — and the urban planning and institutional practices that created them — structure disadvantage and undermine the life chances of young men and boys of color. We then describe how innovative city-school initiatives are aligning and leveraging the diverse elements of the built and social environment to create the trajectories of opportunity this group needs and deserves.
---
Deborah L. McKoy, Ariel H. Bierbaum and Jeffrey M. Vincent
This brief introduces HUD and others to CC+S's 10 PLUS Mechanics of Change, an evidence-based framework for building healthy, equitable and sustainable communities through integrated city-public school initiatives that simultaneously leverage innovations in the built environment, educational practice and governance policies.
---
Deborah L. McKoy
One of CC+S's programs, known as Y-PLAN, has been working with McClymonds High School students to help them become engaged in the changes happening in West Oakland. Mentored by UC Berkeley graduate students, McClymonds's students worked with local community groups, government agencies, and private developers to create a vision for the design of the 16th Street Train Station project.
---
Susan Slingluff
Prepared for the Oakland Housing Authority
This evaluation examines the impact that the Westwood Gardens/Mandela Gateway HOPE VI redevelopment had on the lives of residents, and on efforts to revitalize the historic West Oakland neighborhood. It also analyzes the effectiveness of the building's design in increasing on-site security and providing spaces for community building and service provision. The goal of this evaluation is to inform future HOPE VI efforts in ways to provide effective CSS service to residents and to create developments that are assets to the surrounding neighborhoods, and to the city.
---
Hosted by the Center for Cities + Schools in Partnership with LISC Bay Area and the Building Educational Success Together (BEST) Collaborative, June 2006
For several decades, metropolitan areas have experienced changes in residential housing patterns that have had enormous consequences for urban public schools: dramatically reduced student populations, further concentrated poverty inside school walls, and the loss of valuable human and financial resources. Despite this, the intrinsic relationship between housing and education is rarely recognized in research or practice, and existing urban policy structures sustain the division. This daylong forum was hosted by CC+S in partnership with Bay Area LISC, and the BEST Collaborative.
---
Deborah L. McKoy and Jeffrey M. Vincent
Berkeley Planning Journal Vol. 18: 57-77, 2005
This article discusses an emerging policy and research agenda; systematically linking quality schools with quality cities. There is a historic disconnect between cities and public education. To dismantle this disconnect, the Center for Cities + Schools was established in 2004, by the Institute of Urban and Regional Development (IURD) at the University of California, Berkeley.
---
Center for Cities + Schools Symposium with Bruce Katz and Arlene Ackerman, 2004
The following paper is a summary and discussion for the opening symposium for the Center for Cities + Schools. The purpose of this symposium was to bring people together to discuss the relationships between public schools and urban redevelopment efforts, and broadly speaking, integrate education into community development.
---
Center for Cities + Schools Fall Forum with Tony Smith & John Flores, 2005
---
Nystrom United Revitalization Effort
Kris Hartley PLUS Report, 2010
---
PLUS Report, 2009
---
How can the Hunters View HOPE SF housing revitalization project respond to the special needs of children and youth? This is the question explored by 3rd and 4th grade students in Mr. Moore and Ms. Fredrikson's classes at Malcolm X Academy. Working with the Center for Cities + Schools and the San Francisco Chapter of the National Organization of Minority Architects, the students engaged in a series of hands-on architecture and planning projects to identify and document the student visions for how this housing development can be a catalyst for positive change in the community. The students identified how the special needs of students and neighbors of all ages and abilities might be incorporated into the final design of this project. This document represents our process and the products we produced.
Darren Gapultos PLUS Report, 2013
With an estimated $45 million in community initiatives, SFUSD must collaborate in a deeper manner between the six implementation committees and funding entities to improve knowledge sharing and re-prioritization over time. By sharing identified benchmarks of its strategic plan, SFUSD can ensure alignment between the various implementation committees. Meanwhile, SFUSD must align its own financial resources in the comming years with the potential funds dispersing from the community development initiatives.
---
LeConte Dill PLUS Report, 2010
Through connections with local communities of practice as well as development professionals and other adult actors, HOPE SF can improve the prospects for affiliated youth.
---

PLUS Report, 2009
This report analyzes the potential to integrate school and community services in the redevelopment of HOPE SF at the Hunters View public housing project.