We produce high-quality, non-partisan research and policy guidance to local, state, and federal policy makers.
view our reports by topic.
View our reports by year:
---
Deborah L. McKoy and Jeffrey M. Vincent
In this chapter, we describe efforts to connect efforts to improve public education to housing and transportation planning initiatives, particularly through collaborative city-school-regional partnerships. The chapter appears in the 2011 report, "Finding Common Ground: Coordinating Housing and Education Policy to Promote Integration.by the Poverty and Race Research Action Council (PRRAC) and the National Coalition on School Diversity (Philip Tegeler, Editor, pg 53-60).
---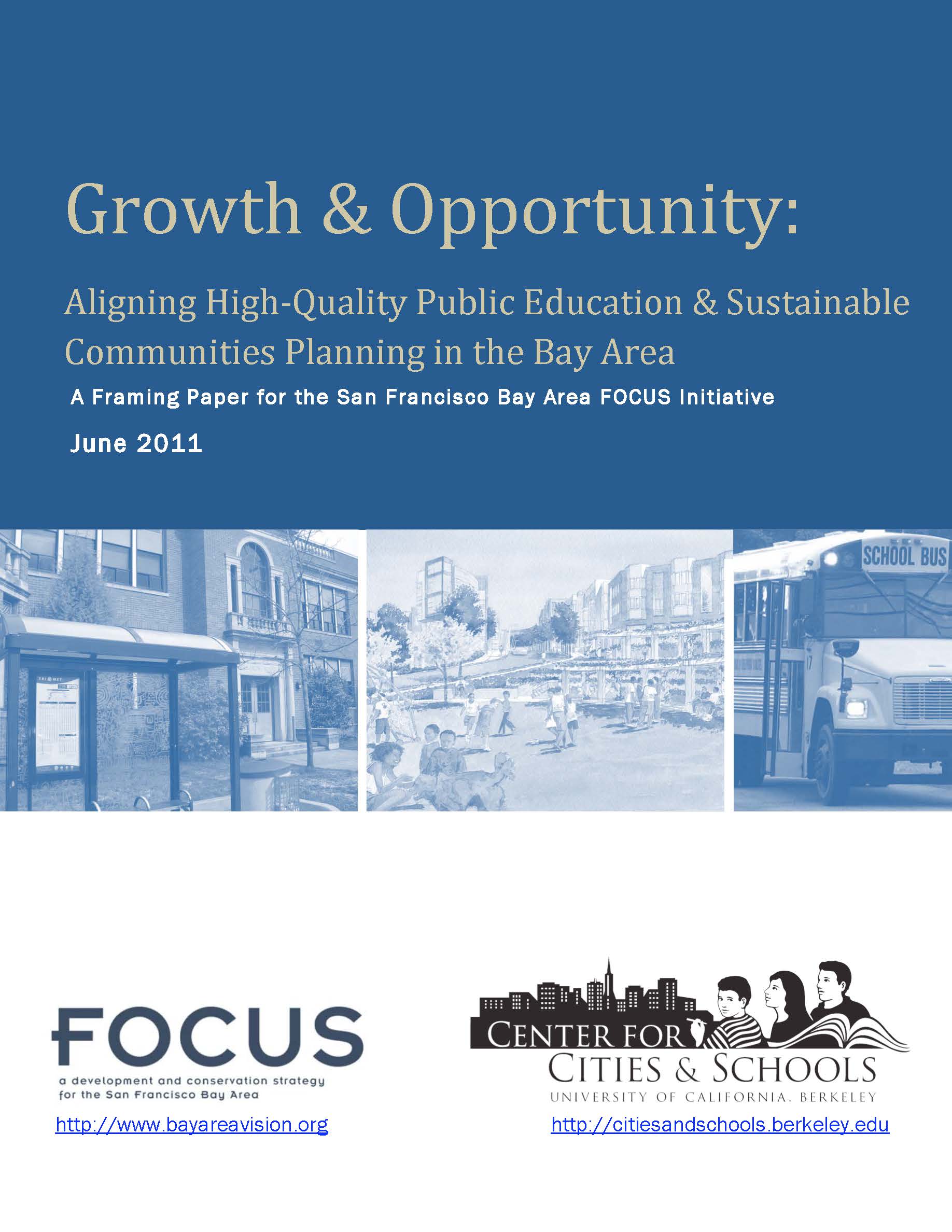 Ariel H. Bierbaum, Jeffrey M. Vincent & Deborah L. McKoy
CC&S and ABAG partnered to support and inform local and regional innovation connecting schools to the Bay Area's regional development and conservation strategy (FOCUS) and the Sustainable Communities Strategy as mandated by California's climate change legislation, Senate Bill 375. Our new report identifies tangible policy levers at both the regional and municipal levels that realize the co-benefits of pursuing complete communities and high-quality education in tandem. We describe the regional educational landscape and develop recommendations about specific strategies to achieve cross-sector "win-wins."
What are the educational impacts of non-school policies, such as housing, transportation, and other regional planning investments?
What are the impacts of educational efforts on non-school issues, such as housing choice, sustainable transportation utilization, and community-building opportunities?
How can the region's policy and practice interventions and investments in housing and transportation be made to strategically support improving school quality?
---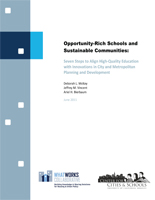 Deborah L. McKoy, Jeffrey M. Vincent & Ariel H. Bierbaum
In 2010 the What Works Collaborative invited CC&S to examine the ways in which sustainable community planning could work with school leaders to foster positive educational outcomes. The report illustrates policies and strategies at all levels of government are increasingly associating educational outcomes with community planning and housing. Challenges remain for local officials and practitioners trying to align these policy areas, including persistent spatial inequity and rigid institutional silos. Through the research, we developed seven steps to link education and planning policy at the local level. We draw from a national scan of model activities, interviews with key experts and agency staff members, and the authors' experience working with local governing bodies. The report identifies practical solutions that encompass assessing the current educational environment, engaging the community, strategic planning and implementation of investment, and institutionalizing successful innovations.
---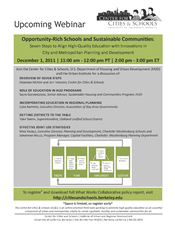 Hosted by the Center for Cities & Schools, U.S. Department of Housing and Urban Development (HUD) & the Urban Institute
Overview of Seven Steps
DEBORAH MCKOY and JEFF VINCENT, Center for Cities & Schools
Role of Education in HUD Programs
SALIN GEEVARGHESE, Senior Advisor, Sustainable Housing and Communities Program, HUD
Incorporating Education in Regional Planning
MARISA RAYA, Regional Planner, Association of Bay Area Governments
Getting Districts to the Table
TONY SMITH, Superintendent, Oakland Unified School District
Effective Joint Use Strategies
MIKE RAIBLE, Executive Director, Planning and Development, Charlotte-Mecklenburg Schools and JONATHAN WELLS, Program Manager, Capital Facilities, Charlotte- Mecklenburg Planning Department
---
Deborah L. McKoy, Shirl Buss and Jessie Stewart
Third- and fourth-grade elementary school students have been contributing their ideas to the redevelopment of their community in San Francisco, using a methodology known as Y-PLAN (Youth-PlanLearn-Act, Now!). This article explains the process and describes the ideas the children have come up with – and how key areas and insights are being incorporated into the new community design.
Read more about the Bernard van Leer Foundation and check out this entire issue of Early Childhood Matters.
Work-based learning (WBL), an important part of the 1990s "School to Work" movement, is a core component of the Linked Learning strategy which is now shaping efforts to improve secondary education in California and around the nation in cities such as Detroit, New York and Philadelphia. WBL can include not only classic internships and "co-op" placements but also school-based enterprises and other activities in which students produce goods or provide services for other people. However, discussions to date have not fully recognized the particular importance of the civic sector as a site for WBL. The civic sector, including public agencies and nonprofit organizations, is vital to both a strong economy and a healthy democracy. The aim of this paper is to explain the idea of WBL in the civic sector and offer an in-depth look at a model of civic WBL –– the Y-PLAN –– in action.
Social Enterprise for Learning in Action; CC+S and San Francisco Unified School District