We produce high-quality, non-partisan research and policy guidance to local, state, and federal policy makers.
view our reports by topic.
View our reports by year:
---
Deborah L. McKoy and Ariel H. Bierbaum
This report offers a comprehensive overview of the first six years of the PLUS (Planning and Learning United for Systems Change) Leadership Initiative administered by CC+S. PLUS began as a concerted response to the growing recognition among planning and educational practitioners, policy makers and funding agencies that the complex challenges facing students, families and their communities in the Bay Area and across the nation will require a new generation of leaders.
---
This report takes a comprehensive look at the state of K-12 school facilities in California, focusing on state-level policies and funding patterns. The recommendations lay out a detailed framework that re-envisions the state's role in K-12 infrastructure to appropriately support educational quality and contribute to healthy, sustainable communities goals. Our hope is that this report helps guide state leaders in aligning infrastructure investments for efficiencies and multiple benefits for Californians. The report includes a message of support for implementation from California State Superintendent of Public Instruction, Tom Torlakson.
California Department of Education + CC+S Press Conference on Report:
---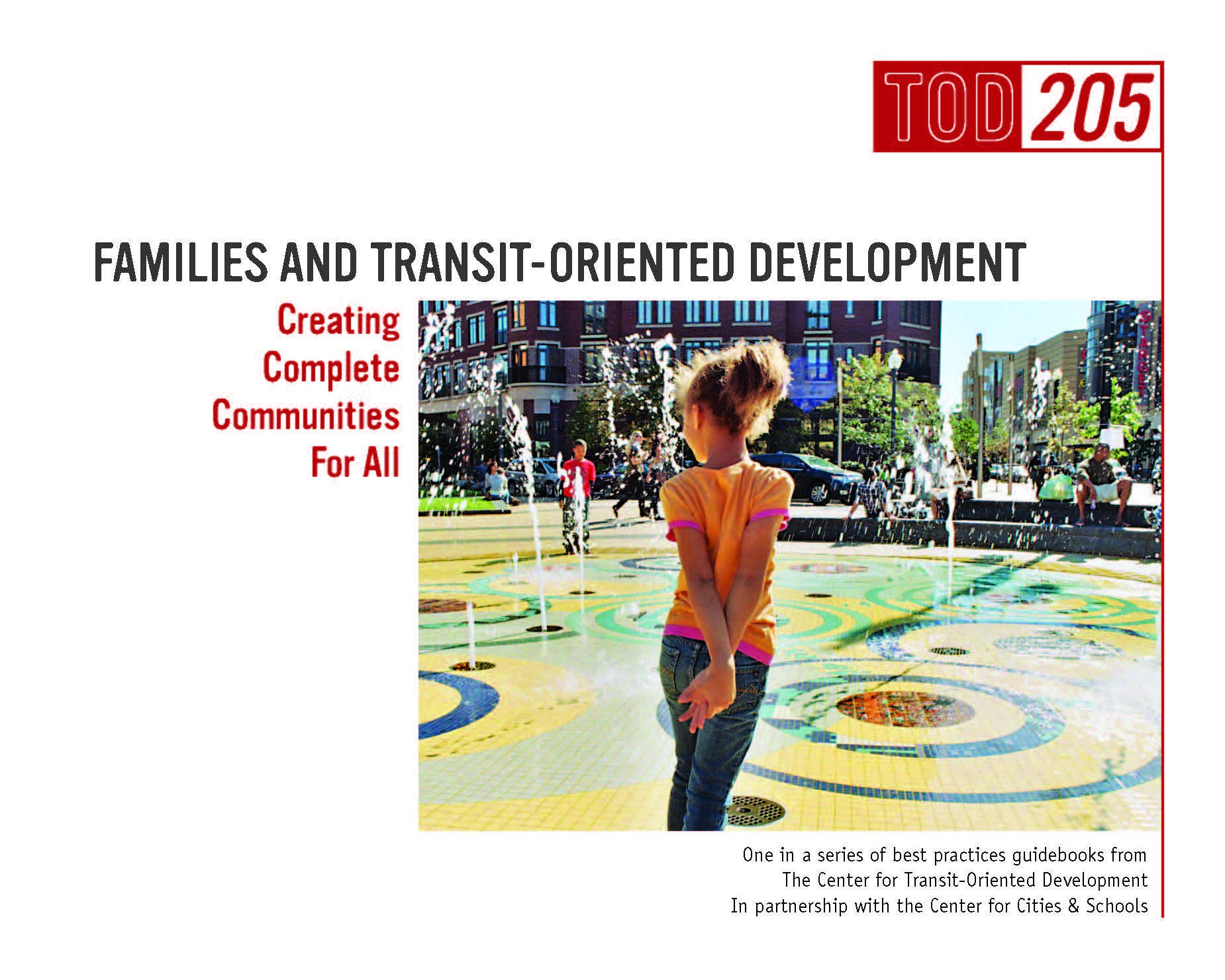 Jeffrey M. Vincent, Ariel H. Bierbaum, Deborah L. McKoy, and Michael P. Rhodes, Center for Cities + Schools and Sam Zimbabwe, Kelley Britt, and Elizabeth Wampler, Reconnecting America
The Center for Transit-Oriented Development (CTOD) and CC+S at the University of California, Berkeley, released "TOD 205 - Families and Transit-Oriented Development: Creating Complete Communities for All," the seventh in the Federal Transit Administration-sponsored series of reports explaining the best practices of transit-oriented development. This guidebook illustrates why planningfor transit-oriented development that serves families is important for creating truly "complete" communities and how such planning can be achieved in conjunction with school stakeholders.
---
Aixle Aman PLUS Report, 2012
After reviewing the policy landscape and placement of SUDA within Oakland's social network, this report seeks to answer how a career academy can transform a school into a full-service community learning center and simultaneously address community development goals.
---
Roza Do 2013 PLUS Report
---
Jocelyn Everroad PLUS Report, 2012
In the summer of 2009, Oakland Unified School District ("OUSD", "the District") was returned to local governance after six years of State control, with Dr. Tony Smith as its new Superintendent. Despite fiscal challenges, the administration embarked on a year of listening sessions, followed by a yearlong collaborative planning effort that culminated in a shared strategic vision for the District. In the summer and fall of 2011, OUSD began a restructuring process. The goal was to "expand quality and release resources" and included the possibility of closing, consolidating, or reconfiguring a subset of the District's schools. As a result the Board approved a number of schools for closure and consolidation on October 26, 2011, including five elementary schools. As in other cities, the decision was contentious.