We produce high-quality, non-partisan research and policy guidance to local, state, and federal policy makers.
view our reports by topic.
View our reports by year:
---
Ariel H. Bierbaum, Jeffrey M. Vincent & Deborah L. McKoy
This paper examines the connections between Transit-Oriented Development (TOD) and families, schools, and expanding educational opportunities for all children. This paper is the first of its kind; therefore, we take an exploratory approach to understanding and framing these interconnections. We provide a rationale for the linkages at this nexus, highlight the Ten Core Connections between TOD and public education, highlight five case studies in the Bay Area, and make recommendations for enhancing city-school collaboration in TOD.
Download Report with Appendices (PDF)
---
Joseph Schuchter 2013 PLUS Report
Using a range of research methods, this report examines broadly the alignment of the full portfolio of BHC grantees and in particular the interface between community-based organizations and schools. It finds that the majority of grantees – two-thirds – share some youth development objective.
hr />
Heather Imboden PLUS Report, 2013
This project seeks to identify opportunities for Youth UpRising (YU) to support and collaborate with the OUSD in developing a new career academy at Castlemont High School. This paper analyzes potential career academies against the current economic and educational landscape of the East Bay and provides tools for YU and OUSD to work together in the develoopment of a career academy at Castlemont High School.
---
Jeffrey M. Vincent and Deborah L. McKoy
This paper was chosen for Smart Growth Network's compendium, The National Conversation on the Future of Our Communities, in February 2013. The project's aim is to start a conversation on thorny issues the smart growth movement has yet to resolve, issues that have received too little attention, and issues that have escaped us altogether. Our paper argues that planners—and particularly those that favor smart growth—already recognize the importance of workforce development and job creation, but too often fall short of extending their analysis and planning to a key foundation of strong regional economies: effective K-12 schools. We lay out a applied policy framework for remedying this reality.
---

Schools trying to be integrated and serve their local communities often face a challenging question: Are "diversity" and "walkability" compatible? This summary document, drawn from a national dialogue among leaders in health and public education, with accompanying research, answers this question in the affirmative. The report highlights key obstacles and outlines the full range of factors that determine how and where schools are built, who attends which schools, and how patterns of population and settlement continue to reproduce inequality in communities across the country. The report presents a preliminary agenda for tackling the challenges, listing action steps for promoting diverse, walkable, high-quality schools for all children.
The original framing paper was written by Jeffrey Vincent and Deborah McKoy of the Center for Cities and Schools at the University of California, Berkeley and Mary Filardo of the 21St Century School Fund in collaboration with PolicyLink, the Safe Routes to School National Partnership, and ChangeLab Solutions.

---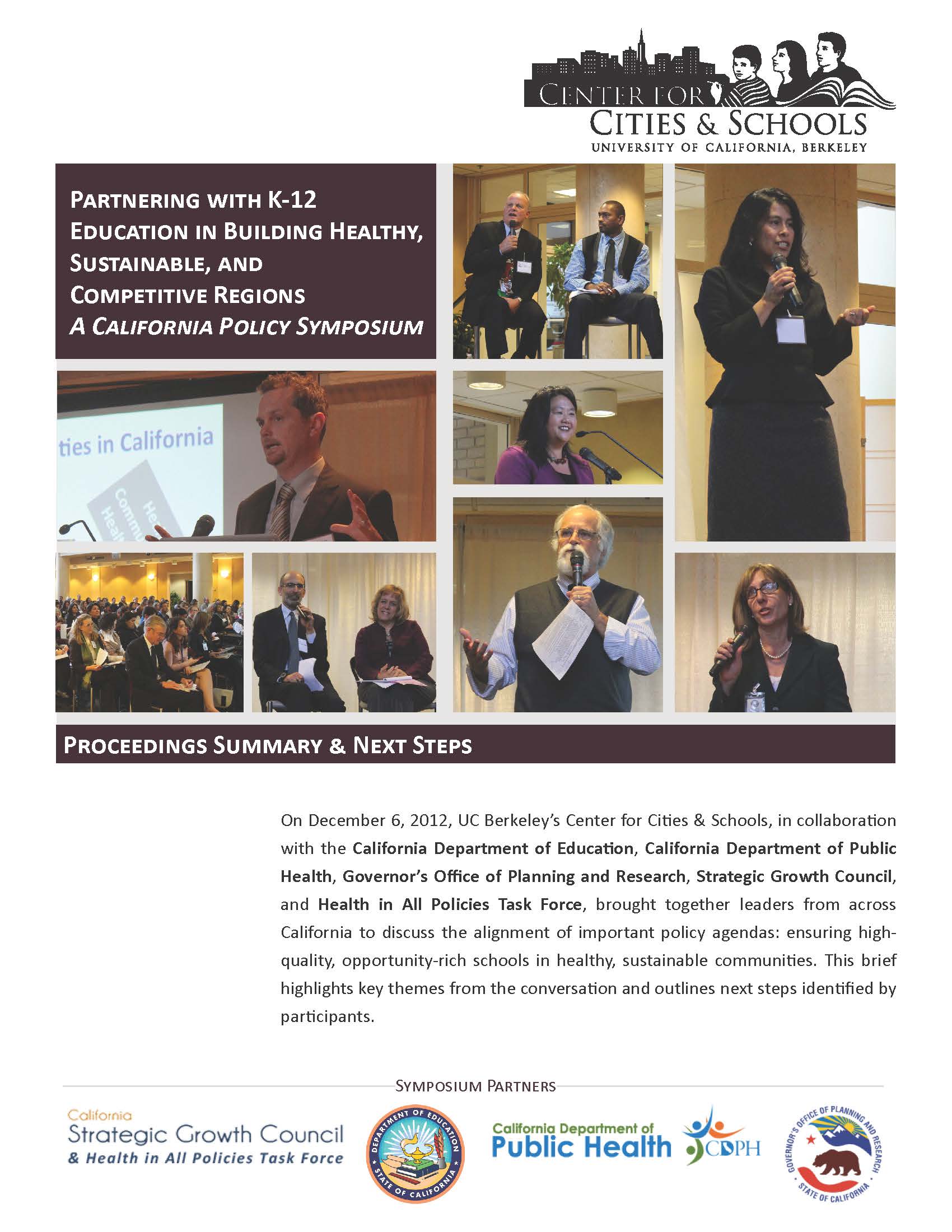 Jeffrey M. Vincent, Deborah L. McKoy, Ken Alex, Connie Mitchell & Kathleen Moore
On December 6, 2012, UC Berkeley's Center for Cities & Schools, in collaboration with the California Department of Education, California Department of Public Health, Governor's Office of Planning and Research, Strategic Growth Council, and Health in All Policies Task Force, brought together leaders from across California to discuss the alignment of important policy agendas: ensuring high-quality, opportunity-rich schools in healthy, sustainable communities. This brief highlights key themes from the conversation and outlines next steps identified by participants.
---
Roza Do 2013 PLUS Report
---
Chaya Nayak PLUS Report, 2013
The purpose of this report is to analyze and identify shared visions and goals between ABAG and educators, and develop recommendations for aligning programs and policies to reach such goals.
---
Darren Gapultos PLUS Report, 2013
In partnership with the SFUSD, this research project utilizes official documents and key stakeholder interviews ot create landscape analysis that attempts to address the following question: What community development initiatives will support and improve the educational attainment of pre-k to 12th grade youth attending SFUSD schools located in the Bayview neighborhood and what connections between these initiatives can SFUSD leverage so that resources support district policies?
---
Jeffrey M. Vincent and Ruth Miller PLUS Report, 2013
SFUSD, like many districts, allows use of its classromms, gymnasiums, and other indoor facilities to external groups. But similar to other districts, SFUSD has struggled to apply use fees consistently, fairly and equitably. Building from the recommendations of the 2010 report, San Francisco's Public School Facilities as Public Assets: A Shared Understanding and Policy Recommendations for the Community Use of Schools, and the working group, this report proposed an updated, revised pricing methodology and fee schedule in accordance with California's Civic Center to increase transparency, consistency, and align to SFUSD's education goals.