We produce high-quality, non-partisan research and policy guidance to local, state, and federal policy makers.
view our reports by topic.
View our reports by year:
---

Jeffrey M. Vincent
California lawmakers are debating the future of the state's role in providing school construction and modernization funds to local school districts – a school facility funding role the state has played since 1947. Previous statewide school construction bond authority is exhausted. To inform this policy debate, our paper describes the role each of the 50 states plays in K-12 school facility funding, summarizing each states' funding formula.
---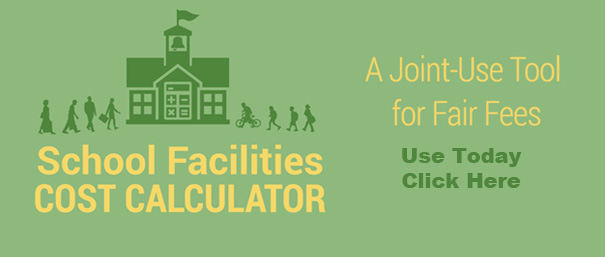 The School Facilities Cost Calculator: A Joint-Use Tool for Fair Fees, a free tool that helps school districts and communities determine the costs of owning and operating their facilities and develop a fair and transparent joint-use fee structure, is now available in an interactive web-based format. The Cost Calculator includes rich data from nearly 15,000 school districts across the country—and is also available as a downloadable Excel file. The School Facilities Cost Calculator will enable community organizations interested in utilizing school building space to negotiate appropriate subsidies for fair fees.

The School Facilities Cost Calculator was developed by the 21st Century School Fund, a nonprofit dedicated to modernizing public school facilities, and the Center for Cities & Schools at the University of California, Berkeley. Two national health foundations, Active Living Research and Convergence Partnership, sponsored the Calculator's development.
The Calculator is FREE to use! Try it today. Download the user guide here.
Email Jeff Vincent if you'd like to be invited to future tutorials on the Calculator.
---
Deborah L. McKoy, Shirl Buss and Jessie Stewart
Third- and fourth-grade elementary school students have been contributing their ideas to the redevelopment of their community in San Francisco, using a methodology known as Y-PLAN (Youth-PlanLearn-Act, Now!). This article explains the process and describes the ideas the children have come up with – and how key areas and insights are being incorporated into the new community design.
Read more about the Bernard van Leer Foundation and check out this entire issue of Early Childhood Matters.
Work-based learning (WBL), an important part of the 1990s "School to Work" movement, is a core component of the Linked Learning strategy which is now shaping efforts to improve secondary education in California and around the nation in cities such as Detroit, New York and Philadelphia. WBL can include not only classic internships and "co-op" placements but also school-based enterprises and other activities in which students produce goods or provide services for other people. However, discussions to date have not fully recognized the particular importance of the civic sector as a site for WBL. The civic sector, including public agencies and nonprofit organizations, is vital to both a strong economy and a healthy democracy. The aim of this paper is to explain the idea of WBL in the civic sector and offer an in-depth look at a model of civic WBL –– the Y-PLAN –– in action.
Social Enterprise for Learning in Action; CC+S and San Francisco Unified School District
---
Elizabeth Schmid, Mark Shorett & Gretchen Livesey
OUSD's career academies and pathways are the foundation of its work-based learning strategy, known as Linked Learning. This instructional approach provides students with the resources and skills necessary to succeed in college, career and life. But according to this report, educators and industry professionals struggle to connect on meaningful collaboration projects.
---
Julie Leung PLUS Report, 2014
These maps and findings address the current transportation infrastructure in place for students with disabilities in the San Francisco Unified School District.
---
Julia Ehrman PLUS Report, 2014
This report examines three factors that pose a risk to student transportation in the SFUSD: school choice, limited transportation resources, and diverse school contexts. It addresses these concerns in order to increase environmental sustainability in transportation among District families.
---
Jeffrey M. Vincent
Journal of Planning Education and Research June 2014 vol. 34 no. 2 153-168
Despite the growing interest in expanding the joint use of K–12 public schools by public health and planning practitioners to promote healthy, sustainable communities, the topic has received little attention in the urban planning and public health scholarship. The objective of this article is to situate joint use in the academic literature focused on the links between built environments and health. I examine the "state of the field" of K–12 joint use through studying the academic and associated literature, interviews, participant observation, and case examples. I develop a joint use classification system to aid researchers and practitioners.
---
Beyond "Accidents of Geography": Using Housing Policy to Improve Access to Quality Education
Written by Elizabeth J. Mueller and Shannon S Van Zandt, with commentary by Deborah L. McKoy
Chapter 12 in Education, Land, and Location, edited by Gregory K. Ingram and Daphne A. Kenyon
The chapters in this volume explore the links between education, location, and land based on the proceedings of the 8th Annual Land Policy Conference of the Lincoln Institute of Land Policy. Three policy outcomes are the focus: academic achievement of schoolchildren; racial, ethnic, and socioeconomic segregation; and equality of opportunity, all of which have broad relevance to U.S. public policy.
View more information about the book and read Chapter 1.
---
WEBINAR: Healthy School Facilities: Planning for 'Good Repair' in Local Control Accountability Plans // A Primer for Parents, School Board Members and Community Advocates (April 3, 2014)
Under California's new Local Control Funding Formula (LCFF) K-12 funding system, Local Control and Accountability Plans (LCAPs) must address "school facilities in good repair. " (as defined in California Education Code § 17002d). This webinar will give participants the knowledge and tools to actively participate in their school districts good repair plan. (Sponsored by The California Endowment)
How will school districts assess "good repair"?
How can parents advocate for improved school facilities?
Speakers:
Jeff Vincent – UC Berkeley, Center for Cities + Schools
Bill Savidge – Assistant Executive Officer, California State Allocation Board
Joe Dixon – Assistant Superintendent, Santa Ana Unified School District
Brad Strong – Children Now
---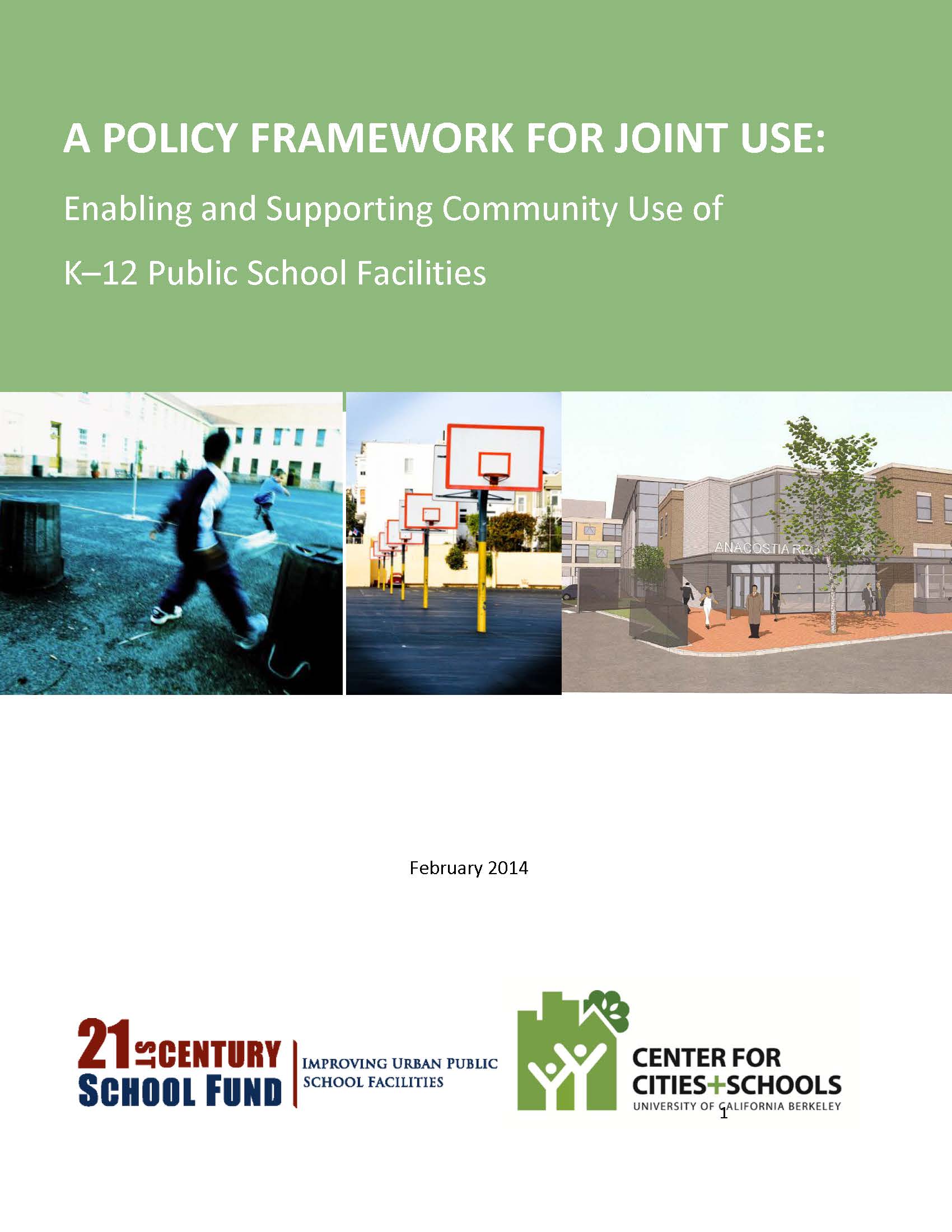 Jeffrey M. Vincent, CC+S and Mary Filardo, 21st Century School Fund
Joint use of public school facilities is a complex but manageable approach to efficiently enhancing the services and programs available to students and supporting the community use of public schools. Building upon on our 2010 paper titled Joint Use of Public Schools: A Framework for a New Social Contract, this paper identifies the policy framework needed to support sustainable joint use of public schools. Our goal with this paper is to provide local and state leaders with the policy framework needed to enable and support community use. The policy framework addresses the challenges to harnessing the opportunities and benefits of the community use of K–12 public schools. We discuss the policy elements that have been and can be used to incorporate joint use into normal planning and operations of school districts and local and regional public agencies and to do so in a sustainable and fiscally-responsible manner. The framework addresses policy at the state and local levels and acknowledges that joint use requires public and private agencies to work together in new ways. This paper also describes the need for public transparency and understanding of the full cost of ownership of public school facilities as a critical part of policy.
In collaboration with Active Living Research and the Convergence Partnership
---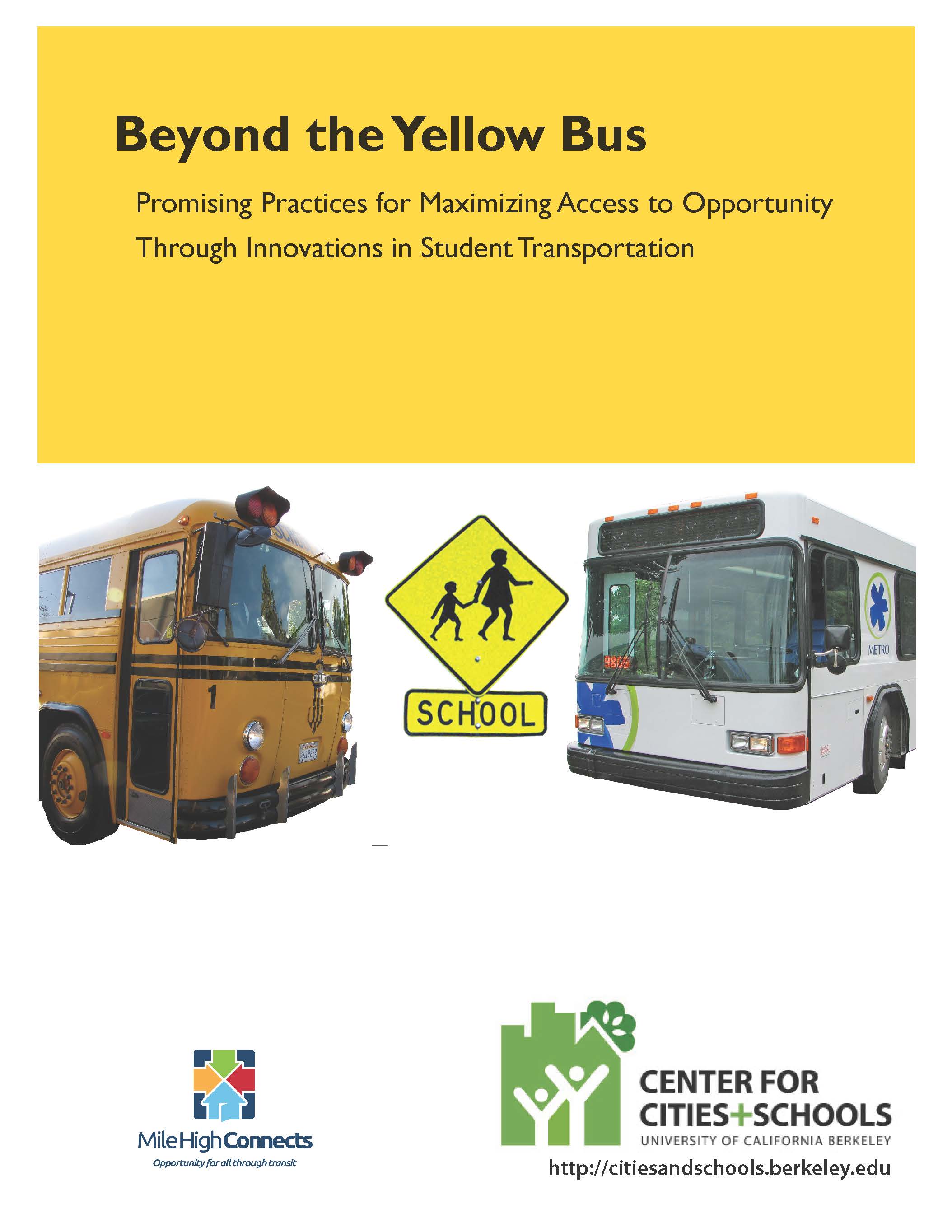 Jeffrey M. Vincent, Carrie Macarewicz, Ruth Miller, Julia Ehrman & Deborah L. McKoy
Access to safe, affordable, and convenient transportation shapes the 'geography of opportunity' for many children and youth. This study looks at how​localities across the country are implementing new and innovative alternative approaches to student transportation that expand regional transportation access for K-12 students, improve cost-effectiveness, and leverage inter-agency partnerships beyond the traditional yellow school bus.
---
Maura Baldiga + Anna Maier PLUS Report, 2014
To strategically plan for the implementation of a full-service community schools initiative, this project sought to identify existing programs at school sites in WCCUSD and analyze how the distribution of services aligns with local needs.
---
Megan Calpin + Maira Sanchez PLUS Report, 2014
In 2010, The California Endowment (TCE) launched a 10-year, $1 billion Building Healthy Communities (BHC) initiative in 14 target communities across the state. South Sacramento was one of these selected target areas. This report looks at what changes have been catalyzed by Sacramento Building Healthy Communities investments in SCUSD on institutional practice and policy at the District level related to food access and school culture.
Download Poster 1: Collaboration Through Partnerships
Download Poster 2: Positive Culture in Schools