We produce high-quality, non-partisan research and policy guidance to local, state, and federal policy makers.
view our reports by topic.
View our reports by year:
---
Jeffrey M. Vincent and Liz S. Jain
After decades of dedicated investment, state funding to assist local California school districts in the construction, modernization, and maintenance of their school facilities has come to a halt. Our analysis of school facility spending across California finds that, compared to industry standards, there is an ongoing, structural pattern of inadequate and inequitable spending in many school districts:
• Majority of school districts underspend on facilities
• Wealthy districts spend more on facilities, especially on the capital side
• Districts serving low-income students disproportionately spend more per student on M&O from their operating budgets to fund facilities
Overall, these findings suggest that many districts—particularly those serving high-need students—risk grossly underfunded facilities budgets, deteriorating schools, and declining educational outcomes if they are left on their own, without state support for capital needs. The report concludes by identifying policy reforms that will move California to a more coherent system of school facility finance that promotes adequacy, equity, public accountability, and affordability.
---
Center for Cities and Schools, Enterprise Community Partners, Mile High Connects, National Housing Conference, and the Natural Resources Defense Council
In many parts of the country it is difficult for families, particularly low- or moderate- income families to afford a suitable home in a transit-rich neighborhood with good schools. This report synthesizes the ideas and policy recommendations from a national convening of local, state, and federal stakeholders from across the country on innovative policy and practice at the housing, transportation, and schools ("H/T/E") nexus – specifically, discussing ways to design or emphasize the 
city as a place for families to stay and thrive.
---
Deborah L. McKoy, Jessie Stewart and Shirl Buss
Place profoundly impacts young people's opportunities and life chances. Even so, children and youth, and especially low-income youth of color, are rarely invited to sit at the urban-planning and policy-making table. The result is plans, policies and built environments that largely overlook the needs, insights and potential of some of our cities' most important constituents. This field report is part of a special issue of Children, Youth, and Environments on Child Friendly Cities. It describes how high school students from Richmond, CA used the Center for Cities + Schools innovative educational strategy called Y-PLAN (Youth – Plan, Learn, Act, Now) to actively participate in the planning and transformation of their school, neighborhoods and city. Our description follows students through the five-step Y-PLAN process, highlighting how they effectively challenge the ways in which unhealthy environments and adult-oriented urban planning and policy making structure disadvantage and undermine trajectories of opportunity. In doing so, the report illustrates how Y-PLAN can equip young people from low-income communities with the tools to become agents of positive change, and informs a discussion for planners and educators alike, of the essential conditions that structure that agency.
---
Jeffrey M. Vincent and Liz S. Gross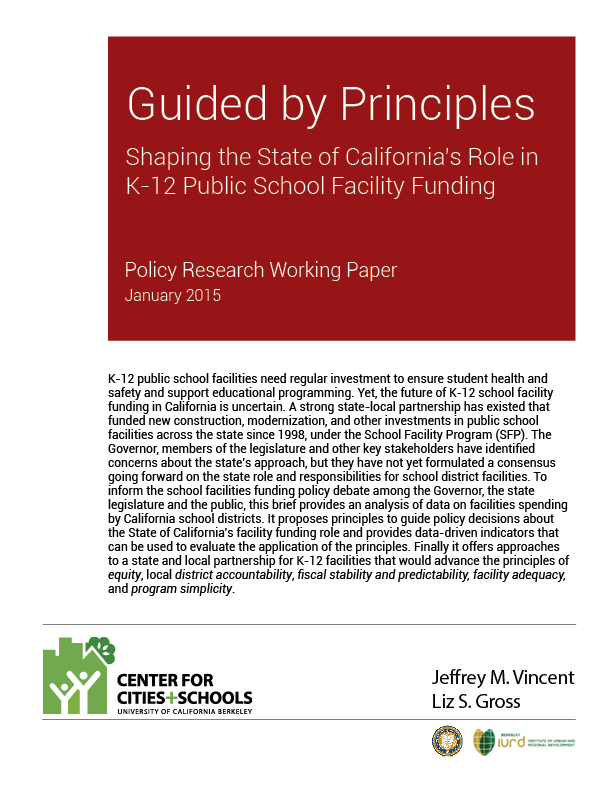 K-12 public school facilities need regular investment to ensure student health and safety and support educational programming. Yet, the future of K-12 school facility funding in California is uncertain. A strong state-local partnership has existed that funded new construction, modernization, and other investments in public school facilities across the state since 1998, under the School Facility Program (SFP). The Governor, members of the legislature and other key stakeholders have identified concerns about the state's approach, but they have not yet formulated a consensus going forward on the state role and responsibilities for school district facilities. To inform the school facilities funding policy debate among the Governor, the state legislature and the public, this brief provides an analysis of data on facilities spending by California school districts. It proposes principles to guide policy decisions about the State of California's facility funding role and provides data-driven indicators that can be used to evaluate the application of the principles. Finally it offers approaches to a state and local partnership for K-12 facilities that would advance the principles of equity, local district accountability, fiscal stability and predictability, facility adequacy, and program simplicity.
Presentation to the California Assembly Education Committee
Presentation to the California Senate Education Committee