We produce high-quality, non-partisan research and policy guidance to local, state, and federal policy makers.
view our reports by topic.
View our reports by year:
---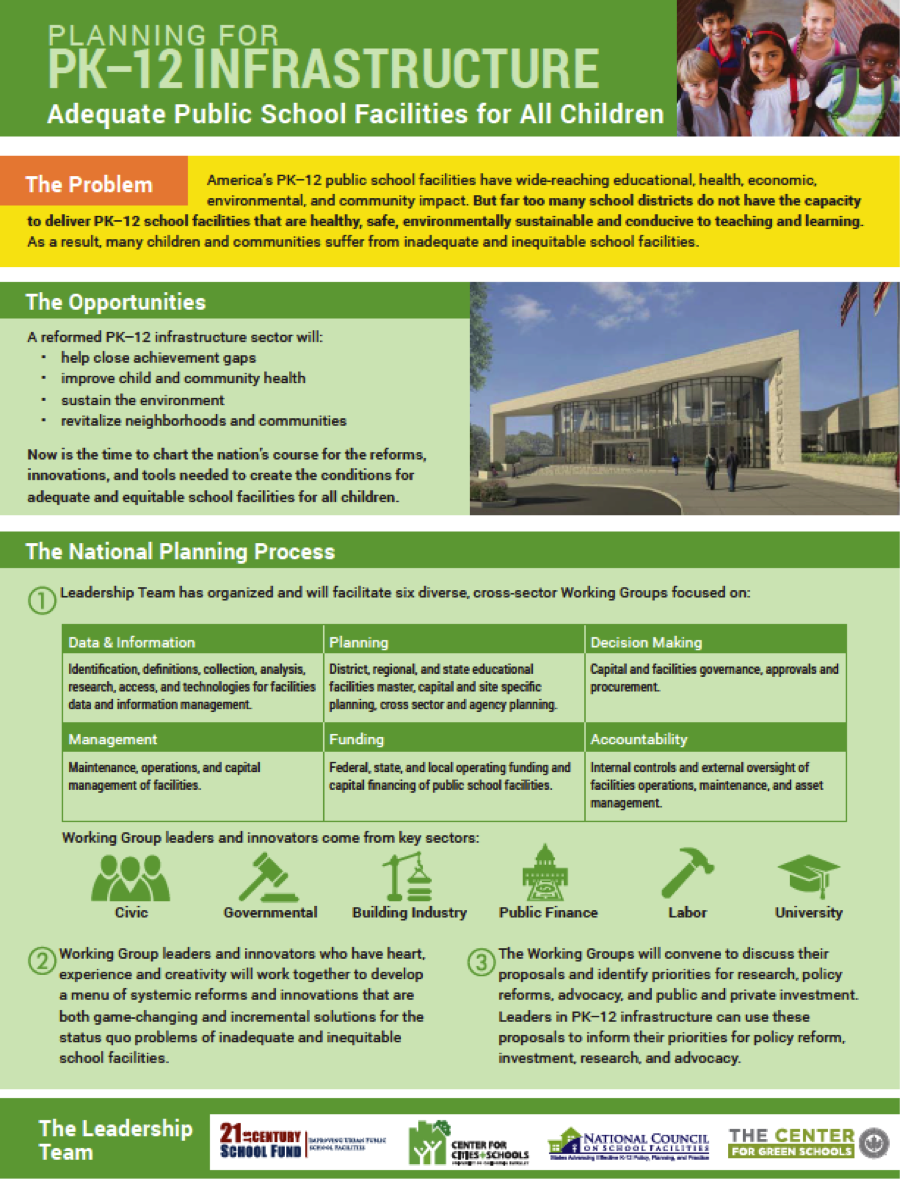 CC+S is partnering with the 21st Century School Fund, The Center for Green Schools, and the National Council on School Facilities to address the structural problems of inequitable and inadequate school facilities found in too many communities across the U.S.
Through this initiative, six national cross-sector working groups have developed a menu of solutions to guide government, industry, labor, and the civic sector in the delivery of high performance public PK-12 infrastructure for all children. The six working groups are organized around basic elements of a well-managed facilities program: Data and Information, Educational Facilities Planning, Management, Funding, Governance and Decision Making, and Accountability. This map identifies policies, practices, and tools needed to structure, manage and fund the public and private capacity for equitable and efficient public school facilities for all communities.
Initiative Summary and Working Group Descriptions (PDF)
This initiative is funded by the Leadership Team organizations and the W.K. Kellogg Foundation.
---
Liz S. Jain and Jeffrey. M. Vincent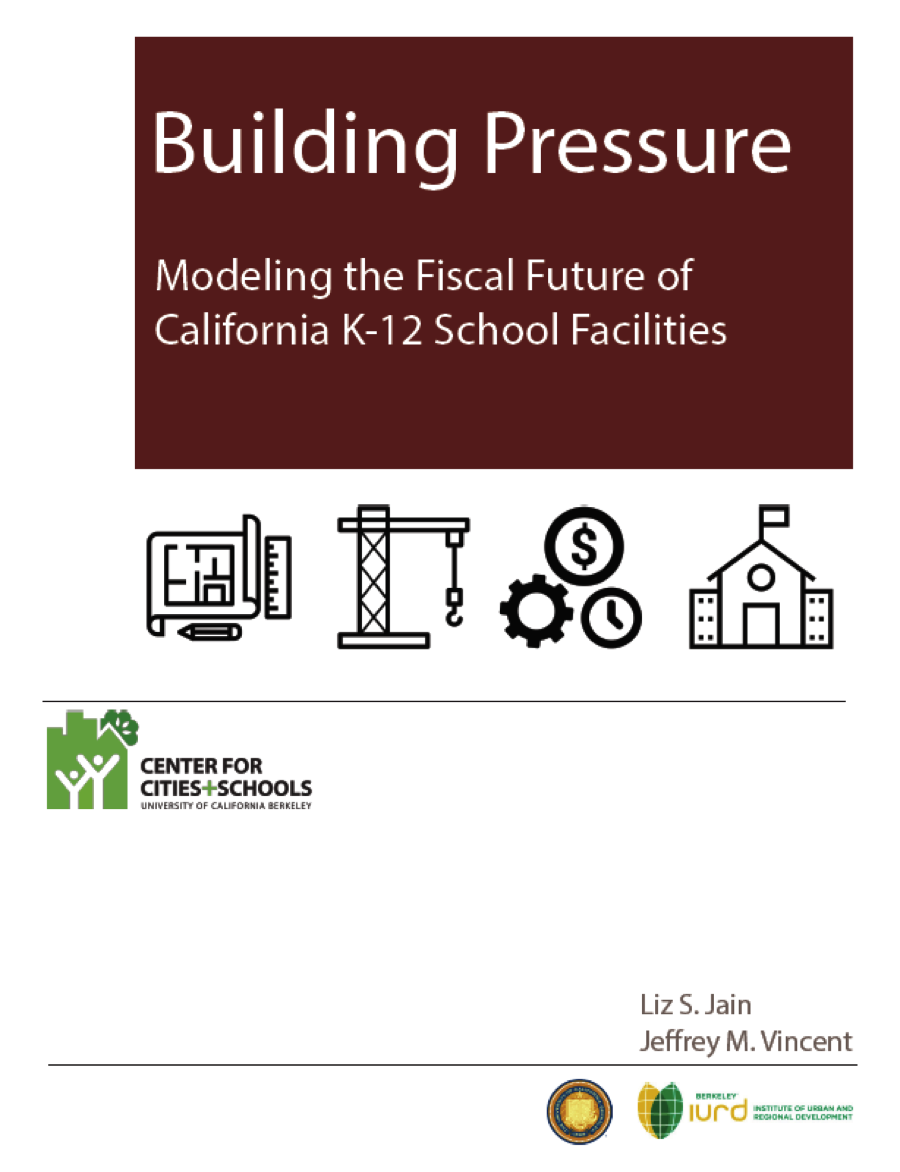 September 2016
Public school districts across California, particularly those in low-wealth areas, experience significant funding shortfalls for their facilities. Amidst this trend of widespread underinvestment in California's K-12 public school facilities, state funds to aid school districts in facility construction and modernization projects are depleted. Whether the 2016 statewide ballot measure (Proposition 51) passes or fails, state lawmakers are likely to face continued pressures to meet the vast infrastructure needs of public K-12 facilities.

With this study, we aim to inform voters and to provide broad guidance for policymakers regarding the relative merits of various long-term state funding approaches for public school facilities.

Based on California's historical experience, the scale of current needs for K-12 infrastructure investment, and examples from other states, we identify four policy scenarios applicable in the Golden State's current political climate (Scenario 1: No State Support; Scenario 2: State Competitive Grant Matching Program; Scenario 3: Small State Role Targeted to High-Need Districts; and Scenario 4:Equity-Focused State Grant Formula). We then estimate available facility funding for each K-12 school district under each scenario. Our findings suggest that California needs a principled, long-term program for public school facilities funding that promotes adequacy, equity and affordability.
---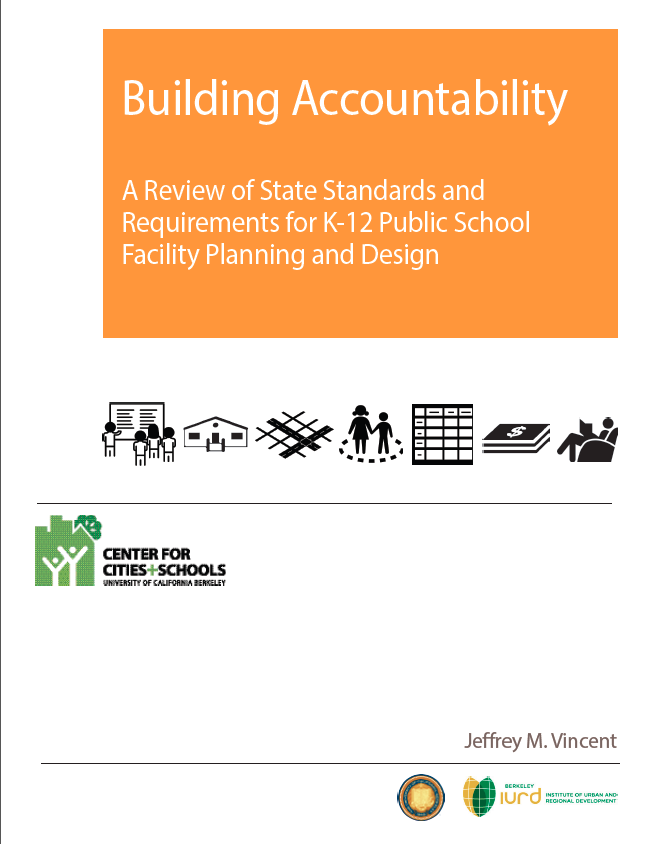 Jeffrey M. Vincent, PhD
July 2016
To inform state lawmakers on appropriate policies for K-12 school facility planning and design, this paper investigates standards in seven state policy areas (educational space, minimum essential facilities, indoor human comfort/environmental quality, school site size, planning process, maintenance, and charter schools) in ten case study states: California, Colorado, Florida, Maryland, Massachusetts, New Mexico, New York, Ohio, Texas, and Washington. Identifying national trends in state standards for K-12 school facilities, we find that school facility standards advance four state interests:
State Interest #1.That children in the state attend public school facilities that adequately support the education program.
State Interest #2.To protect and/or advance the health of, safety of, and environmental quality for children and/or communities.
State Interest #3.That there are not gross facility disparities across the state that would disproportionately undermine the achievement of specific groups of students.
State Interest #4.That school districts design, build, and operate cost effective and efficient school facilities.
Drawing on lessons from the field, our recommendations are directed specifically to the California Department of Education, but applicable to all states:
States should maximize availability of facilities planning and design technical assistance to local school districts, to uphold state standards and leverage numerous benefits to the public/taxpayers. State agencies are uniquely positioned to play a technical assistance role to bring this value to all school districts.
States should regularly collect information on the conditions and qualities of all K-12 school facilities and grounds in the state. By collecting up-to-date information on school facility conditions and qualities, state leaders and the public have a way to know whether or not the various standards are having the desired effect(s).
States should conduct a public review and update of all K-12 facility standards every few years. State standards, guidelines and regulations for school facilities should be periodically reviewed and updated to reflect evolving industry best practice, new research findings, alignment to broader state infrastructure goals, and changing educational program emphases.
States should ensure there is adequate and equitable school facility spending to uphold standards. California policymakers can use state school facility funding and the standards in tandem to ensure that all children attend facilities that are safe, healthy, educational suitable and affordable to taxpayers.