WE PRODUCE HIGH-QUALITY, NON-PARTISAN RESEARCH AND POLICY GUIDANCE TO LOCAL, STATE, AND FEDERAL POLICY MAKERS.
VIEW OUR REPORTS BY TOPIC.
VIEW OUR REPORTS BY YEAR:

EDUCATION EQUITY REQUIRES MODERN SCHOOL FACILITIES: THE CASE FOR FEDERAL FUNDING FOR SCHOOL INFRASTRUCTURE
The Rebuild America's School Infrastructure Coalition
Mary Filardo, Jeffrey M. Vincent, and Kevin Sullivan
Every day millions of elementary and secondary school children in the U.S. attend public school in deteriorated and obsolete facilities that harm their health and undermine achievement. Why? Because capital funding for public school facility infrastructure remains the most regressive element of public education finance.

FINANCING SCHOOL FACILITIES IN CALIFORNIA: A 10-YEAR PERSPECTIVE
Study for Getting Down to Facts II, led by Stanford University and PACE
Eric Brunner and Jeffrey M. Vincent
California's 6-million-student public school system includes a vast inventory of publicly owned buildings and property. All of these facilities need to be maintained and some need major renovations to ensure health, safety, and educational suitability. Some communities also need new school buildings to house a growing student population.
Research suggests students learn better in classrooms that are modern, comfortable, and safe, but the age and condition of school facilities varies widely across the state. According to a recent estimate, California school districts need to spend between $3.1 billion and $4.1 billion annually just to maintain their existing facilities. Further, the total amount of facility funding needed for California schools during the next decade for modernization and new construction is expected to be about $117 billion.
Meanwhile, many observers raise concerns about the state's current policies related to school facility funding. They cite disparities in school facilities conditions and revenues across districts, and argue that the state's school facilities funding system does not target aid toward districts with the greatest facility needs.
This study explains California's approach to financing public school facilities and examines the level and distribution of state and local school facility funding since 2006, including facility funding for charter schools.
KEY FINDINGS:
Local sources of school facility funding greatly outstrip state support.
School facility funding is volatile and has declined since 2006.
Wide disparities in school facility funding that are systematically related to school district property wealth, income, and students' backgrounds result in a relatively regressive finance system.
Charter school facility funding continues to expand.
Download full technical report
Visit Getting Down to Facts website
---
Sean Doocy
The current housing affordability crisis in California, coupled with stagnant wages for teachers and school district staff, has contributed to high teacher turnover and widespread teacher shortages. In response, school districts have begun to develop employee housing programs as a strategy to recruit and retain high-quality teachers and staff. This study provides a detailed look at the current school district housing landscape, investigating the policy and legal context as well as key takeaways from existing projects.
We present findings from a study for Berkeley Unified School District (BUSD), which shows that current BUSD employees need housing assistance and would be interested in living in district-owned employee housing. Based on this detailed analysis of BUSD's potential employee housing program, along with a comprehensive understanding of this emerging typology, we offer insights for other school districts across California and the country as they explore their own employee housing initiatives.
Herberg, Jeremias
This study provides a critical appraisal of intermediaries in demand-driven workforce development. In San Francisco East Bay an emerging set of workforce intermediaries – here called the" Skills Brokers" – recently take issue in alleged Skills Gaps to create a cross-sector reform agenda. They seek to connect the supply and demand for STEM skills to mediate between the booming technology industries and educational crises. Against the backdrop of structural education-industry interconnections, however, the report suggests a shift in focus: It is argued that the Skills Brokers are valuable in facilitating boundary-crossing collaboration, but their orientation towards employer demands may perpetuate educational inequities while downplaying employer responsibilities. An altered focus on supporting upward-mobility pathways requires a more proactive role by Skills Brokers that scrutinizes and shapes employer demands.
---
Vincent, Jeffrey M.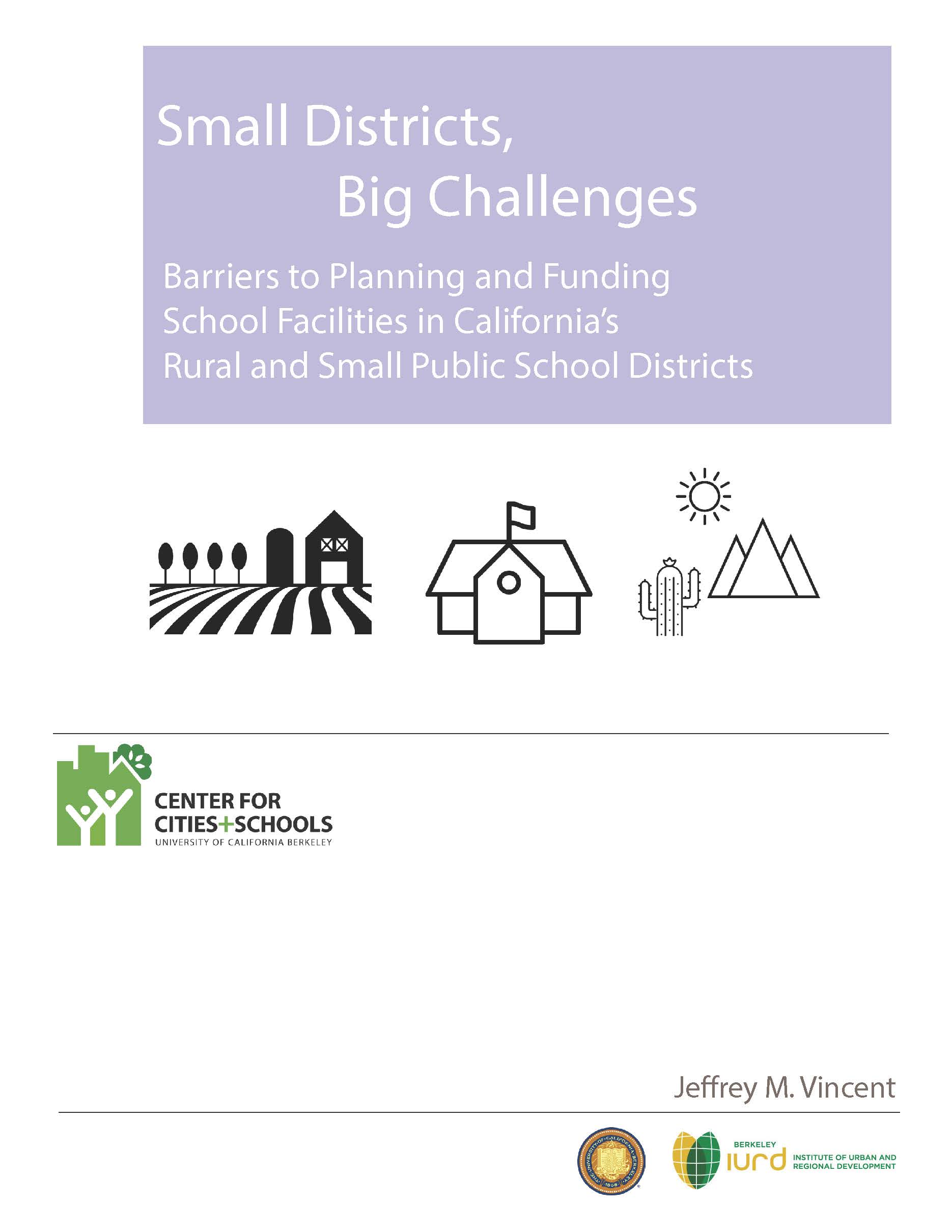 In 2017, the California Department of Education (CDE) announced the "Small School District Assistance Initiative," aimed at providing targeted assistance to small and rural school districts in the state. To aid CDE's efforts, this study investigates the facility challenges and issues facing rural and small school districts in California. We utilize a mixed method approach to understand the capital investment patterns and facility planning processes of rural and small public school districts in California. In Part II we present findings from analysis of school district data on facility-related characteristics and spending trends. In Part III, we present findings from interviews with 40 rural and small school district officials from across California.