Cultivating Leaders to Collaborate Across Cities and Schools
When civic and educational leaders work together to put children and youth at the heart of urban planning, great things happen – ranging from expanding access to school playgrounds in areas without parks to building affordable housing near good schools. Too often, however, this collaboration does not happen. City and school decision-makers operate in silos, without systems or a common language to bring them together.
To bridge this divide, CC+S launched the PLUS (Planning & Learning United for Systems-Change) Leadership Initiative to work directly with cities and school districts to nurture collaboration and identify innovative, win-win solutions. Since 2006, PLUS has partnered with dozens of cities and school districts in the Bay Area and Sacramento to realize a new model for collaborative policymaking. It has cultivated a community of practice in which professionals connect with and learn from their counterparts in other cities and districts. Over fifty UC Berkeley Graduate Research Fellows have contributed to the initiative and are spreading this collaborative approach across the country.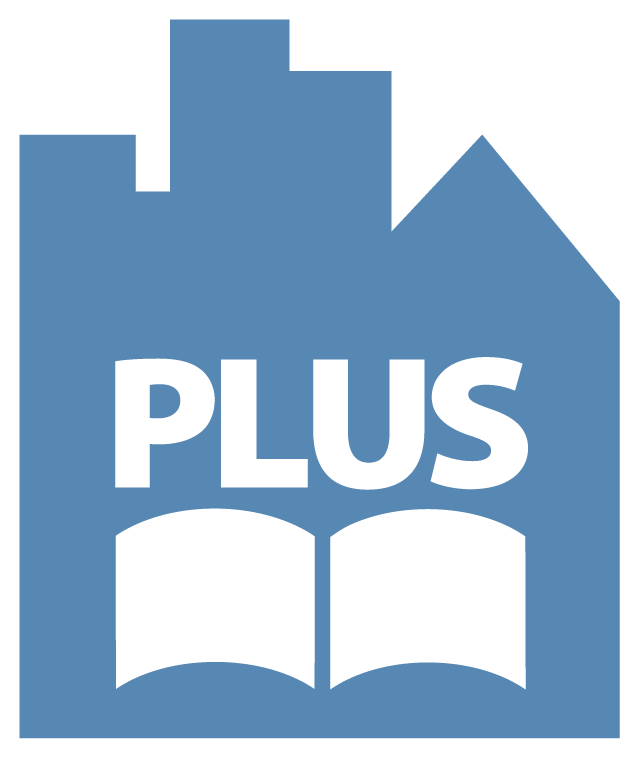 "Having a PLUS Fellow on the ground helps us build our capacity. Their technical skills help us sharpen our analysis for district-level decision making. Our Fellow made things click!"
– PLUS School District Client
PLUS serves as a core research initiative at the Center for Cities + Schools, investigating a number of youth-centered topics. For example, Deborah McKoy is currently leading a team of PLUS Graduate Research Fellows focused on improving college and career readiness for unhoused students in California.
CC+S recruits PLUS fellows from across campus at the start of each fall academic year through an intensive outreach and interview process. They receive training and develop unique skills to foster intergovernmental collaboration across city, civic, and public education sectors. Fellows then work together through the academic year and present their findings to project clients in April.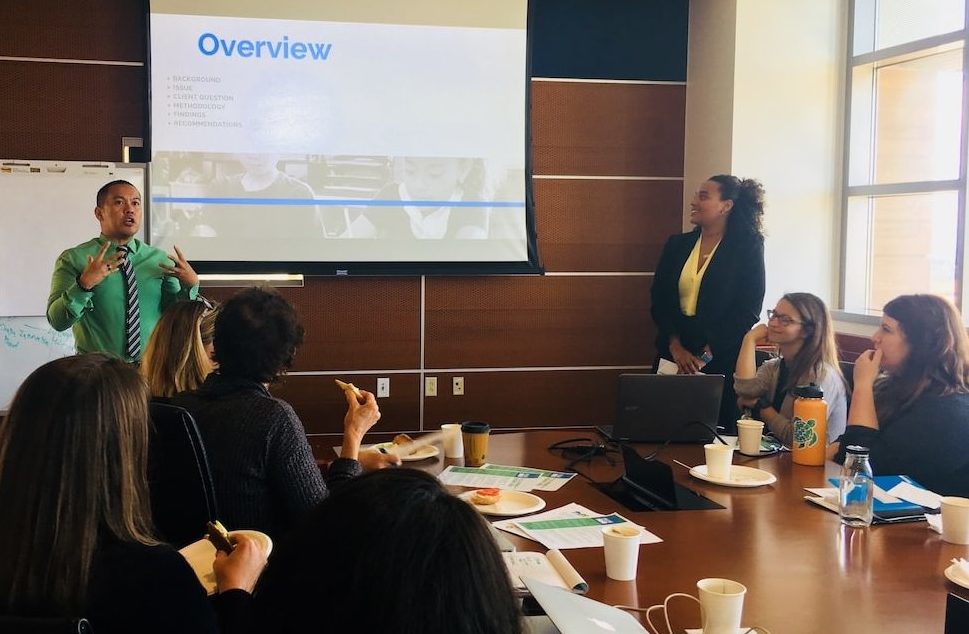 "Being a PLUS Fellow was a great opportunity for me to apply the skills I learned in my public policy courses in a real world setting. I gained a unique cross-sector regional perspective on education that I did not have before."
– Anna Meier, PLUS Fellow
PLUS Graduate Fellows
Sonia Schrager, Goldman School of Public Policy
Anna Iglitzin, Goldman School of Public Policy
Elizabeth T. Uno, Goldman School of Public Policy
Jessica Pearl Kannam, Goldman School of Public Policy
Joanne Lin-Henig, Goldman School of Public Policy
Caroline Siegal Singh, Goldman School of Public Policy
Hayden Rosenberg, City and Regional Planning
Noah Cole, Goldman School of Public Policy
Reed Levitt, Goldman School of Public Policy
Nicole Hsu, Goldman School of Public Policy
Hua (Elaine) Luo, Graduate School of Education
Anna Leversee, School of Public Health and Social Welfare
Mary Cate Gustafson-Quiett, Goldman School of Public Policy
Rachel Hammond, Goldman School of Public Policy
David Hernandez Garcia, Department of City and Regional Planning
Laura Mandel, Goldman School of Public Policy
Diana Casanova, Graduate School of Education
C. Sequoia Erasmus, Department of City Planning, UC Davis
Irene Farnsworth, Goldman School of Public Policy
Sarah Ferrell, School of Public Health and School of Social Welfare
Julian Hayes, Goldman School of Public Policy
Chris Kaiser-Nyman, Goldman School of Public Policy
Terren Wing, Goldman School of Public Policy
Melissa Henne, Goldman School of Public Policy
Michael Lau, Goldman School of Public Policy
Victor Phu, Goldman School of Public Policy
Sarah Snook, Goldman School of Public Policy
Rhina Torres, Goldman School of Public Policy
Jessie Wesley, Department of City and Regional Planning
Marina Balleria, Goldman School of Public Policy
Nefara Riesch, Goldman School of Public Policy
Lisa Qing, Goldman School of Public Policy
Daisy Quan, Goldman School of Public Policy
Anna Radoff, Goldman School of Public Policy
Sara Riley, Goldman School of Public Policy
Lilian Chen, Goldman School of Public Policy & School of Public Health
Nija Fountano, Department of City and Regional Planning
Derrika Hunt, Graduate School of Education
Sarah Kolterman, Goldman School of Public Policy
Lindsay Maple, Goldman School of Public Policy
Casey McAlduff, Graduate School of Education
Taylor Myers, Goldman School of Public Policy
Zohar Perla, Goldman School of Public Policy
Abby Ridley-Kerr, Goldman School of Public Policy
Diana Rios, School of Public Health
Leslie Valencia, Department of City and Regional Planning
Keith Welch, Goldman School of Public Policy
Eliza Kate Wicks-Arshack, Goldman School of Public Policy & School of Social Welfare
Alejandra Barrio, Goldman School of Public Policy
Desiree Carver-Thomas, Goldman School of Public Policy
Raúl Chavez, School of Social Welfare
Dennis de Guzman Caindec, Graduate School of Education
Francesca Delgado, Goldman School of Public Policy
Julia Ehrman, Department of City and Regional Planning
Margaret Fransee, School of Social Welfare
Maxwell Gara, School of Public Health
Cailey Gibson, School of Public Health
Kate Glassman, Goldman School of Public Policy
Sari Ladin, Goldman School of Public Policy
Alexandra Lozanoff, Goldman School of Public Policy
Anna Maier, Goldman School of Public Policy
Ángel Ross, Department of City and Regional Planning
Justine Wolitzer, Goldman School of Public Policy
Maura Baldiga, Department of City and Regional Planning
Jessica Box, Goldman School of Public Policy
Megan Calpin, Department of City and Regional Planning
Julia Ehrman, Department of City and Regional Planning
Julie Leung, School of Public Health
Anna Maier, Goldman School of Public Policy
Hanna Melnick, Goldman School of Public Policy
Maira Sanchez, Department of City and Regional Planning
Liz Schmid, Department of City and Regional Planning
Roza Do, Department of City and Regional Planning
Darren Gapultos, School of Social Welfare
Heather Imboden, Department of City and Regional Planning
Sachin Jain, Goldman School of Public Policy
Ruth Miller, Department of City and Regional Planning
Chaya Nayak, Goldman School of Public Policy
Joseph Schuchter, Graduate School of Education
Aixle Aman, Goldman School of Public Policy
Roza Do, Department of City and Regional Planning
Jocelyn Everroad, Goldman School of Public Policy
Darren Gapultos, School of Social Welfare
Victoria Laws, Goldman School of Public Policy
Seenae Chong, Graduate School of Education
LeConte Dill, School of Public Health
Kris Hartley, Department of City and Regional Planning
Reino Makkonen, Graduate School of Education
Paul Perry, Goldman School of Public Policy
Adrianne Wheeler, Department of City and Regional Planning
Ary Amerikaner, Goldman School of Public Policy and Boalt Hall School of Law
Dylan de Kervor, School of Social Welfare
Kristen Ferris, Goldman School of Public Policy
Jason Hirschhorn, Haas School of Business
Jordan Klein, Department of City and Regional Planning
Mara Larsen-Fleming, Goldman School of Public Policy and School of Public Health
April Suwalsky, Department of City and Regional Planning
Samir Bolar, Haas School of Business
Tamar Cooper, Department of City and Regional Planning and Department of Landscape Architecture
Laura Henry, Goldman School of Public Policy
Alissa Kronovet, Department of City and Regional Planning
Cherry Ordonez, Department of City and Regional Planning
Erika Tate, Graduate School of Education
Lynn Wu, Goldman School of Public Policy and Boalt Hall School of Law
Laura Henry, Goldman School of Public Policy