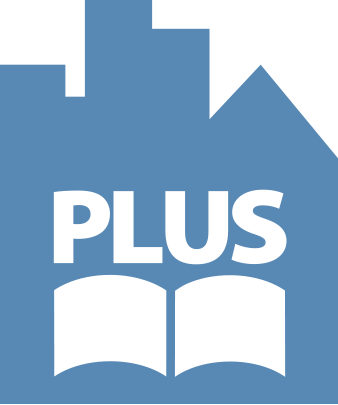 ---
City of Oakland and Oakland Unified School District
---
2019 Putting Data to Work to Support OUSD Teacher Retention
Chris Kaiser-Nyman
---
2019 The Case for Investing in Teacher Wellness
Irene Farnsworth
---
2018 Understanding How Principals Can Disrupt Vicarious Trauma in OUSD
Anna Radoff
---
2018 Addressing Vicarious Trauma in Oakland's Teachers
Sarah Snook
---
2017 Innovating Work-Based Learning in Oakland: Strategies to Promote Internship Quality
Lisa Qing & Sarah Riley
---
2016 OPTIONS FOR SUPPORTING EDUCATORS WITH HOUSING ASSISTANCE: STRATEGIES FOR TEACHER RECRUITMENT AND RETENTION
Lindsay Maple and Leslie Valencia
---
2016 Exploring Alternative Talent Streams at Oakland Unified School District: Emergency Credential Teachers
Nija Fountano and Zohar Perla
---
2015 Advocacy Through Effective Benchmarking and Communications: Making the Case for Quality School Facilities in OUSD
Alejandra Barrio, Max Gara and Sari Ladin
The Oakland Unified School District (OUSD), like many other districts in California and across the nation, has struggled to adequately fund the maintenance and operations (M&O) of its school facilities. Properly maintaining and operating facilities is essential to ensuring the health and success of students and educators.
---
2015 Facilitating the School-To-Work Transition: Advancing Project-Based + Work-Based Learning Experiences in OUSD
Raúl Chavez and Kate Glassman
This project combines analysis of project-based learning (PBL) and work-based learning abilites to facilitate the school-to-work transition. Project-based Learning (PBL) is a teaching method that guides students through the process of designing and implementing projects about social problems or phenomena grounded in their interests. As a pedagogical approach, PBL fits well within the Oakland Unified School District's Linked Learning academic framework, which prioritizes giving students opportunities to connect with professional communities and apply their learning outside of school. While work-based learning, exemplified by Oakland Unified School District's (OUSD) Linked Learning program is part of a broader, statewide initiative to ensure students' transition from school to work.
---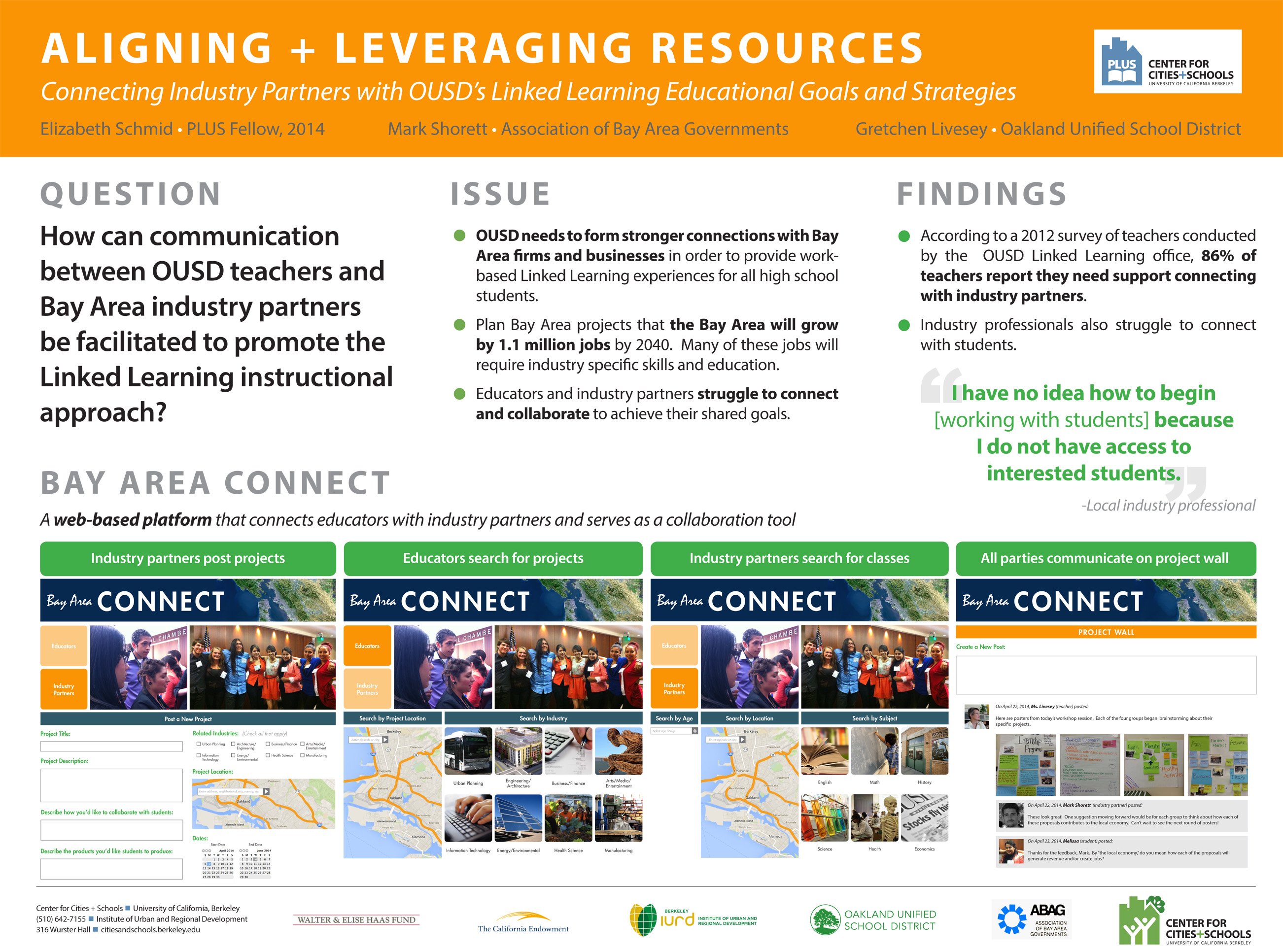 2014 Aligning + Leveraging Resources: Connecting Industry partners with OUSD's Linked Learning Educational Goals + Strategies
Elizabeth Schmid
OUSD's career academies and pathways are the foundation of its work-based learning strategy, known as Linked Learning. This instructional approach provides students with the resources and skills necessary to succeed in college, career and life. But according to this report, educators and industry professionals struggle to connect on meaningful collaboration projects.
---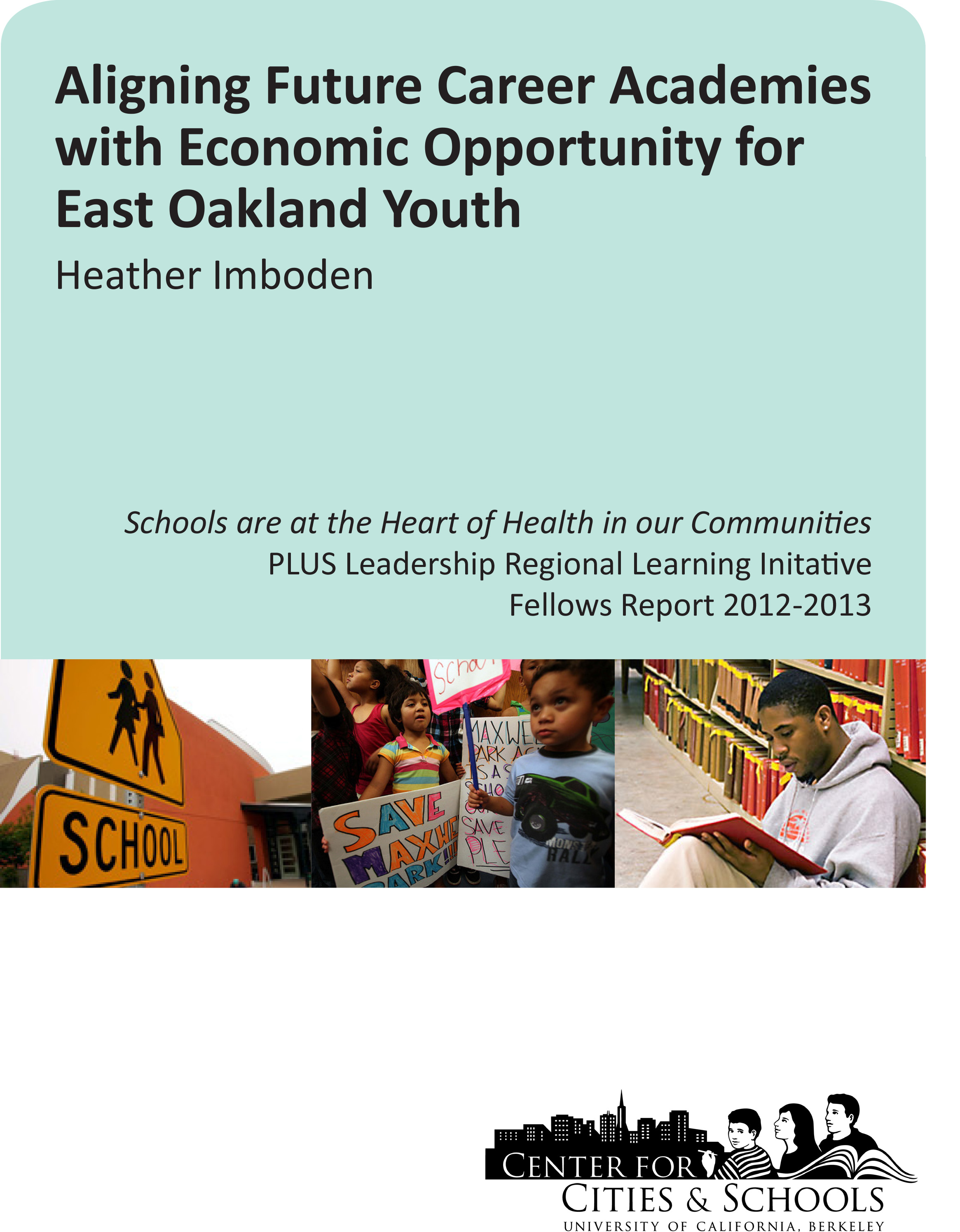 2013 Career Academies and Economic Opportunity in East Oakland
Heather Imboden
This project seeks to identify opportunities for Youth UpRising (YU) to support and collaborate with the OUSD in developing a new career academy at Castlemont High School. This paper analyzes potential career academies against the current economic and educational landscape of the East Bay and provides tools for YU and OUSD to work together in the develoopment of a career academy at Castlemont High School.
---
2013 Community Data to Inform Portfolio Management, Aid Principals
Sachin Jain
This report was born out of a project that seeks to aid in generating a comprehensive understanding of changes in enrollment, the impact that various programs have on enrollment, community perception, community preferences and the impact that the Options Process can play in all of this.
---
2012 The Role of Career Academies in Realizing OUSD's Full-Service Community School District-wide Policy and Goals: A Case Study of the Sustainable Urban Design Academy (SUDA) at Castlemont High School
Aixle Aman
After reviewing the policy landscape and placement of SUDA within Oakland's social network, this report seeks to answer how a career academy can transform a school into a full-service community learning center and simultaneously address community development goals.
---
2012 Community Engagement in School Restructuring: Lessons + Strategies
Jocelyn Everroad
In the summer of 2009, Oakland Unified School District ("OUSD", "the District") was returned to local governance after six years of State control, with Dr. Tony Smith as its new Superintendent. Despite fiscal challenges, the administration embarked on a year of listening sessions, followed by a yearlong collaborative planning effort that culminated in a shared strategic vision for the District. In the summer and fall of 2011, OUSD began a restructuring process. The goal was to "expand quality and release resources" and included the possibility of closing, consolidating, or reconfiguring a subset of the District's schools. As a result the Board approved a number of schools for closure and consolidation on October 26, 2011, including five elementary schools. As in other cities, the decision was contentious.
---
2010 Training for Principals and Orientation for Providers: Partnership Tools and Models
Seenae Chong and Tracey Logan
This report explores methods of creating partnerships between schools, non-school supports and community organizers by looking at OUSD's Complementary Learning Department.
---
2010 East Oakland BuiLding Healthy Communities Initiative: Challenges + Strategies
Sarah Sullivant
To address the fragmentation of Oakland's public schools, this report recommends developing a shared vision at the school and district levels and incorporating service partners into the life and culture of school sites.
---
2009 OUSD's Complementary Learning Initiative: Increasing educational equity and academic achievement through collaboration
Mara Larsen-Fleming
With the focus of coordinating community activities into school sites, this report regards cultivating joint use, after-school programs, school site plan integration and collaborative school study programs as potential methods.
---
2008 Youth Data Archive: using data across districts, county, and city aGencies to Serve OUR students most effectively and efficiently
Lynn Wu
The applications of a wide swath of student and school data are quite valuable, but realistic timelines and cross-organizational coordination are necessary to improve data effectiveness.
---
City of Richmond, West Contra Costa Unified School District, Bay Area LISC, Richmond Children's Foundation (RCF)
2019 The Power of Youth Voice in Realizing Health Equity in the City of Richmond & WCCUSD Schools
Sarah Ferrell
---
2019 Richmond Community Informs and Transforms the Role of Family and Community Voice in the WCCUSD LCAP
Diana Casanova
---
2018 Addressing the best ways to empower the youth commission to influence decision making policies
Jessie Wesley
---
2017 Strengthening School Community Outreach Workers in the West Contra Costa Unified School District
Marina Balleria
---
2016 YOUTH ENGAGEMENT AND AUTHENTIC STUDENT VOICE IN LCAP/LCFF PLANNING PROCESSES: EMERGING BEST PRACTICES
Derrika Hunt and Casey McAldruff
---
2016 MAPPING ASSESSMENT TO NEED: STREAMLINING THE FULL SERVICE COMMUNITY SCHOOLS NEEDS ASSESMENT PROCESS IN WEST CONTRA COSTA USD
Abby Ridley-Kerr
---
2015 City-School Partnerships in Richmond, CA: Supporting Full Service Community Schools in west contra costa unified school district
Desiree Carver-Thomas
Nearly half of all West Contra Costa Unified School District (WCCUSD) schools are located in the City of Richmond and many Richmond students benefit immensely from the kinds of services offered in a community school. Now is an especially urgent time for high quality community schools implementation given the Richmond Promise, Local Control Funding Formula, and WCCUSD community school policies.
---
2015 CHARTING THE COURSE FOR SUCCUSSFUL COMMUNITY SCHOOLS: USING DATA & HUMAN CAPITAL TO ADVANCE IMPLEMENTATION IN WCCUSD
Anna Maier
In 2012, the West Contra Costa Unified (WCCUSD) Board of Education adopted a resolution in support of districtwide Full Service Community Schools. A community school educates the "whole child" by providing integrated services to support academic achievement and successful life outcomes. This project addresses two key questions:
1) What is the current implementation status of the WCCUSD community schools initiative?
2) How can data and human capital advance implementation of community schools programming at the school site and district level?
---
2015 moving forward with community schools: aligning goals, strategies & actions in richmond
Margaret Fransee
With the 2013 introduction of the Local Control Funding Formula (LCFF), the West Contra Costa School District, Healthy Richmond, the City of Richmond, and other stakeholders have been strategizing around how the LCFF can benefit underserved students through the implementation of a Full Service Community School model (FSCS). This project aims to investigate how best to align implementation methods.
---
2014 MAPPING FOR ALIGNMENT: INVENTORYING SCHOOL-BASED SERVICES IN WCCUSD
Maura Baldiga and Anna Maier
To strategically plan for the implementation of a full-service commuunity schools initiative, this project sought to identify existing programs at school sites in WCCUSD and analyze how the distribution of services aligns with local needs.
---
2013 A Full-Service Community School District in West Contra County
Roza Do
The full-service community schools approach is a district-wide priority that aims to better coordinate and align public and private partnerships and resources to meet the comprehensive needs of students and create equitable conditions to promote community health. This report focuses in particular on the Richmond Health Equity Partnership for developing a district-wide FSCS strategy.
---
2012 Aligning the Healthy Richmond Hub Project with WCCUSD
Roza Do
The Healthy Richmond Hub project can better meet the needs of young people by aligning community school and vision strategies with parent networks and school-based health centers as anchors.
---
2010 Nystrom United Revitalization Effort
Kris Hartley
In order to build a "safe, diverse and thriving place" with full services, the community feedback repository should be institutionalized, stakeholder involvement should be coordinated and metrics for measuring the strategy's effectiveness should be devised.
---
2009 Neighborhood Transformation Through Collaborative Practice
This project seeks to identify how to engage community members in the Nystrom United Revitalization Effort and implement collaboration and accountability structures across stakeholders.
---
2008 Maximizing School Facility Use for Healthier Communities
Tamar Cooper, Cherry Ordoñez and Samir Bolar
---
Association of Bay Area Governments
2013 Integrating Sustainable Community Planning and Public Education
Chaya Nayak
The purpose of this report is to analyze and identify shared visions and goals between ABAG and educators, and develop recommendations for aligning programs and policies to reach such goals.
---
City of San Francisco and San Francisco Unified School District
2019 A Decade of Action and Insight from Bayview's Youth and Schools
Terren Wing
---
2019 Transportation Access and Equity in San Francisco Unified School District: A Route to Success
Julian Hayes
---
2018 Field Report: Strategic Guide to Engage Youth in SF Planning Initiatives
Michael Lau and Victor Phu
---
2018 Implementation Effectiveness of K-5 Spanish Pathways: Recommendations to Improve English Learner Success
Rhina Torres
---
2017 Teacher Success in The Bayview: Community Perspectives on Recruitment & Retention
Daisy Quan and Nefara Riesch
---
2016 PLACE-BASED AND DEMOGRAPHIC FACTORS IN TEACHER ATTRITION: USING DATA TO INFORM DECISION MAKING IN SAN FRANCISCO UNIFIED SCHOOL DISTRICT
Sarah Kolterman, Taylor Myers and Keith Welch
---
2015 Planning for Big Change: Enrollment Growth + SFUSD School Portfolio PLANNING
Justine Wolitzer
The San Francisco Unified School District (SFUSD) needs to re-evaluate their long-range facilities planning strategy because city demographics and enrollment are changing dramatically. This is a result of ambitious housing growth plans, which contribute to a forecasted growth in enrollment by nearly 20% by 2025.
---
2015 Making Quitable + Sustainable Transportation a Reality in SFUSD
Julia Ehrman
SFUSD provides school bus service to a small number of students, but the majority of SFUSD students rely on other transportation modes. Many students face excessively long or unsafe commutes, while others rely on private vehicles because alternatives are insufficient for busy lifestyles. The complex school assignment system, diverse school contexts and limited resources create complex transportation challenges.
---
2015 HOPE SF + SFUSD Alignment of Educational Services
Francesca Delgado and Dennis De Guzman Caindec
The San Francisco Unified School District (SFUSD) is the primary HOPE SF partner to address educational programs and other learning opportunities. In particular, HOPE SF and SFUSD have partnered to provide and increase access to dual generational education services across the eight HOPE SF public elementary schools and four public housing sites. But how aligned, both vertically & horizontally, are services between the 8 HOPE SF elementary schools and 4 public housing sites to support the HOPE SF educational priorities?
---
2014 ACCESS + EQUITY: MAPPING SFUSD'S TRANSPORTATION INFRASTRUCTURE FOR STUDENTS WITH DISABILITIES
Julie Leung
Using data from SFUSD's transportation department, special education services and enrollment placement center, project visualization maps were created using GIS to understand the location of students and services within the district. Important findings are elaborated upon.
---
2014 LINKING EQUITY + SUSTAINABILITY: A TRANSPORTATION PLAN FOR SFUSD
Julia Ehrman
In San Francisco, three factors-school choice, limited transportation resources, and diverse school contexts-pose significant challenges to student transportation, and illuminate the need to include affordability, access, and safety in a context-specific sustainable transportation plan. This paper implicates the SFUSD as the entity responsible for linking transportation equity and sustainability for its students.
---
2013 Aligning Funding for Education in Bayview Hunter's Point
Darren Gapultos
In partnership with the SFUSD, this research project utilizes official documents and key stakeholder interviews ot create landscape analysis that attempts to address the following question: What community development initiatives will support and improve the educational attainment of pre-k to 12th grade youth attending SFUSD schools located in the Bayview neighborhood and what connections between these initiatives can SFUSD leverage so that resources support district policies?
Project Poster: Aligning Funding to Maximize Educational Outcomes
Project Poster: Year by Year Estimates of Education-Related Funds
---
2013 Fair and Equitable: Pricing School Facilities for Joint Use
Ruth Miller
SFUSD, like many districts, allows use of its classromms, gymnasiums, and other indoor facilities to external groups. But similar to other districts, SFUSD has struggled to apply use fees consistently, fairly and equitably. Building from the recommendations of the 2010 report, San Francisco's Public School Facilities as Public Assets: A Shared Understanding and Policy Recommendations for the Community Use of Schools, and the working group, this report proposed an updated, revised pricing methodology and fee schedule in accordance with California's Civic Center to increase transparency, consistency, and align to SFUSD's education goals.
---
2012 Improving Youth Opportunities in Bayview/Hunter's Point
Darren Gapultos
By emphasizing a 'Cradle to Career' pathway to success, this report outlines the potential for community organizations to interact with public schools in the Bayview/Hunter's Point neighborhood.
---
2010 HOPE SF: Adult Supported Youth Engagement
LeConté Dill
Through connections with local communities of practice as well as development professionals and other adult actors, HOPE SF can improve the prospects for affiliated youth.
---
2009 HOPE SF at Hunters View
This report analyzes the potential to integrate school and community services in the redevelopment of HOPE SF at the Hunters View public housing project.
---
2009 SF's Public School Facilities as Public Assets
Public schools offer incredible potential for diverse uses by local community groups and organizations. This presentation gives an overview of some of the challenges and potential benefits of creating municipal joint use policy.
---
2008 Joint Use School partnerships in California: How Do Different Housing and How Do Different Housing and Redevelopment Policies in San Francisco Support or Impact SFUSD Families and Schools?
Cherry Ordoñez
Considering the relationship between housing and education, this presentation recommends that long-term facilities planning, a joint media campaign involving housing and education policy stakeholders, and further development of the Healthy Development Measurement Tool.
---
City of San Pablo, West Contra Costa Unified School District, and the Helms Community School
2010 Coordinated Information and Knowledge Sharing
Reino Makkonen
Greater information and knowledge sharing between WCCUSD and local government, through electronic attendance tracking and linked learning partnerships, would greatly improve the ability to connect land use and education policy.
---
2009 Helms Community School
By forming strategic partnerships, encouraging joint use and integrating district and city policy, the Helms Community School has improved test scores, experienced high rates of attendance and essentially blurred the lines between home and school.
---
2008 Data-Sharing for Systems Change
Erika Tate
This presentation recommends collaborating with district health centers and after school programs, identifying gaps within the district's data needs and establishing a longitudinal evaluation plan.
---
City of Sacramento and Sacramento City Unified School District
2017 Assessing Pathway Programs for Underrepresented Minorities to Medical School
Anna Radoff
---
2016 STRENGTHENING THE PIPELINE: INCREASING HEALTH CAREER PATHWAYS IN SACRAMENTO CITY UNIFIED SCHOOL DISTRICT
Diana Rios adn Lillian Chen
---
2015 Broadening Health Pathways + Work-Based Learning in Sacramento City USD
Cailey Gibson and Ángel Ross
Health career pathway programs are a natural linkage between Sacramento City Unified School District's (SCUSD) expansion of LinkedLearning initiatives and the California Endowment's (TCE) focus on health. This project aims to frame this alignment and articulate how TCE can leverage grantees' expertise to best support student-centered health pathways and work-based learning in SCUSD.
---
2014 BUILDING HEALTHY COMMUNITIES: TRACKING CHANGE + TRANSFORMATION
Megan Calpin and Maira Sanchez
In 2010, The California Endowment (TCE) launched a 10-year, $1 billion Building Healthy Communities (BHC) initiative in 14 target communities across the state. South Sacramento was one of these selected target areas. This report looks at what changes have been catalyzed by Sacramento Building Healthy Communities investments in SCUSD on institutional practice and policy at the District level related to food access and school culture.
Project Posters: Collaboration Through Partnerships, Positive School Culture, Food Access in Schools
---
2013 Aligning Neighborhood, Education and Public Health Initiatives
Joseph Schuchter
Using a range of research methods, this report examines broadly the alignment of the full portfolio of BHC grantees and in particular the interface between community-based organizations and schools. It finds that the majority of grantees – two thirds – share some youth development objective.
---
City of Berkeley, Berkeley Unified School District, The Berkeley Alliance
2010 Addressing Barriers to Student Learning
Paul Perry
In order to improve student learning in the BUSD, this research recommends stronger district-level support, qualified managers at the school level, more universal training for staff and collaboration across schools and data systems.
---
2009 Creating a Collaborative Model through Practice Research
Kristen Ferris
In order to eliminate the racial predictability of low performance, this presentation identifies cultivating underrepresented groups for leadership roles and designing a process through which new group members can be assimilated into the common culture.
---
2008 Engaging Youth in City-School Collaboration
Laura Henry
By reinvigorating the Youth Commission and collaborating with non-city agencies, youth engagement with and benefit from schools will improve.
---
City of Emeryville and Emery Unified School District
2010 Sustaining Authentic Community Engagement Through Collaborative governance
Adrianne Wheeler
In order to improve community engagement, this presentation identifies legal agreements and non-traditional models based off determined decision issues as next steps.
---
2009 Emeryville Center for Community Life: Governances Models to support the integrated services mission
This presentation explores the most advantageous government models for the Emeryville Center for Community Life.
---
2008 Engaging Youth in City-School Collaboration
Alissa Kronovet
For both the General Plan Update Committe and the City-School Committee, the youth board representatives have proven to be valuable assets.