---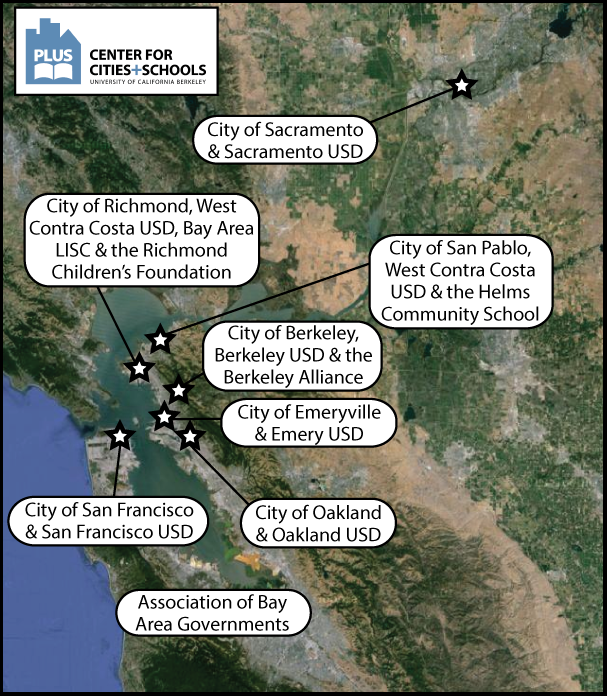 PLUS aims to develop, implement, and evaluate a comprehensive, interdisciplinary capacity building program that better prepares educational, community and civic leaders to create collaborative policies and practices. By design, such collaboration has the potential to create higher quality education and more vibrant, healthy communities in the inner Bay Area and, ultimately, serve as a model to other communities and schools in California and beyond.
Our PLUS Fellow has done a really great job visualizing SpEd transportation routes. I'm impressed with the policy brief and map she developed. The maps she created were a big hit during a recent cross functional team meeting here at the school district.
Critical to the theory of change of PLUS is the idea that supporting city and school districts around place-based interventions will offer more tangible opportunities for collaboration and help fill some of the chasms between city and school efforts to support students and families. Tactically, this means inviting city and school district leaders to form PLUS city-school teams. Each PLUS team identifies a specific project or policy issue with which leaders were grappling and a PLUS Fellow from UC Berkeley is assigned to work with them on it. By engaging in this "project based learning," leaders grow to understand each other's work and cultures and together identify "win-win" solutions for place- based interventions.
PLUS definitely added value to my graduate experience. Primarily, it was an opportunity to step outside of academia and work with community partners. I appreciated that chance to get to know what was going on in the school district and the people who are making it happen. I was able to learn a lot about the educational landscape of California, as well as the dynamics of school district offices.
The PLUS Fellow's work is what we turn to at the city to guide us in working with the school district - it's a key piece of the intellectual foundation of this collaborative work!
Check out our entire list of PLUS Reports!: