Competitive and vibrant metro regions of the future will have high-quality K-12 education systems that attract families, provide robust educational experiences, and bolster regional economic engines.
---
SKILLS BROKERS IN THE SAN FRANSISCO EAST BAY: CHALLENGES AND OPPORUNITIES FOR CREATING EQUITABLE CROSS-SECTOR COLLABORATION THROUGH WORKFORCE INTERMEDIARIES
Herberg, Jeremias
This study provides a critical appraisal of intermediaries in demand-driven workforce development. In San Francisco East Bay, an emerging set of workforce intermediaries – here called the" Skills Brokers" – recently take issue in alleged Skills Gaps to create a cross-sector reform agenda. They seek to connect the supply and demand for STEM skills to mediate between the booming technology industries and educational crises. Against the backdrop of structural education-industry interconnections, however, the report suggests a shift in focus: It is argued that the Skills Brokers are valuable in facilitating boundary-crossing collaboration, but their orientation towards employer demands may perpetuate educational inequities while downplaying employer responsibilities. An altered focus on supporting upward-mobility pathways requires a more proactive role by Skills Brokers that scrutinizes and shapes employer demands.
Center for Cities and Schools, Enterprise Community Partners, Mile High Connects, National Housing Conference, and the Natural Resources Defense Council
In many parts of the country it is difficult for families, particularly low- or moderate- income families to afford a suitable home in a transit-rich neighborhood with good schools. This report synthesizes the ideas and policy recommendations from a national convening of local, state, and federal stakeholders from across the country on innovative policy and practice at the housing, transportation, and schools ("H/T/E") nexus – specifically, discussing ways to design or emphasize the 
city as a place for families to stay and thrive.
---
Deborah McKoy, Jessie Stewart & Shirl Buss
Place profoundly impacts young people's opportunities and life chances. Even so, children and youth, and especially low-income youth of color, are rarely invited to sit at the urban-planning and policy-making table. The result is plans, policies and built environments that largely overlook the needs, insights and potential of some of our cities' most important constituents. This field report is part of a special issue of Children, Youth, and Environments on Child Friendly Cities. It describes how high school students from Richmond, CA used the Center for Cities + Schools innovative educational strategy called Y-PLAN (Youth – Plan, Learn, Act, Now) to actively participate in the planning and transformation of their school, neighborhoods and city. Our description follows students through the five-step Y-PLAN process, highlighting how they effectively challenge the ways in which unhealthy environments and adult-oriented urban planning and policy making structure disadvantage and undermine trajectories of opportunity. In doing so, the report illustrates how Y-PLAN can equip young people from low-income communities with the tools to become agents of positive change, and informs a discussion for planners and educators alike, of the essential conditions that structure that agency.
---
Elizabeth Schmid, Mark Shorett & Gretchen Livesey
OUSD's career academies and pathways are the foundation of its work-based learning strategy, known as Linked Learning. This instructional approach provides students with the resources and skills necessary to succeed in college, career and life. But according to this report, educators and industry professionals struggle to connect on meaningful collaboration projects.
---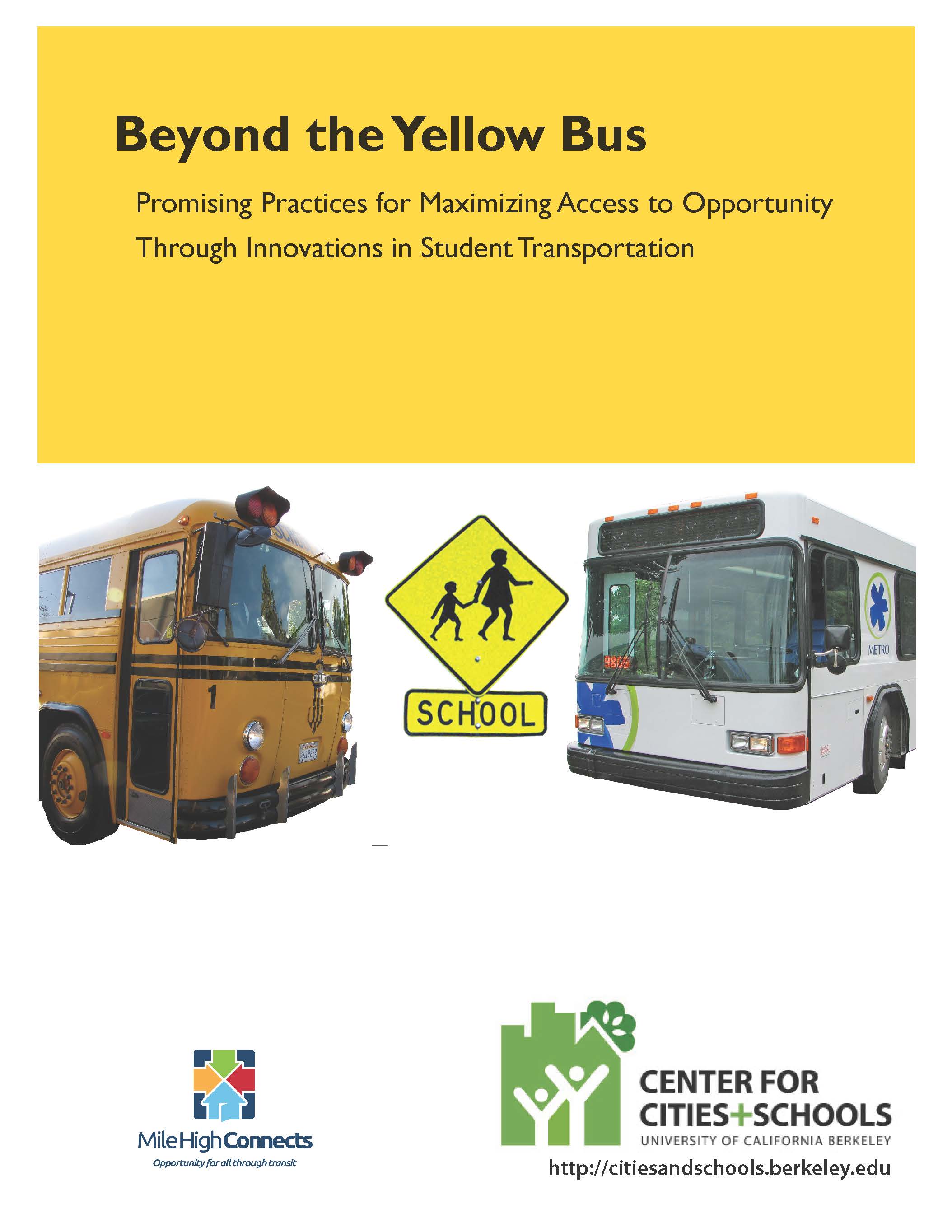 Jeffrey M. Vincent, Carrie Macarewicz, Ruth Miller, Julia Ehrman & Deborah L. McKoy
Access to safe, affordable, and convenient transportation shapes the 'geography of opportunity' for many children and youth. This study looks at how localities across the country are implementing new and innovative alternative approaches to student transportation that expand regional transportation access for K-12 students, improve cost-effectiveness, and leverage inter-agency partnerships beyond the traditional yellow school bus.
---
Chaya Nayak PLUS Report, 2013
The purpose of this report is to analyze and identify shared visions and goals between ABAG and educators, and develop recommendations for aligning programs and policies to reach such goals.
---
This paper was chosen for Smart Growth Network's compendium, The National Conversation on the Future of Our Communities, in February 2013. The project's aim is to start a conversation on thorny issues the smart growth movement has yet to resolve, issues that have received too little attention, and issues that have escaped us altogether. Our paper argues that planners—and particularly those that favor smart growth—already recognize the importance of workforce development and job creation, but too often fall short of extending their analysis and planning to a key foundation of strong regional economies: effective K-12 schools. We lay out a applied policy framework for remedying this reality.
---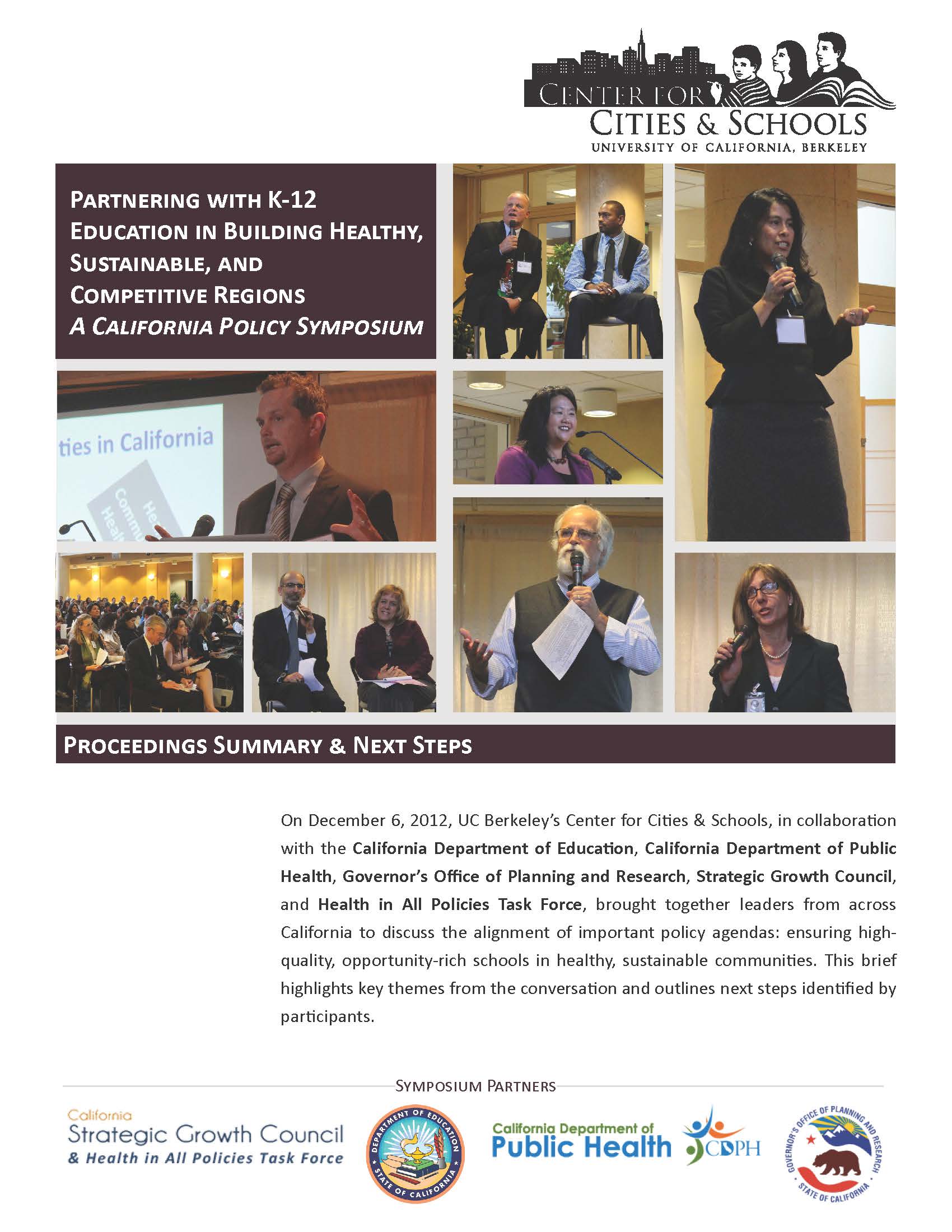 Jeffrey M. Vincent, Deborah L. McKoy, Ken Alex, Connie Mitchell & Kathleen Moore
On December 6, 2012, UC Berkeley's Center for Cities & Schools, in collaboration with the California Department of Education, California Department of Public Health, Governor's Office of Planning and Research, Strategic Growth Council, and Health in All Policies Task Force, brought together leaders from across California to discuss the alignment of important policy agendas: ensuring high-quality, opportunity-rich schools in healthy, sustainable communities. This brief highlights key themes from the conversation and outlines next steps identified by participants.
---
Deborah L. McKoy and Ariel H. Bierbaum
This report offers a comprehensive overview of the first six years of the PLUS (Planning and Learning United for Systems Change) Leadership Initiative administered by the Center for Cities & Schools at UC Berkeley (CC&S). PLUS began as a concerted response to the growing recognition among planning and educational practitioners, policy makers and funding agencies that the complex challenges facing students, families and their communities in the Bay Area and across the nation will require a new generation of leaders.
---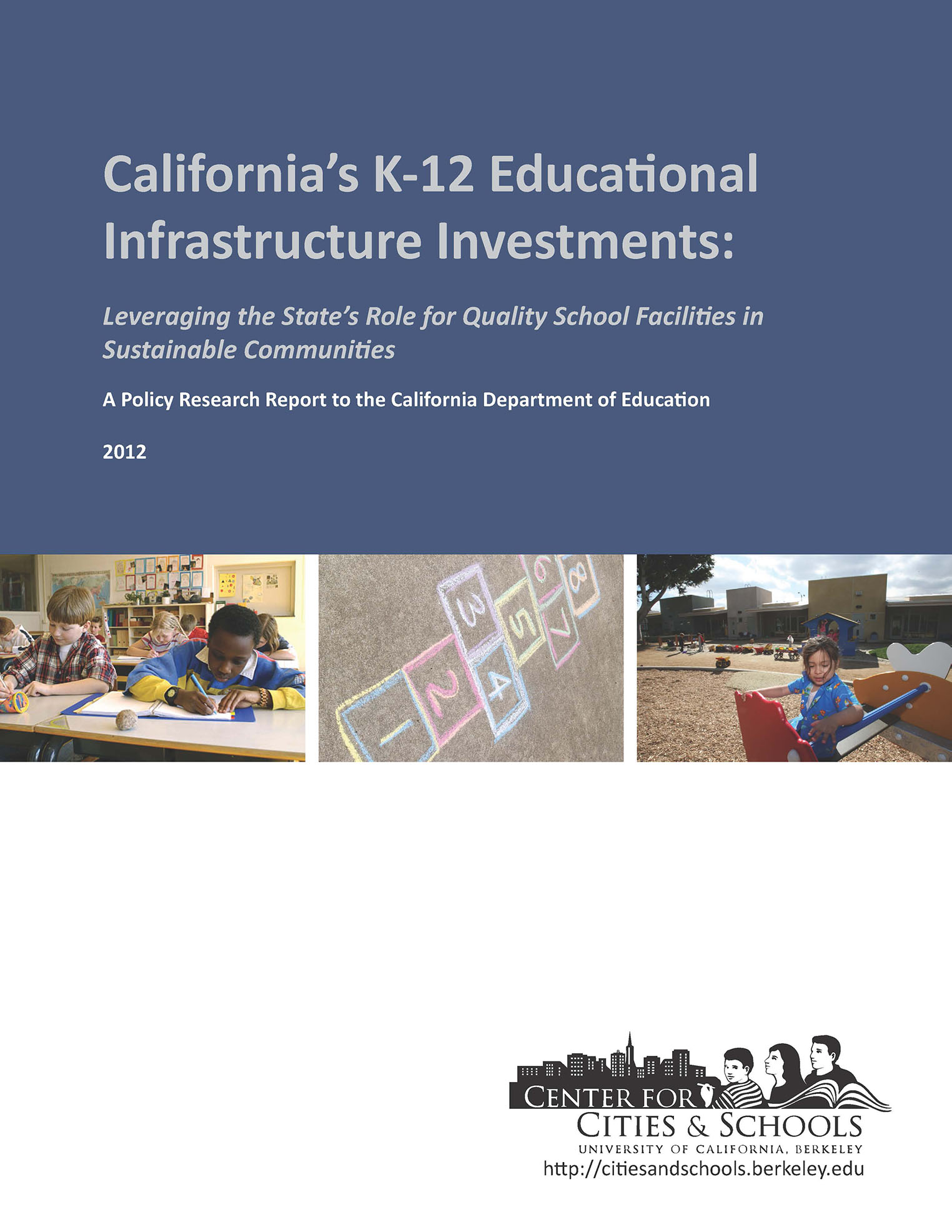 Jeffrey M. Vincent
This report takes a comprehensive look at the state of K-12 school facilities in California, focusing on state-level policies and funding patterns. The recommendations lay out a detailed framework that re-envisions the state's role in K-12 infrastructure to appropriately support educational quality and contribute to healthy, sustainable communities goals. Our hope is that this report helps guide state leaders in aligning infrastructure investments for efficiencies and multiple benefits for Californians. The report also includes a message of support for implementation from California State Superintendent of Public Instruction, Tom Torlakson.
---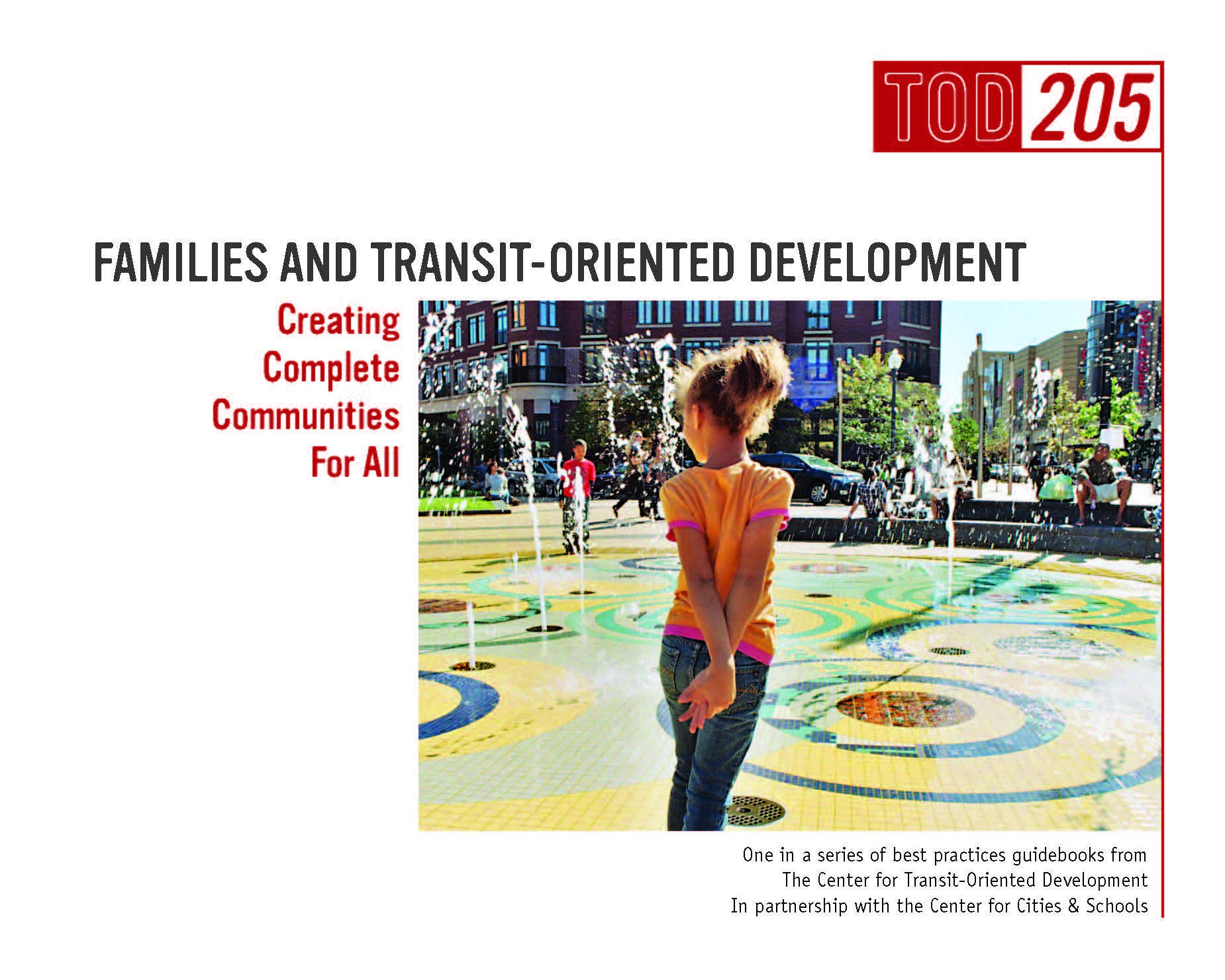 Jeffrey M. Vincent, Ariel H. Bierbaum, Deborah L. McKoy, and Michael P. Rhodes, Center for Cities + Schools and Sam Zimbabwe, Kelley Britt, and Elizabeth Wampler, Reconnecting America
The Center for Transit-Oriented Development (CTOD) and the Center for Cities + Schools at the University of California, Berkeley, released "TOD 205 - Families and Transit-Oriented Development: Creating Complete Communities for All," the seventh in the Federal Transit Administration-sponsored series of reports explaining the best practices of transit-oriented development. This guidebook illustrates why planning for transit-oriented development that serves families is important for creating truly "complete" communities and how such planning can be achieved in conjunction with school stakeholders.
---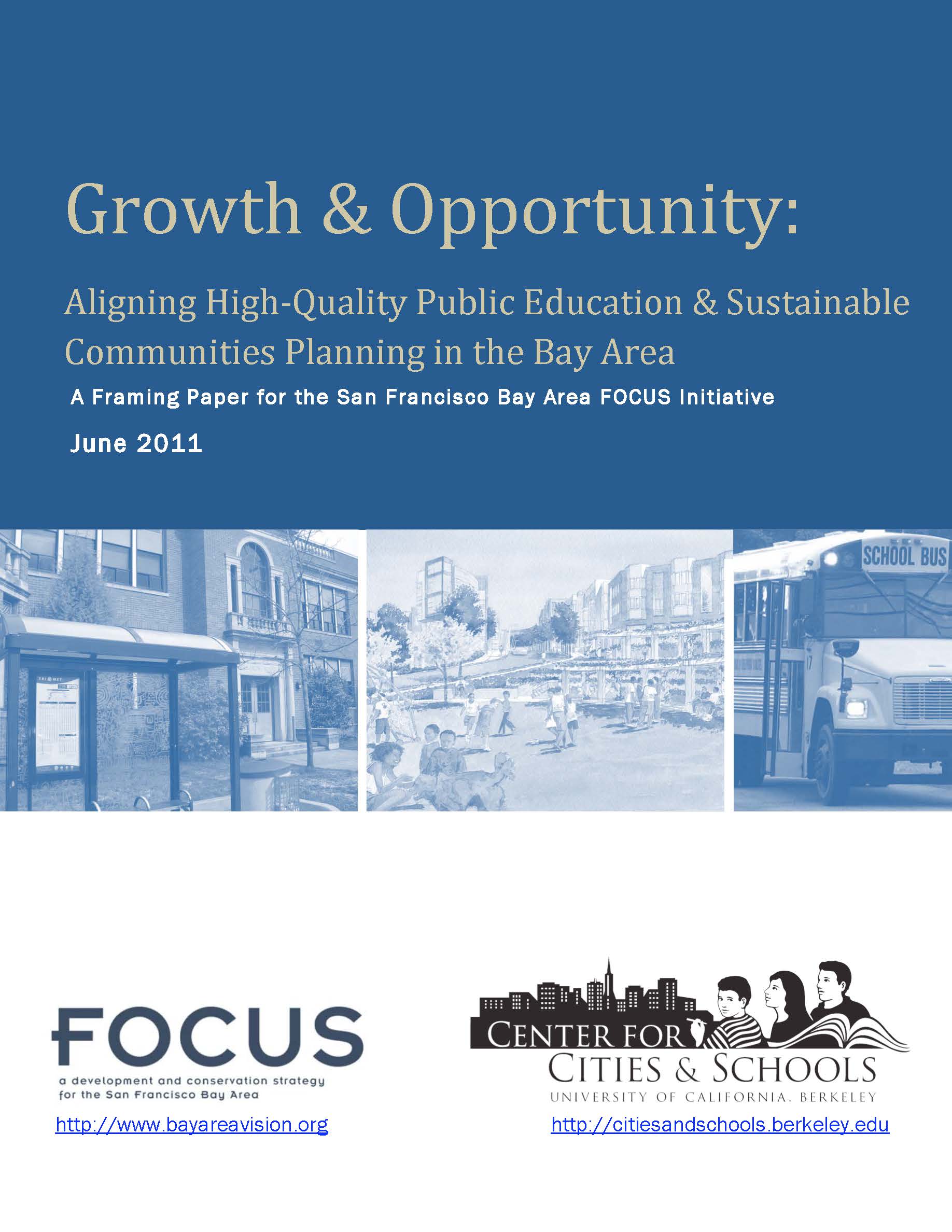 Ariel H. Bierbaum, Jeffrey M. Vincent & Deborah L. McKoy
CC&S and ABAG partnered to support and inform local and regional innovation connecting schools to the Bay Area's regional development and conservation strategy (FOCUS) and the Sustainable Communities Strategy as mandated by California's climate change legislation, Senate Bill 375. Our new report identifies tangible policy levers at both the regional and municipal levels that realize the co-benefits of pursuing complete communities and high-quality education in tandem. We describe the regional educational landscape and develop recommendations about specific strategies to achieve cross-sector "win-wins."
What are the educational impacts of non-school policies, such as housing, transportation, and other regional planning investments?
What are the impacts of educational efforts on non-school issues, such as housing choice, sustainable transportation utilization, and community-building opportunities?
How can the region's policy and practice interventions and investments in housing and transportation be made to strategically support improving school quality?
---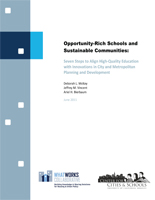 Deborah L. McKoy, Jeffrey M. Vincent & Ariel H. Bierbaum
In 2010 the What Works Collaborative invited CC&S to examine the ways in which sustainable community planning could work with school leaders to foster positive educational outcomes. The report illustrates policies and strategies at all levels of government are increasingly associating educational outcomes with community planning and housing. Challenges remain for local officials and practitioners trying to align these policy areas, including persistent spatial inequity and rigid institutional silos. Through the research, we developed seven steps to link education and planning policy at the local level. We draw from a national scan of model activities, interviews with key experts and agency staff members, and the authors' experience working with local governing bodies. The report identifies practical solutions that encompass assessing the current educational environment, engaging the community, strategic planning and implementation of investment, and institutionalizing successful innovations.
---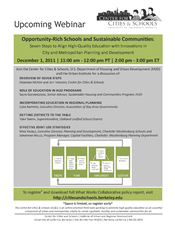 Hosted by the Center for Cities & Schools, U.S. Department of Housing and Urban Development (HUD) & the Urban Institute
Overview of Seven Steps
DEBORAH MCKOY and JEFF VINCENT, Center for Cities & Schools
Role of Education in HUD Programs
SALIN GEEVARGHESE, Senior Advisor, Sustainable Housing and Communities Program, HUD
Incorporating Education in Regional Planning
MARISA RAYA, Regional Planner, Association of Bay Area Governments
Getting Districts to the Table
TONY SMITH, Superintendent, Oakland Unified School District
Effective Joint Use Strategies
MIKE RAIBLE, Executive Director, Planning and Development, Charlotte-Mecklenburg Schools and JONATHAN WELLS, Program Manager, Capital Facilities, Charlotte- Mecklenburg Planning Department
---
Smart Schools for Sustainable Communities: Aligning Sustainable Communities Planning and Public Education in California (Invited Policy Roundtable)
CC+S partnered with the California Strategic Growth Council and the California Department of Education to host an invited roundtable, bringing together local and state leaders together to discuss promising strategies for linking public schools to the creation of healthy, sustainable communities. Topics included, integrating schools into regional Sustainable Communities Strategies and local planning activities, school siting and design, and green construction. Participants worked together to identify policy opportunities for improving educational experiences and realizing sustainable communities.
Download Roundtable Summary Report (PDF)
Download California Department of Education Presentation (PDF)
---
Community Investments 22(2): 18-21
Ariel H. Bierbaum, Jeffrey M. Vincent & Deborah McKoy
Transit-oriented development (TOD) projects are often targeted at empty nesters or young professionals, with few options for families. But the interconnections between how and why families choose where to live and how that relates to their perception of access to high quality schools is a complex reality that is highly dependent on local contexts. This article outlines ten core connections between TOD, families and schools, and provides guidance for stakeholders interested in promoting equitable TOD that serves the needs of families.
---
Ariel H. Bierbaum, Jeffrey M. Vincent & Deborah L. McKoy
This paper examines the connections between Transit-Oriented Development (TOD) and families, schools, and expanding educational opportunities for all children. This paper is the first of its kind; therefore, we take an exploratory approach to understanding and framing these interconnections. We provide a rationale for the linkages at this nexus, highlight the Ten Core Connections between TOD and public education, highlight five case studies in the Bay Area, and make recommendations for enhancing city-school collaboration in TOD.
Download Report with Appendices (PDF)
---
Deborah L. McKoy, Ariel H. Bierbaum & Jeffrey M. Vincent
This brief introduces HUD and others to CC&S's 10 PLUS Mechanics of Change, an evidence-based framework for building healthy, equitable and sustainable communities through integrated city-public school initiatives that simultaneously leverage innovations in the built environment, educational practice and governance policies.
---
CC+S Policy Brief
California's ongoing school construction investment and innovations in public education, coupled with the new infrastructure planning approach in SB 375, create a strategic opportunity to make land use decisions that better support students, families, and communities.
---
A Joint Working Paper by PACE (Policy Analysis for California Education) and CC+S
California is midway through one of the grandest public infrastructure projects ever attempted. Over the coming decade school officials will complete an $82 billion effort, building new schools and renovating old facilities, supported by taxpayers and private investors. But are state officials and local planners building schools mindfully to advance educational quality and lift local communities?
---
Deborah McKoy, Jeffrey M. Vincent & Carrie Makarewicz
In Access 33 (4): 18-26, 2008
Planning public school infrastructure takes place within California's increasingly complex landscape. The all-too-common reality of "siloed" planning results in tremendous missed opportunities to make better land use and service decisions to better support students, families, and communities. New school planning must be inclusive, comprehensive, and integrated with community and regional
planning.
---
Jeffrey M. Vincent
In Journal of Planning Education and Research 25(4): 433-437, 2006
Our nation's public schools are important elements of public social and physical infrastructure. The quality of cities depends on the quality of schools.
---
Hosted by the Center for Cities + Schools in Partnership with LISC Bay Area and the Building Educational Success Together (BEST) Collaborative, June 2006
For several decades, metropolitan areas have experienced changes in residential housing patterns that have had enormous consequences for urban public schools: dramatically reduced student populations, further concentrated poverty inside school walls, and the loss of valuable human and financial resources. Despite this, the intrinsic relationship between housing and education is rarely recognized in research or practice, and existing urban policy structures sustain the division. This daylong forum was hosted by the Center for Cities & Schools (CC&S), in partnership with Bay Area LISC, and the BEST Collaborative.
---
Deborah L. McKoy and Jeffrey M. Vincent
Berkeley Planning Journal Vol. 18: 57-77, 2005
This article discusses an emerging policy and research agenda; systematically linking quality schools with quality cities. There is a historic disconnect between cities and public education. To dismantle this disconnect, the Center for Cities & Schools was established in 2004, by the Institute of Urban and Regional Development (IURD) at the University of California, Berkeley.
---
Center for Cities + Schools Symposium with Bruce Katz and Arlene Ackerman, 2004
The following paper is a summary and discussion for the opening symposium for the Center for Cities + Schools. The purpose of this symposium was to bring people together to discuss the relationships between public schools and urban redevelopment efforts, and broadly speaking, integrate education into community development.