Opportunity is regional in nature. Thus, transportation is essential for all young people to access opportunity.
---
Center for Cities and Schools, Enterprise Community Partners, Mile High Connects, National Housing Conference, and the Natural Resources Defense Council
In many parts of the country it is difficult for families, particularly low- or moderate- income families to afford a suitable home in a transit-rich neighborhood with good schools. This report synthesizes the ideas and policy recommendations from a national convening of local, state, and federal stakeholders from across the country on innovative policy and practice at the housing, transportation, and schools ("H/T/E") nexus – specifically, discussing ways to design or emphasize the 
city as a place for families to stay and thrive.
---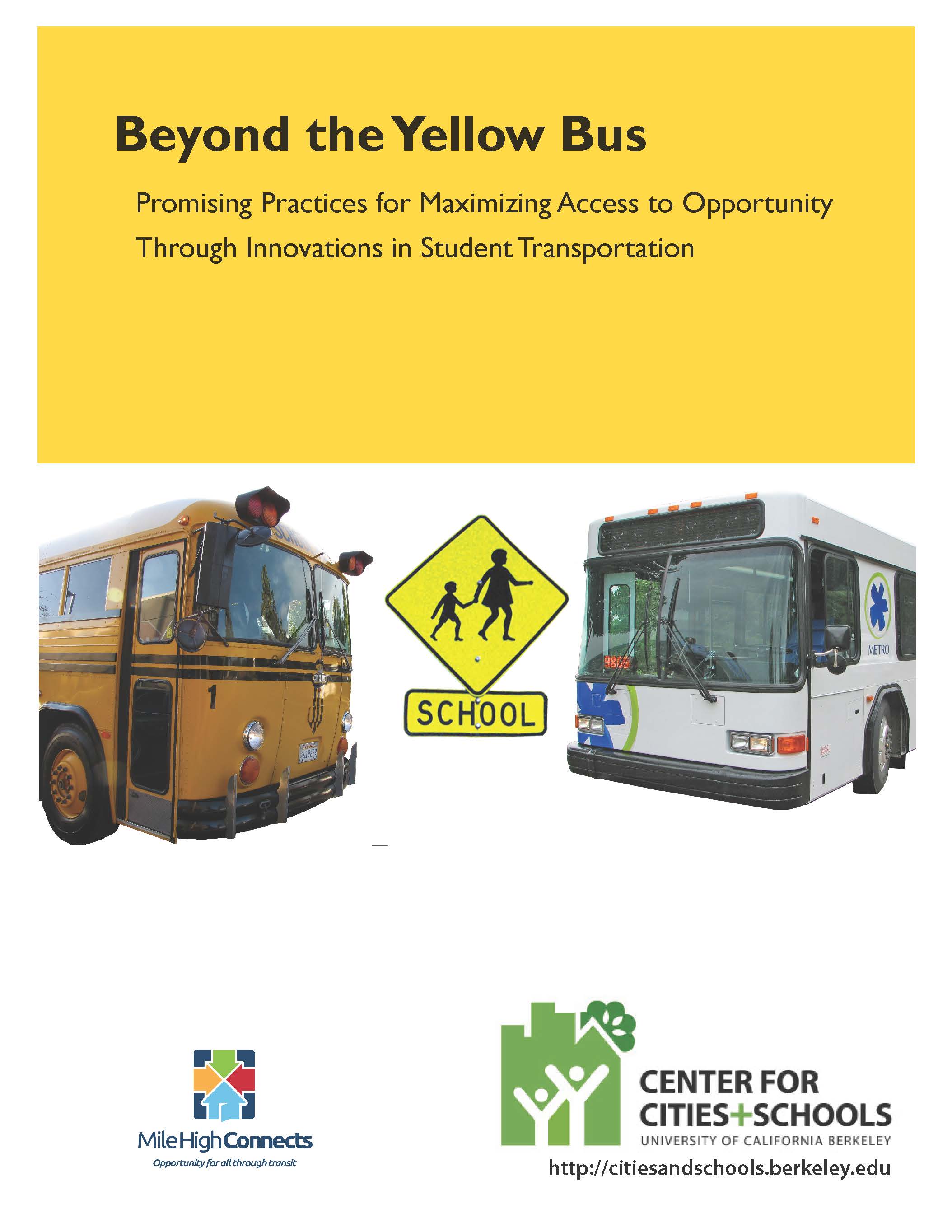 Jeffrey M. Vincent, Carrie Macarewicz, Ruth Miller, Julia Ehrman & Deborah L. McKoy
Access to safe, affordable, and convenient transportation shapes the 'geography of opportunity' for many children and youth. This study looks at how​localities across the country are implementing new and innovative alternative approaches to student transportation that expand regional transportation access for K-12 students, improve cost-effectiveness, and leverage inter-agency partnerships beyond the traditional yellow school bus.
---
Ariel H. Bierbaum and Jeffrey M. Vincent
Transportation Research Record: Journal of the Transportation Research Board, Volume 2357, pgs 77-85
Transit-oriented development (TOD) remains a popular strategy to achieve environmentally sustainable infill development and auto use reduction. Typically, TOD in the United States offers retail amenities and housing catering to single individuals, childless couples, and empty nesters. The new model in this paper requires an examination of the ways that TOD might attract households with children concerned with access to high-quality schools, even when schools are outside the domain of traditional transportation and land use public agencies. We review the TOD and transportation literature and its attention to households with children and issues of public schools for students from kindergarten to Grade 12.
Explore the entire Transportation Research Board Volume 2357
---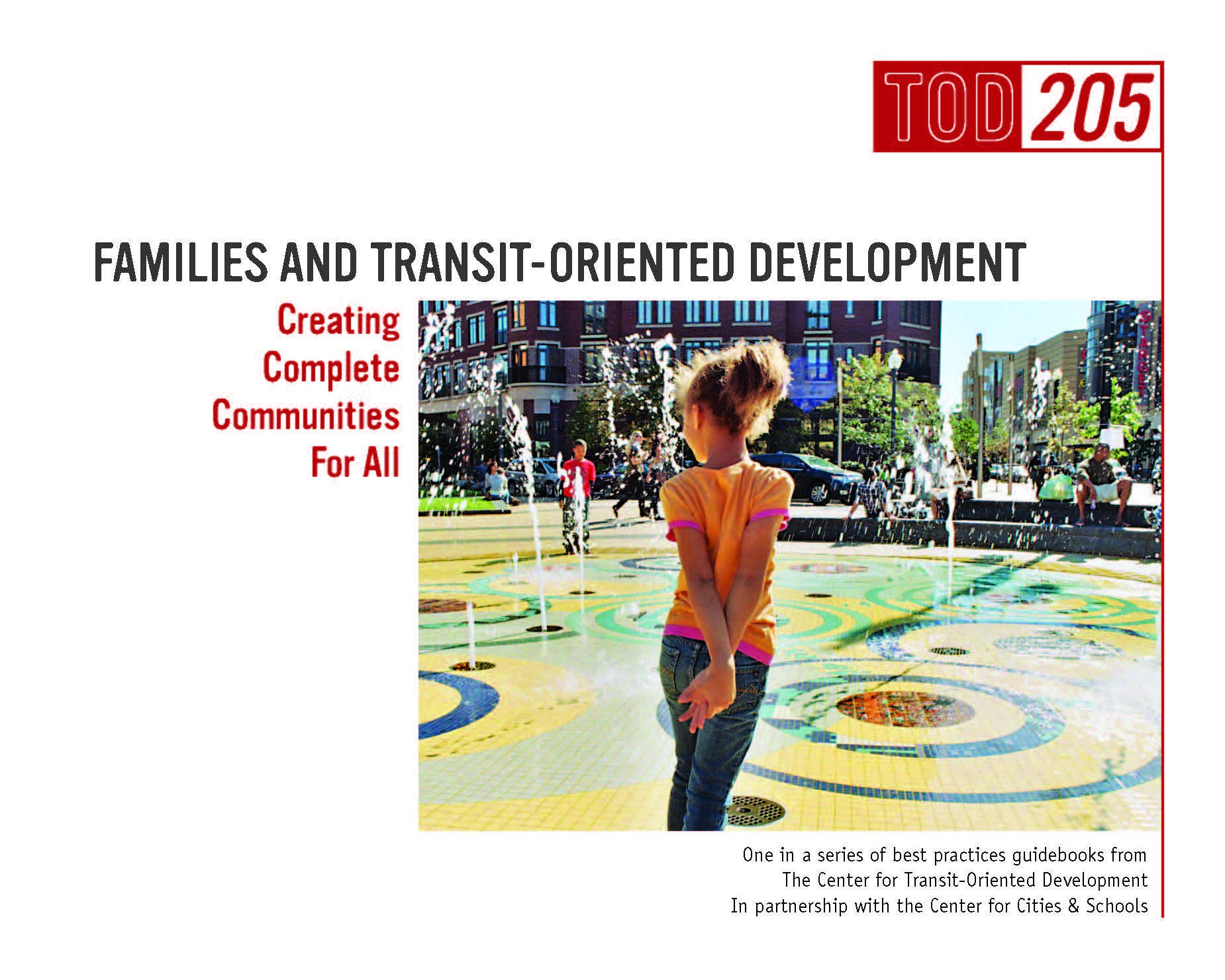 Jeffrey M. Vincent, Ariel H. Bierbaum, Deborah L. McKoy, and Michael P. Rhodes, Center for Cities + Schools and Sam Zimbabwe, Kelley Britt, and Elizabeth Wampler, Reconnecting America
The Center for Transit-Oriented Development (CTOD) and CC+S at the University of California, Berkeley, released "TOD 205 - Families and Transit-Oriented Development: Creating Complete Communities for All," the seventh in the Federal Transit Administration-sponsored series of reports explaining the best practices of transit-oriented development. This guidebook illustrates why planningfor transit-oriented development that serves families is important for creating truly "complete" communities and how such planning can be achieved in conjunction with school stakeholders.
---
Julie Leung PLUS Report, 2014
These maps and findings address the current transportation infrastructure in place for students with disabilities in the San Francisco Unified School District.
---
Julia Ehrman PLUS Report, 2014
This report examines three factors that pose a risk to student transportation in the SFUSD: school choice, limited transportation resources, and diverse school contexts. It addresses these concerns in order to increase environmental sustainability in transportation among District families.
---

Schools trying to be integrated and serve their local communities often face a challenging question: Are "diversity" and "walkability" compatible? This summary document, drawn from a national dialogue among leaders in health and public education, with accompanying research, answers this question in the affirmative. The report highlights key obstacles and outlines the full range of factors that determine how and where schools are built, who attends which schools, and how patterns of population and settlement continue to reproduce inequality in communities across the country. The report presents a preliminary agenda for tackling the challenges, listing action steps for promoting diverse, walkable, high-quality schools for all children.
The original framing paper was written by Jeffrey Vincent and Deborah McKoy of the Center for Cities and Schools at the University of California, Berkeley and Mary Filardo of the 21St Century School Fund in collaboration with PolicyLink, the Safe Routes to School National Partnership, and ChangeLab Solutions.

---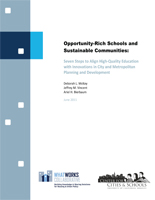 Deborah L. McKoy, Jeffrey M. Vincent & Ariel H. Bierbaum
In 2010 the What Works Collaborative invited CC&S to examine the ways in which sustainable community planning could work with school leaders to foster positive educational outcomes. The report illustrates policies and strategies at all levels of government are increasingly associating educational outcomes with community planning and housing. Challenges remain for local officials and practitioners trying to align these policy areas, including persistent spatial inequity and rigid institutional silos. Through the research, we developed seven steps to link education and planning policy at the local level. We draw from a national scan of model activities, interviews with key experts and agency staff members, and the authors' experience working with local governing bodies. The report identifies practical solutions that encompass assessing the current educational environment, engaging the community, strategic planning and implementation of investment, and institutionalizing successful innovations.
What Works Collaborative Homepage
---
Community Investments 22(2): 18-21
Ariel H. Bierbaum, Jeffrey M. Vincent & Deborah McKoy
Transit-oriented development (TOD) projects are often targeted at empty nesters or young professionals, with few options for families. But the interconnections between how and why families choose where to live and how that relates to their perception of access to high quality schools is a complex reality that is highly dependent on local contexts. This article outlines ten core connections between TOD, families and schools, and provides guidance for stakeholders interested in promoting equitable TOD that serves the needs of families.
---
Ariel H. Bierbaum, Jeffrey M. Vincent & Deborah L. McKoy
This paper examines the connections between Transit-Oriented Development (TOD) and families, schools, and expanding educational opportunities for all children. This paper is the first of its kind; therefore, we take an exploratory approach to understanding and framing these interconnections. We provide a rationale for the linkages at this nexus, highlight the Ten Core Connections between TOD and public education, highlight five case studies in the Bay Area, and make recommendations for enhancing city-school collaboration in TOD.