April is Fair Housing Month!
The theme for Fair Housing Month is Choices for All Voices. What does this mean to us? We are third grade students at Laurel Dell Elementary School in San Rafael. We are experts in fairness! Every day, we study in a classroom of 25 children, and we often do projects in small groups. We must share and get along all the time. And we do it well. For the past few months, we have been working with architects and planners from UC Berkeley's Y-PLAN and Youth in Arts. We have put our imagination on paper and into models of treehouses, homes, and communities.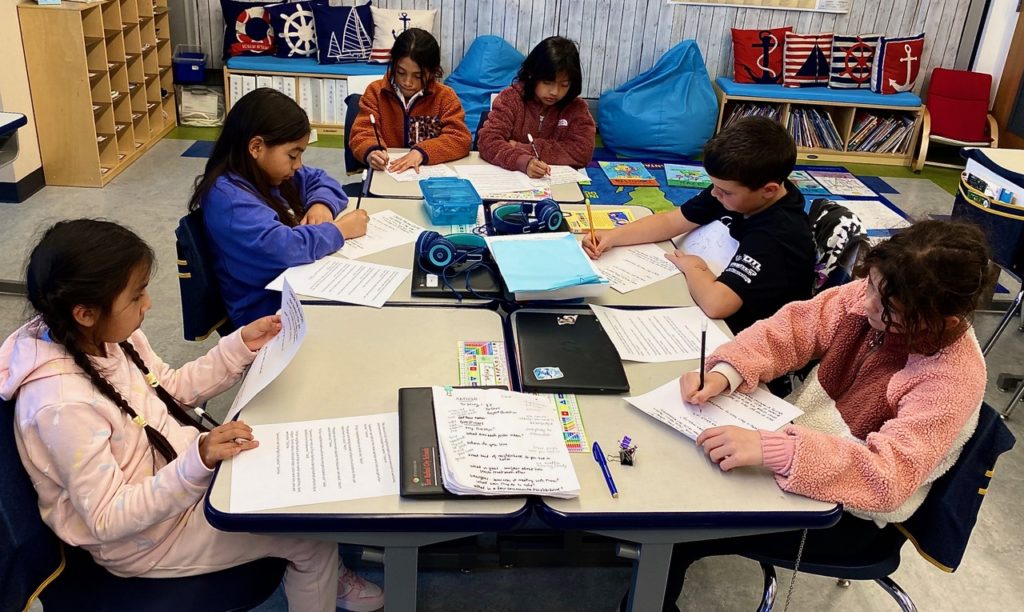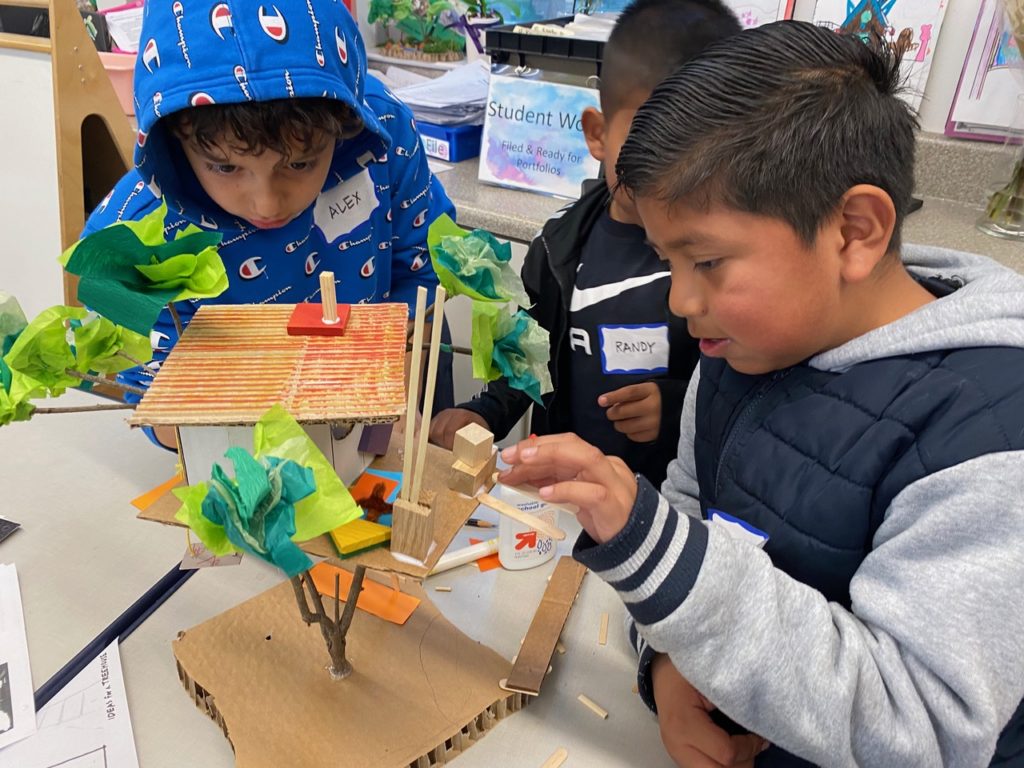 Captions: The authors at work on this article (l). Classmates collaborating on our treehouse project (r).
We also met with investigators from HUD to learn that it is against the law to discriminate against people because of their race, color national origin, religion, sex, disability, and familial status.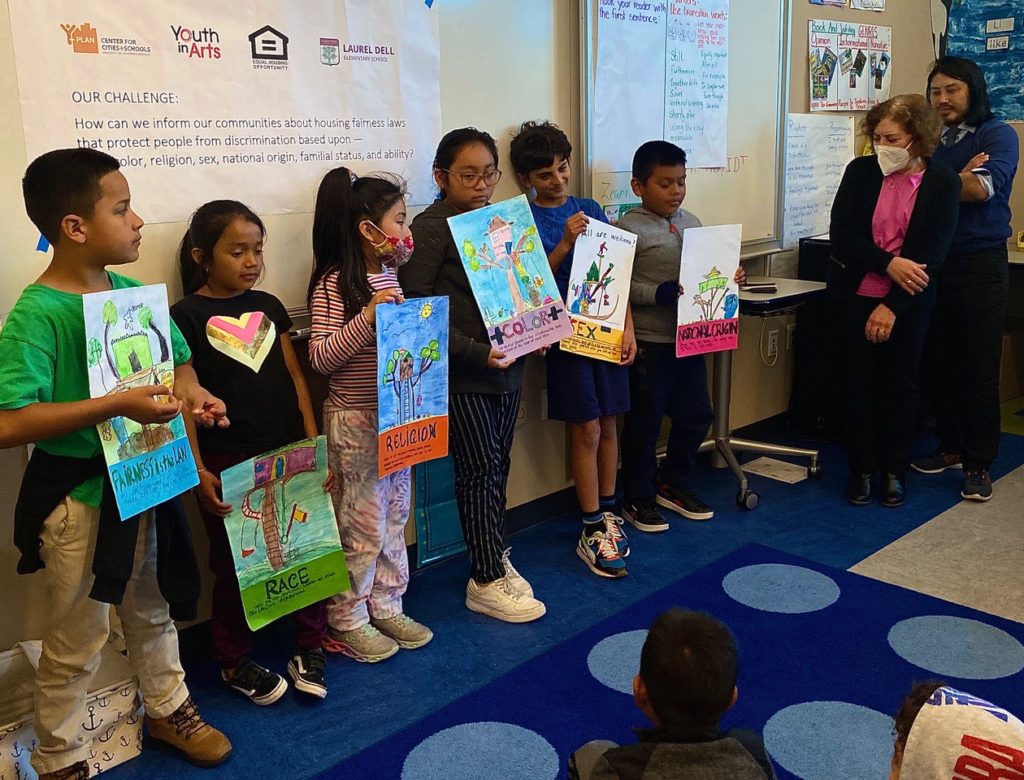 Captions: Students presenting their posters to the team from HUD.
We made posters about who is protected. And we are making fair neighborhoods and housing where everyone is included and free to say anything. We have designed housing to meet their needs. For example, if parents have children, we have places to live to fit the size of their family. This is how some of us think about Choices for All Voices:
"My idea of a fair neighborhood is where everyone is welcome, and
everyone is treated the same."

Yasmin
"I don't want people to discriminate against me because I am deaf."

Fiona
"A fair neighborhood is a kind one."

Keyri
"A fair neighborhood is where no one gets kicked out."

Jack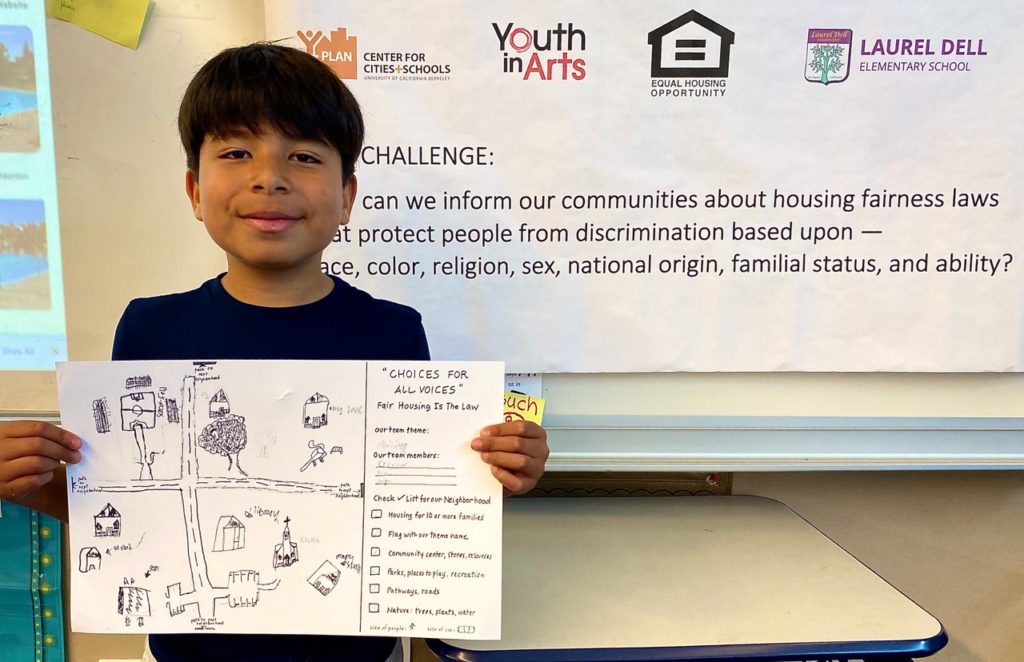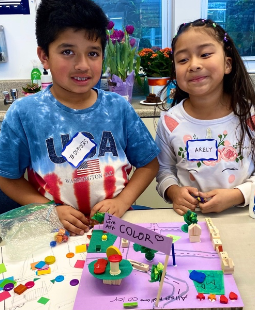 Captions: Our posters, plans and models of a "Choice for All Voices, Fair Housing for All" community.
The lawyers and investigators from HUD helped us understand that people who are being discriminated against can get help. People can report violations to the HUD Office of Fair Housing and Equal Opportunity. This is what we learned:
"Lawyers can help fight for justice"

Camila
"If people are being treated unfairly by a landlord, they can take them to court."

Keyri
"Lawyers can talk to the mean person and help you get a fair home."

Yasmin
"They can contact a lawyer who can take them to court for unfair housing."

Camila
With our posters, fliers, models, and book, we are helping to tell people about the law and where they can go to get help. As Aleah said, "we feel good about doing these projects because they can help our community and make it strong and fair."