We produce high-quality, non-partisan research and policy guidance to local, state, and federal policy makers.
View our reports by topic.
View our reports by year:
---
Recent Publications

EDUCATION EQUITY REQUIRES MODERN SCHOOL FACILITIES: THE CASE FOR FEDERAL FUNDING FOR SCHOOL INFRASTRUCTURE
The Rebuild America's School Infrastructure Coalition
Mary Filardo, Jeffrey M. Vincent, and Kevin Sullivan
Every day millions of elementary and secondary school children in the U.S. attend public school in deteriorated and obsolete facilities that harm their health and undermine achievement. Why? Because capital funding for public school facility infrastructure remains the most regressive element of public education finance.

FINANCING SCHOOL FACILITIES IN CALIFORNIA: A 10-YEAR PERSPECTIVE
Study for Getting Down to Facts II, led by Stanford University and PACE
Eric Brunner and Jeffrey M. Vincent
California's 6-million-student public school system includes a vast inventory of publicly owned buildings and property. All of these facilities need to be maintained and some need major renovations to ensure health, safety, and educational suitability. Some communities also need new school buildings to house a growing student population.
Research suggests students learn better in classrooms that are modern, comfortable, and safe, but the age and condition of school facilities varies widely across the state. According to a recent estimate, California school districts need to spend between $3.1 billion and $4.1 billion annually just to maintain their existing facilities. Further, the total amount of facility funding needed for California schools during the next decade for modernization and new construction is expected to be about $117 billion.
Meanwhile, many observers raise concerns about the state's current policies related to school facility funding. They cite disparities in school facilities conditions and revenues across districts, and argue that the state's school facilities funding system does not target aid toward districts with the greatest facility needs.
This study explains California's approach to financing public school facilities and examines the level and distribution of state and local school facility funding since 2006, including facility funding for charter schools.
KEY FINDINGS:
Local sources of school facility funding greatly outstrip state support.
School facility funding is volatile and has declined since 2006.
Wide disparities in school facility funding that are systematically related to school district property wealth, income, and students' backgrounds result in a relatively regressive finance system.
Charter school facility funding continues to expand.
Download full technical report
Visit Getting Down to Facts website
EdSource News coverage of findings
---
Sean Doocy
The current housing affordability crisis in California, coupled with stagnant wages for teachers and school district staff, has contributed to high teacher turnover and widespread teacher shortages. In response, school districts have begun to develop employee housing programs as a strategy to recruit and retain high-quality teachers and staff. This study provides a detailed look at the current school district housing landscape, investigating the policy and legal context as well as key takeaways from existing projects.
We present findings from a study for Berkeley Unified School District (BUSD), which shows that current BUSD employees need housing assistance and would be interested in living in district-owned employee housing. Based on this detailed analysis of BUSD's potential employee housing program, along with a comprehensive understanding of this emerging typology, we offer insights for other school districts across California and the country as they explore their own employee housing initiatives.
---
Herberg, Jeremias
This study provides a critical appraisal of intermediaries in demand-driven workforce development. In San Francisco East Bay, an emerging set of workforce intermediaries – here called the" Skills Brokers" – recently take issue in alleged Skills Gaps to create a cross-sector reform agenda. They seek to connect the supply and demand for STEM skills to mediate between the booming technology industries and educational crises. Against the backdrop of structural education-industry interconnections, however, the report suggests a shift in focus: It is argued that the Skills Brokers are valuable in facilitating boundary-crossing collaboration, but their orientation towards employer demands may perpetuate educational inequities while downplaying employer responsibilities. An altered focus on supporting upward-mobility pathways requires a more proactive role by Skills Brokers that scrutinizes and shapes employer demands.
---
Vincent, Jeffrey M.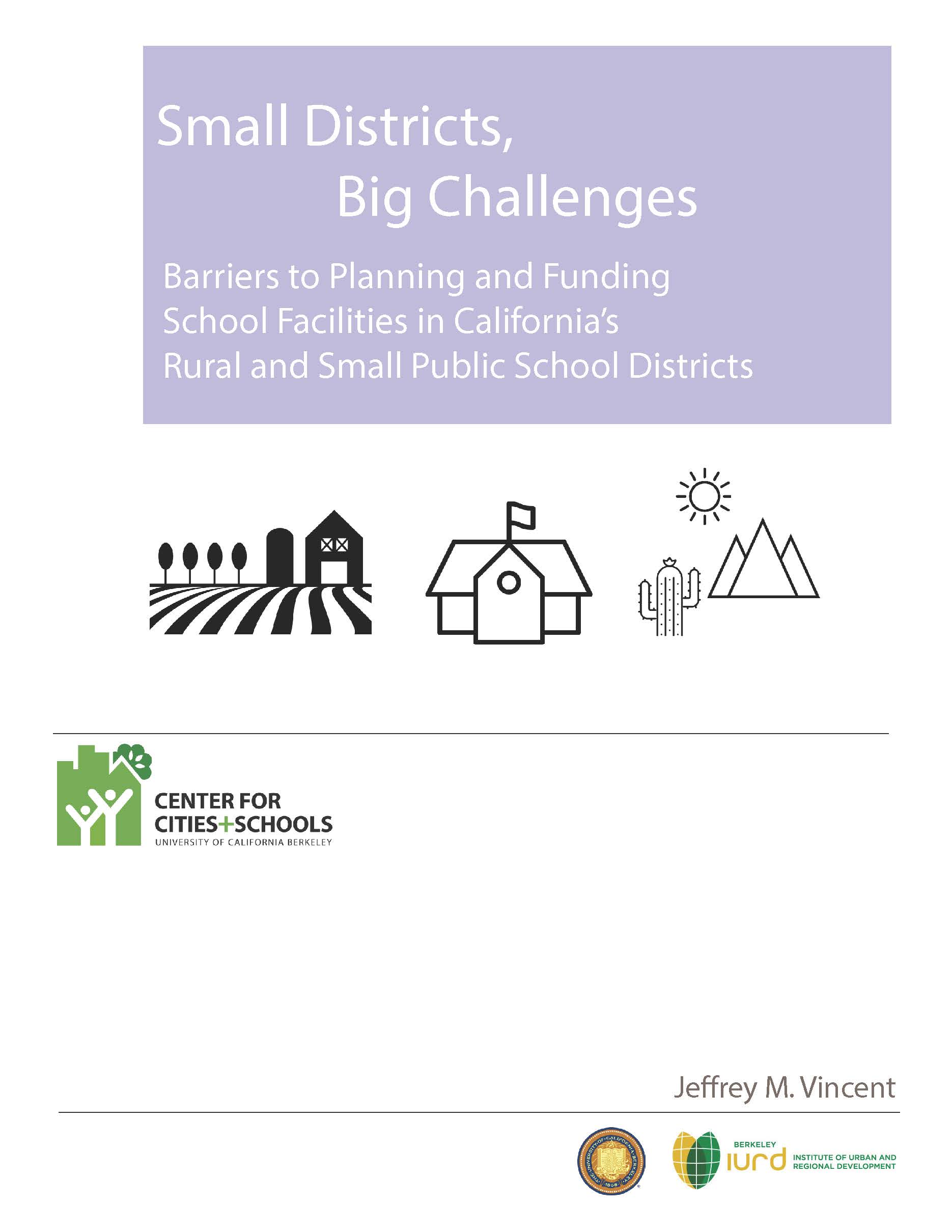 In 2017, the California Department of Education (CDE) announced the "Small School District Assistance Initiative," aimed at providing targeted assistance to small and rural school districts in the state. To aid CDE's efforts, this study investigates the facility challenges and issues facing rural and small school districts in California. We utilize a mixed method approach to understand the capital investment patterns and facility planning processes of rural and small public school districts in California. In Part II we present findings from analysis of school district data on facility-related characteristics and spending trends. In Part III, we present findings from interviews with 40 rural and small school district officials from across California.
---
Vincent, Jeffrey M., Ruth Miller, and Lianne Dillon
As California looks to implement a Health in All Policies approach into state decision making, and weave health, equity, and environmental sustainabil

ity into more policies, a better understanding of the relationship between school siting and walkability is needed, particularly considering that the state provides funds to school districts for new school construction projects. This study measures the walkability around a sample of schools sited and constructed in six high-growth counties in California from 2003-2011.
---
Center for Cities + Schools, 21st Century School Fund, Center for Green Schools, and National Council on School Facilities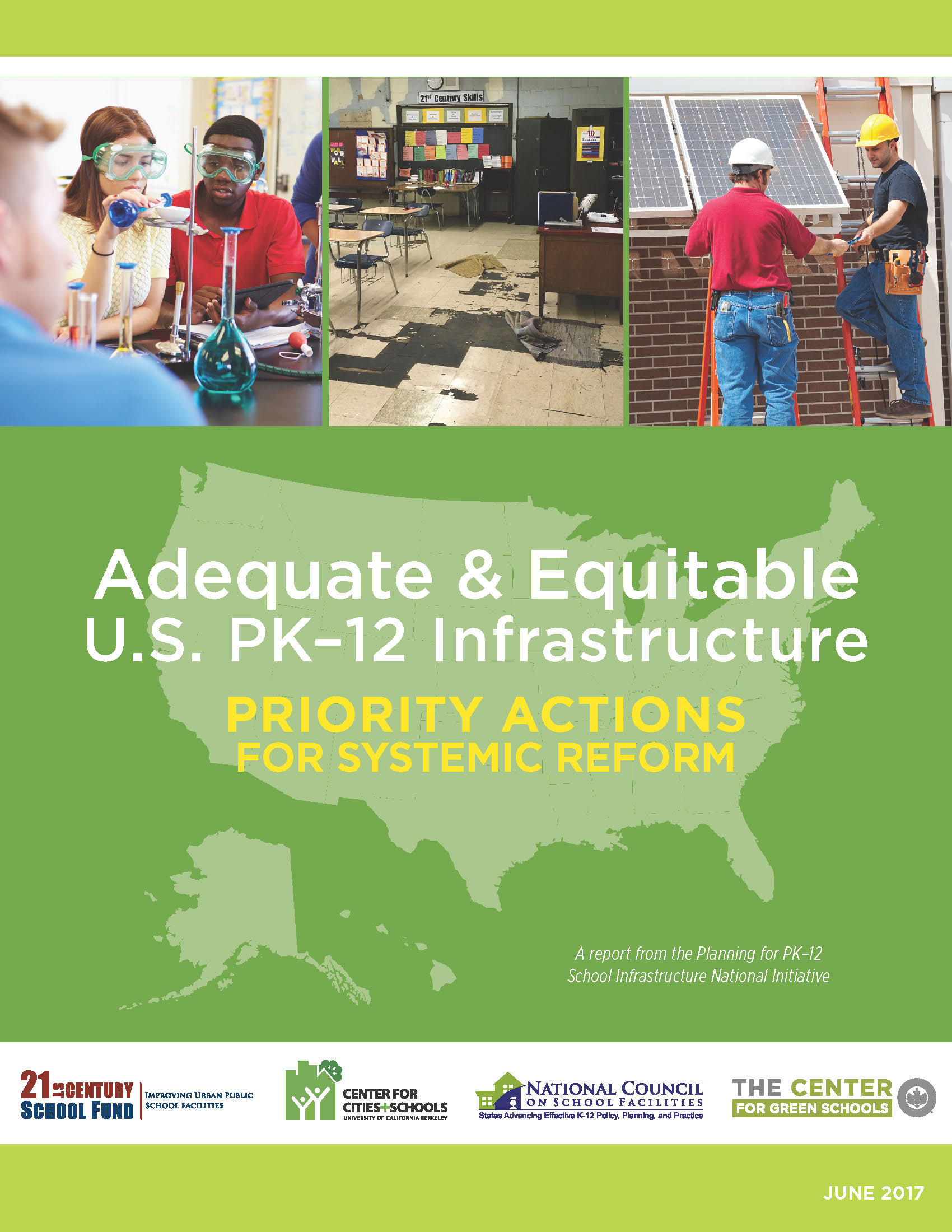 Our country's elementary and secondary (PK–12) public school infrastructure is in crisis. Every day, millions of children in the U.S. attend public school in unhealthy,unsafe, educationally inadequate, environmentally unsustainable, and financially inefficient facilities. Our public school facilities have broad impacts on children and communities: student, staff, and community health; school quality and academic achievement; economic development; and environment and natural resources. We need effective and efficient systems to ensure responsible stewardship of our PK-12 public school infrastructure.
With much at stake, national leaders launched the Planning for PK-12 Infrastructure Initiative (P4si Initiative) in 2016 to formulate a systems-based plan to address the PK-12 infrastructure crisis. This report presents findings from the Phase 1 national research engagement process to identify the challenges to adequacy and equity in PK-12 infrastructure and to propose system reforms. Our recommended priority actions are designed to develop and support the essentials for modern PK-12 public infrastructure stewardship. Phase 2 of the P4si Initiative will move the 55 priority actions forward to achieve a paradigm shift in our PK-12 public infrastructure systems.
---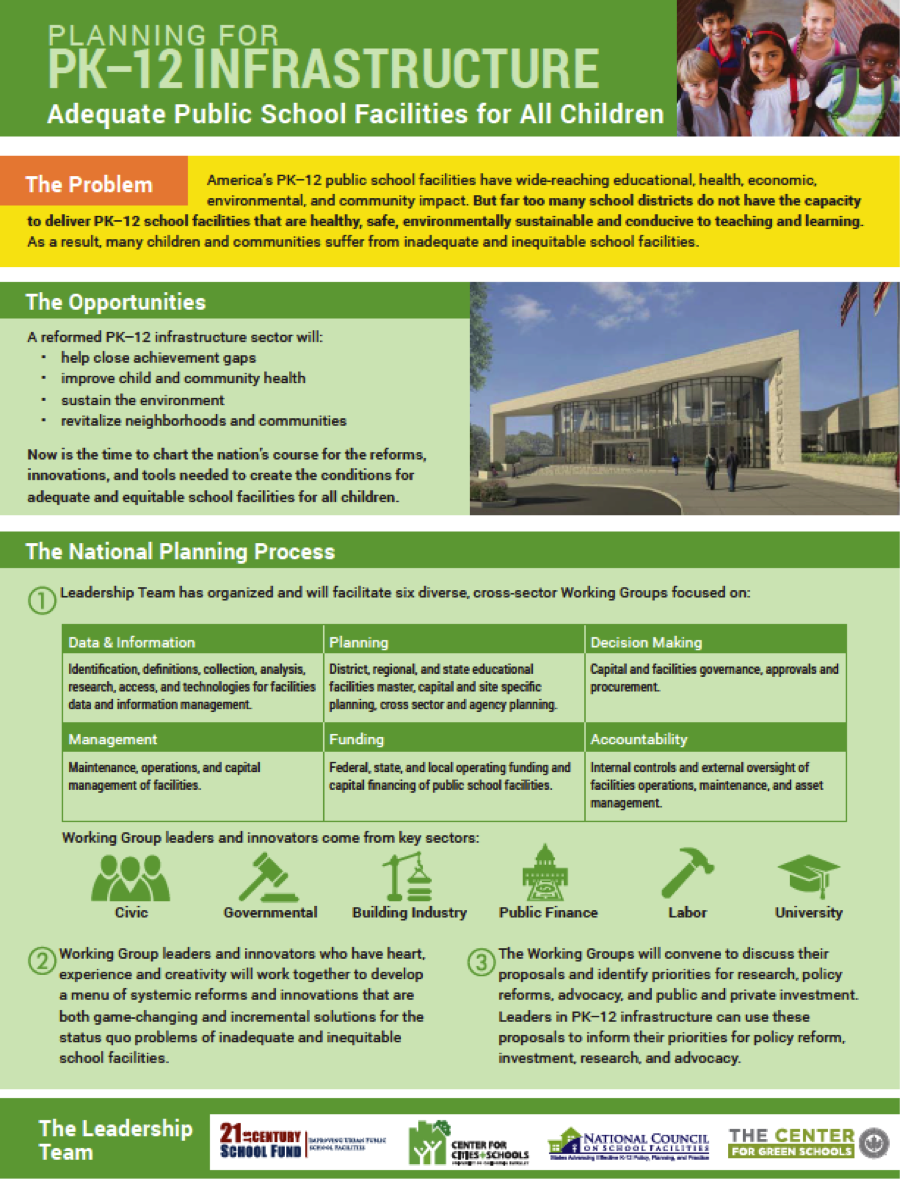 CC+S is partnering with the 21st Century School Fund, The Center for Green Schools, and the National Council on School Facilities to address the structural problems of inequitable and inadequate school facilities found in too many communities across the U.S.
Through this initiative, six national cross-sector working groups have developed a menu of solutions to guide government, industry, labor, and the civic sector in the delivery of high performance public PK-12 infrastructure for all children. The six working groups are organized around basic elements of a well-managed facilities program: Data and Information, Educational Facilities Planning, Management, Funding, Governance and Decision Making, and Accountability. This map identifies policies, practices, and tools needed to structure, manage and fund the public and private capacity for equitable and efficient public school facilities for all communities.
Initiative Summary and Working Group Descriptions (PDF)
This initiative is funded by the Leadership Team organizations and the W.K. Kellogg Foundation.
---
Liz S. Jain and Jeffrey. M. Vincent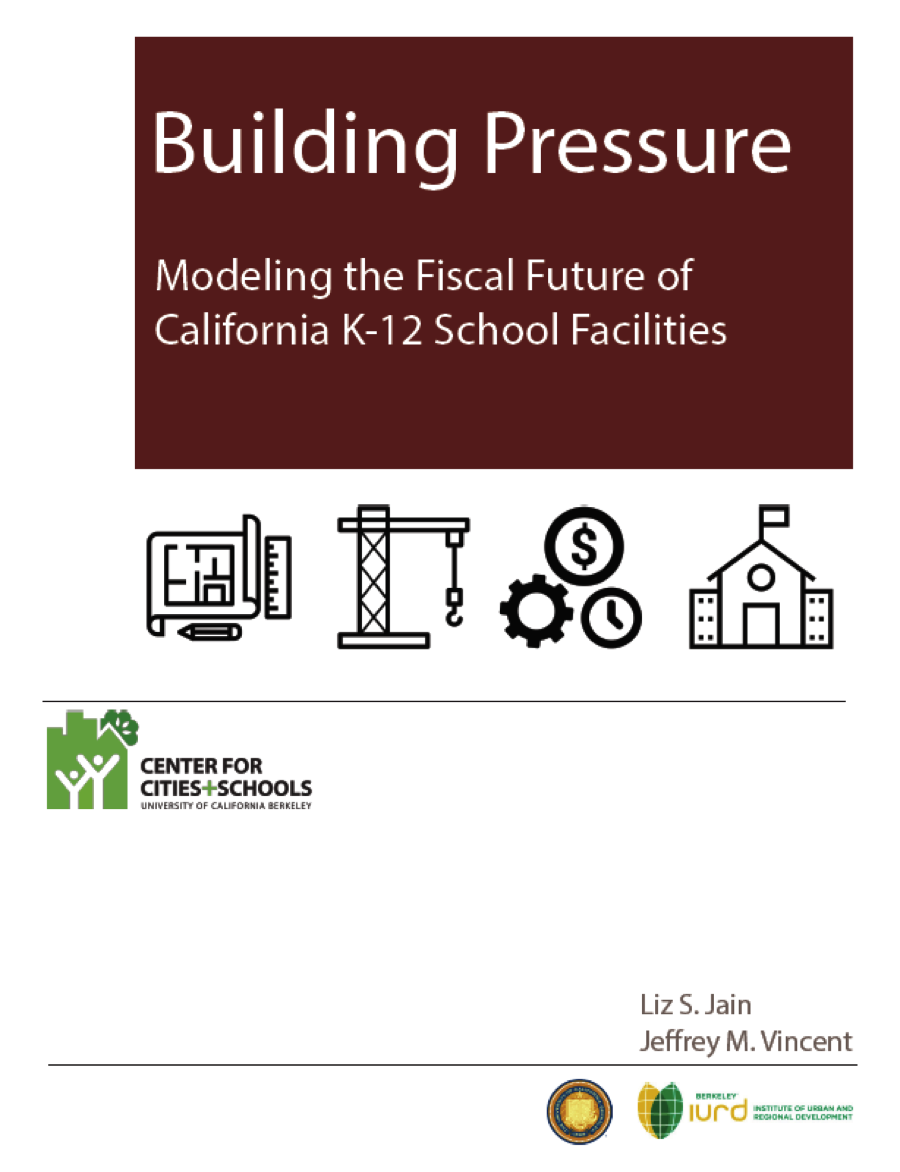 September 2016
Public school districts across California, particularly those in low-wealth areas, experience significant funding shortfalls for their facilities. Amidst this trend of widespread underinvestment in California's K-12 public school facilities, state funds to aid school districts in facility construction and modernization projects are depleted. Whether the 2016 statewide ballot measure (Proposition 51) passes or fails, state lawmakers are likely to face continued pressures to meet the vast infrastructure needs of public K-12 facilities.

With this study, we aim to inform voters and to provide broad guidance for policymakers regarding the relative merits of various long-term state funding approaches for public school facilities.

Based on California's historical experience, the scale of current needs for K-12 infrastructure investment, and examples from other states, we identify four policy scenarios applicable in the Golden State's current political climate (Scenario 1: No State Support; Scenario 2: State Competitive Grant Matching Program; Scenario 3: Small State Role Targeted to High-Need Districts; and Scenario 4:Equity-Focused State Grant Formula). We then estimate available facility funding for each K-12 school district under each scenario. Our findings suggest that California needs a principled, long-term program for public school facilities funding that promotes adequacy, equity and affordability.
---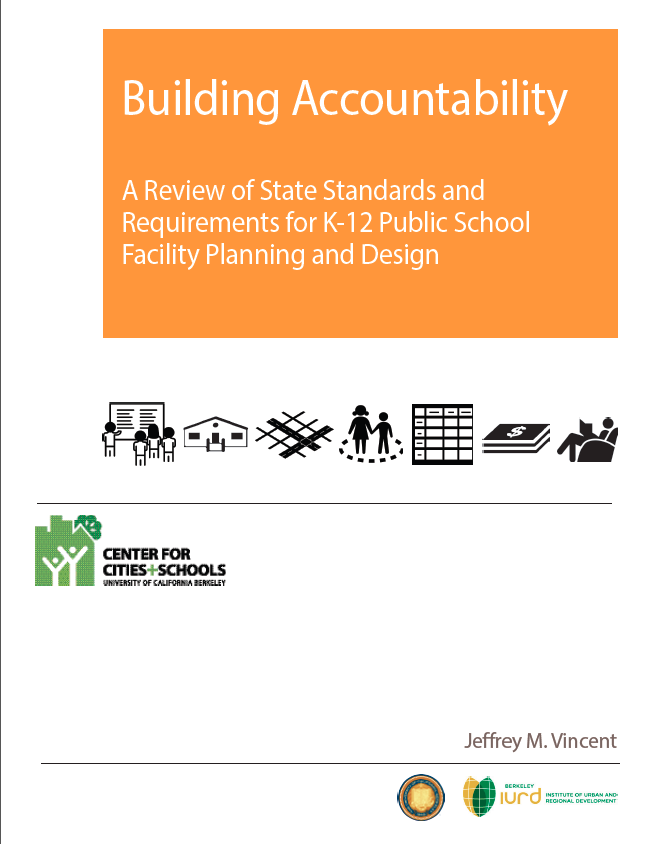 Jeffrey M. Vincent, PhD
July 2016
To inform state lawmakers on appropriate policies for K-12 school facility planning and design, this paper investigates standards in seven state policy areas (educational space, minimum essential facilities, indoor human comfort/environmental quality, school site size, planning process, maintenance, and charter schools) in ten case study states: California, Colorado, Florida, Maryland, Massachusetts, New Mexico, New York, Ohio, Texas, and Washington. Identifying national trends in state standards for K-12 school facilities, we find that school facility standards advance four state interests:
State Interest #1.That children in the state attend public school facilities that adequately support the education program.
State Interest #2.To protect and/or advance the health of, safety of, and environmental quality for children and/or communities.
State Interest #3.That there are not gross facility disparities across the state that would disproportionately undermine the achievement of specific groups of students.
State Interest #4.That school districts design, build, and operate cost effective and efficient school facilities.
Drawing on lessons from the field, our recommendations are directed specifically to the California Department of Education, but applicable to all states:
States should maximize availability of facilities planning and design technical assistance to local school districts, to uphold state standards and leverage numerous benefits to the public/taxpayers. State agencies are uniquely positioned to play a technical assistance role to bring this value to all school districts.
States should regularly collect information on the conditions and qualities of all K-12 school facilities and grounds in the state. By collecting up-to-date information on school facility conditions and qualities, state leaders and the public have a way to know whether or not the various standards are having the desired effect(s).
States should conduct a public review and update of all K-12 facility standards every few years. State standards, guidelines and regulations for school facilities should be periodically reviewed and updated to reflect evolving industry best practice, new research findings, alignment to broader state infrastructure goals, and changing educational program emphases.
States should ensure there is adequate and equitable school facility spending to uphold standards. California policymakers can use state school facility funding and the standards in tandem to ensure that all children attend facilities that are safe, healthy, educational suitable and affordable to taxpayers.
---
Jeffrey M. Vincent and Liz S. Jain
After decades of dedicated investment, state funding to assist local California school districts in the construction, modernization, and maintenance of their school facilities has come to a halt. Our analysis of school facility spending across California finds that, compared to industry standards, there is an ongoing, structural pattern of inadequate and inequitable spending in many school districts:
• Majority of school districts underspend on facilities
• Wealthy districts spend more on facilities, especially on the capital side
• Districts serving low-income students disproportionately spend more per student on M&O from their operating budgets to fund facilities
Overall, these findings suggest that many districts—particularly those serving high-need students—risk grossly underfunded facilities budgets, deteriorating schools, and declining educational outcomes if they are left on their own, without state support for capital needs. The report concludes by identifying policy reforms that will move California to a more coherent system of school facility finance that promotes adequacy, equity, public accountability, and affordability.
---
Center for Cities and Schools, Enterprise Community Partners, Mile High Connects, National Housing Conference, and the Natural Resources Defense Council
In many parts of the country it is difficult for families, particularly low- or moderate- income families to afford a suitable home in a transit-rich neighborhood with good schools. This report synthesizes the ideas and policy recommendations from a national convening of local, state, and federal stakeholders from across the country on innovative policy and practice at the housing, transportation, and schools ("H/T/E") nexus – specifically, discussing ways to design or emphasize the 
city as a place for families to stay and thrive.