Field Trip Series #3: Escuela Popular
In early March 2020, Y-PLAN completed the last field trip of the semester, just one week before UC Berkeley, and most of the Bay Area, moved operations online because of COVID-19. Since then Y-PLAN has been working hard to uplift student work that had been done before the shutdown and to engage students through online education. This blog is a reflection by Y-PLAN Project Coordinator Selena Perez about our final Y-PLAN field trip this year with 8th grade students from Escuela Popular in San Jose. Our Y-PLAN team was still able to engage with students online as they continued their project with our clients, Silicon Valley @ Home, finding ways we can protect, preserve, and produce affordable housing.
---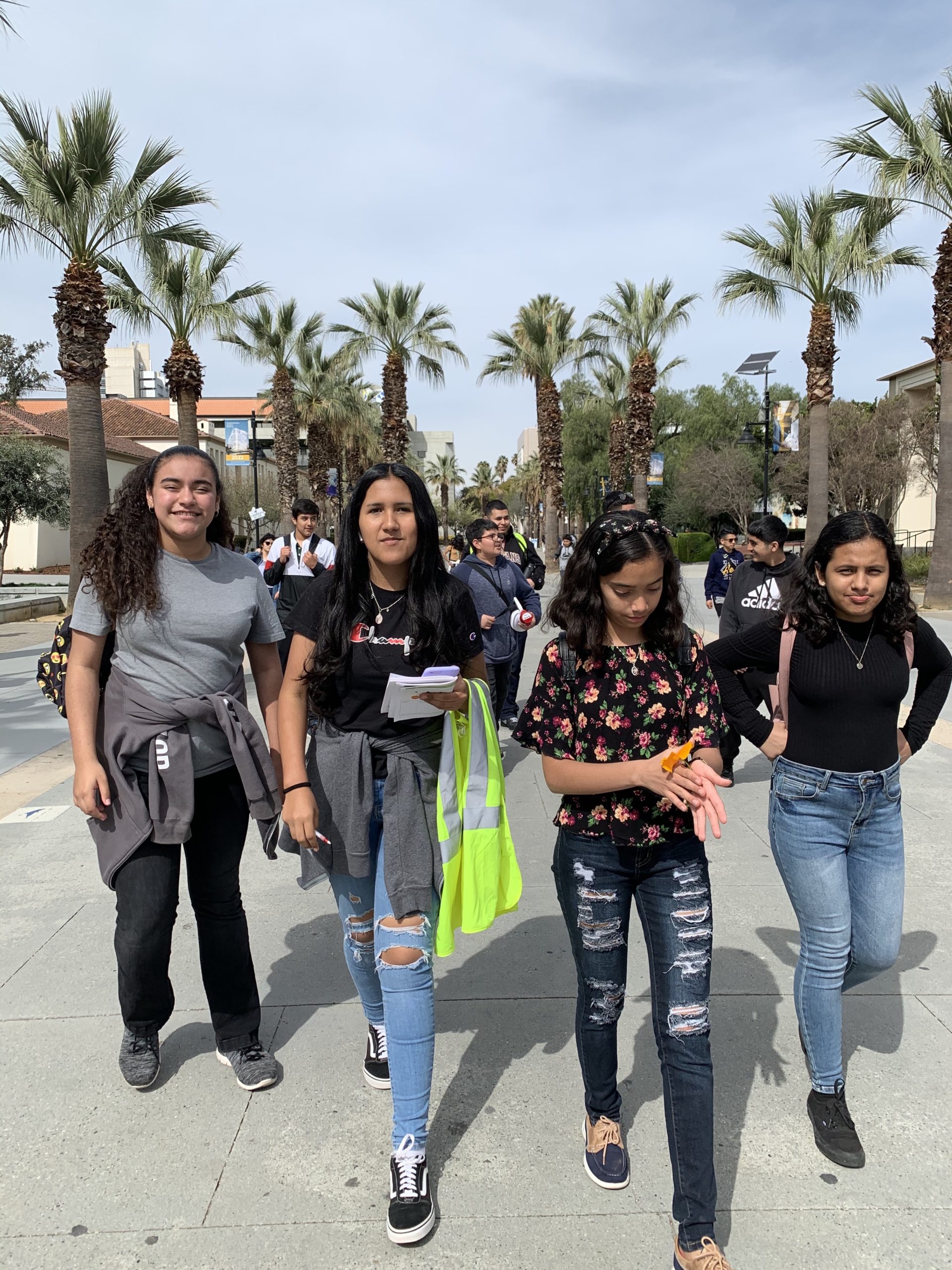 It was a sunny Friday morning when we started the day at Escuela Popular. We kicked off the field trip with a half hour walk to Alum Rock Station with twenty young students, stopping periodically to point out key features of their neighborhood and discuss housing and amenities available in their community. Our first stop was in the corner of Alum Rock Avenue and N. White Road where the students studied the surrounding landscape. We were in front of the public library, just a block away from their school, on the busy commercial zone of Alum Rock Avenue. As we continued to walk, students noticed other assets like the community health center nearby. Although this project is about housing, we noted the importance of studying where housing is built and thinking about the role of neighborhood amenities, including proximity to jobs, transportation, and commerce.
As we continued our trek down Alum Rock Avenue, we had to cross the driveway of a Goodwill store to go to the other side of the block, where the residential zoning was located. The discomfort it posed to our group provided a prime opportunity to illustrate how unwalkable the area is, since there are no ways to cut across a large commercial block without walking through a driveway or parking lot designed for cars. The students noted the vacant store building next to the Goodwill lot, and they brainstormed that a new store or more housing could be built there. They said the building had been empty for a couple of years and had since become an eyesore.
When we got to the residential side of the block, we walked down the sidewalk noting the houses and the amount of land they each had. We discussed the benefits and costs of single family zoning and how increasing density by reducing single family zoning or encouraging homeowners to build ADUs on their backyards could improve the community. The students were mostly receptive to the ideas of building ADUs, although one student pushed back saying that single family housing was important and you cannot force people to want to build an ADU on their own property.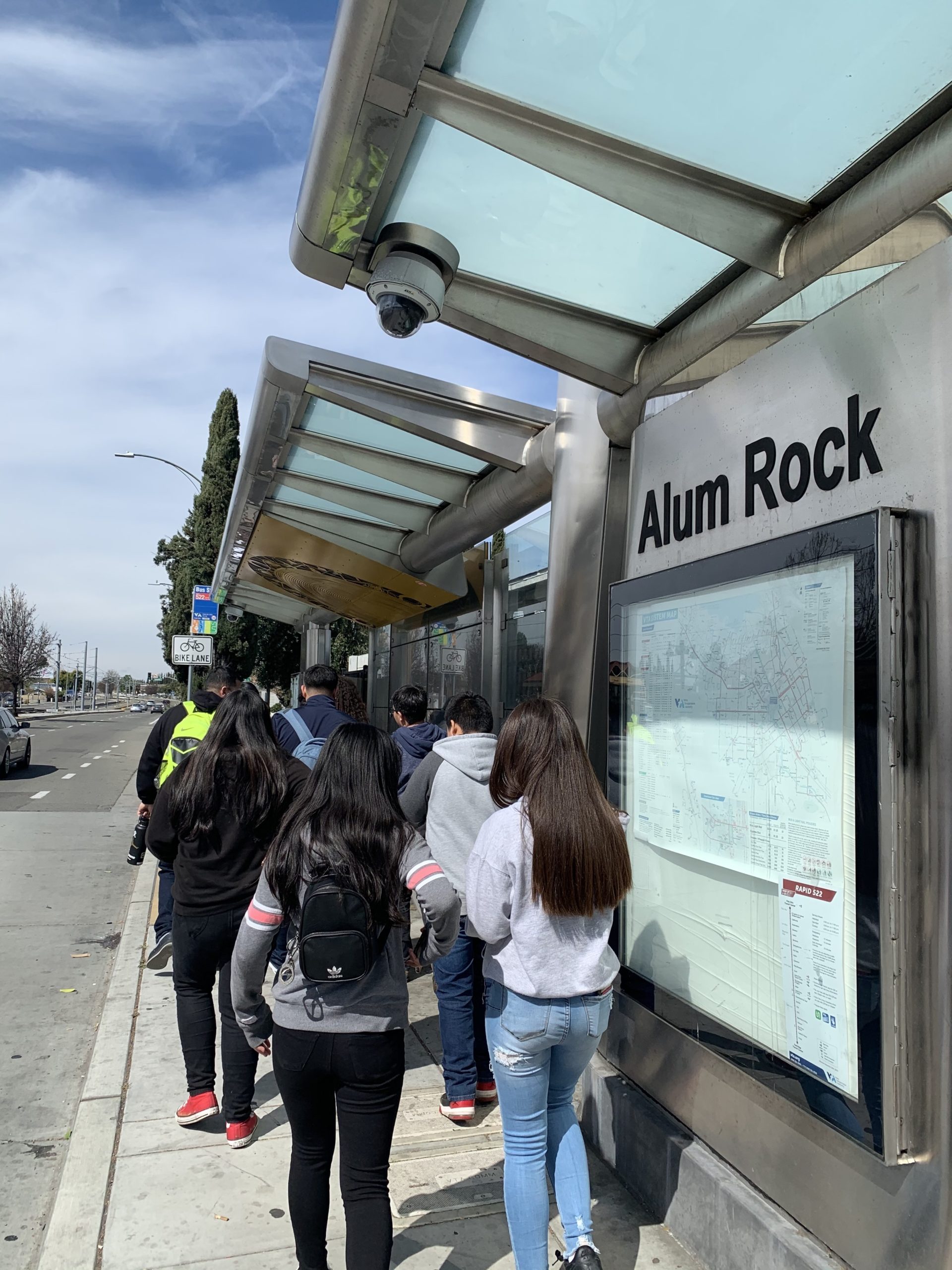 As we continued our walk the students said "hola!" to strangers on the street. The students are all incredibly outgoing, and the strangers on the street seemed delighted to say "hi" back and ask how they were doing. Some of the students live close to that neighborhood so I imagine that saying "hi" to their neighbors may be a daily occurance. Our walk finally took us to the section of multi-family residential zoning. The difference was stark, from one lot to the next the apartment buildings were clustered together, with many units per building. One of our stops was the Nancy Lane apartment complex, where housing is spaced in little communities around a common shared feature, like a pool or a garden. One feature that caught the students' attention the most was the Nancy Lane Plaza at the front of the driveway that dissected the apartment complex with a fenced playground. They wanted to go inside and play, but unfortunately we were not able to let the students enjoy some play time since we had a bus to catch to get to our next field trip location.
As we lead Y-PLAN field trips across the state, from Oakland to Sacramento to Los Angeles County, we are constantly reminded of the importance of play for young people.
When we asked the students what they thought of the Nancy Lane apartments, a student said the place was "ghetto." When pressed to explain, he said he thought the place was dirty. It was an interesting conversation to hear students use the term so casually, while finding it difficult to think of other words to truly describe what they really meant by it.
Another one of our stops in the neighborhood was Colonade Square, a condo development that contrasted Nancy Lane apartments. Colonade Square has a driveway that cuts through the block, along which condos are spaced out with three units in each building structure. The students really liked walking through Colonade Square because it was clean and very manicured. One of the differences between this development and Nancy Lane that we discussed was that occupants in Colonade Square were homeowners, which means they could afford to purchase a San Jose home. We pushed students to think deeper about why they had found Nancy Lane apartments to be "ghetto," while they felt like Colonade Square provided a "better" housing option.
Finally our last stop during this neighborhood walk was Milagro, which means "miracle" in Spanish. Milagro is a HUD affordable housing development for people with developmental disabilities. When we arrived at the site, I shared with the students some background information on this site and what it meant for it to be a "HUD property," owned by the federal government. As we continued our walk past Milagro towards the bus stop at Alumni Rock Station, one of the students told me that she felt the couple of residents who lived in Milagro were not very friendly like the other people who they met throughout our walk. I told them that it could have been because we had potentially disturbed them a bit with our large group, and also shared that the housing is actually for people with developmental disabilities. I think this gave the students a different perspective, and we discussed how Milagro offers other resources on-site for people to be able to live independently.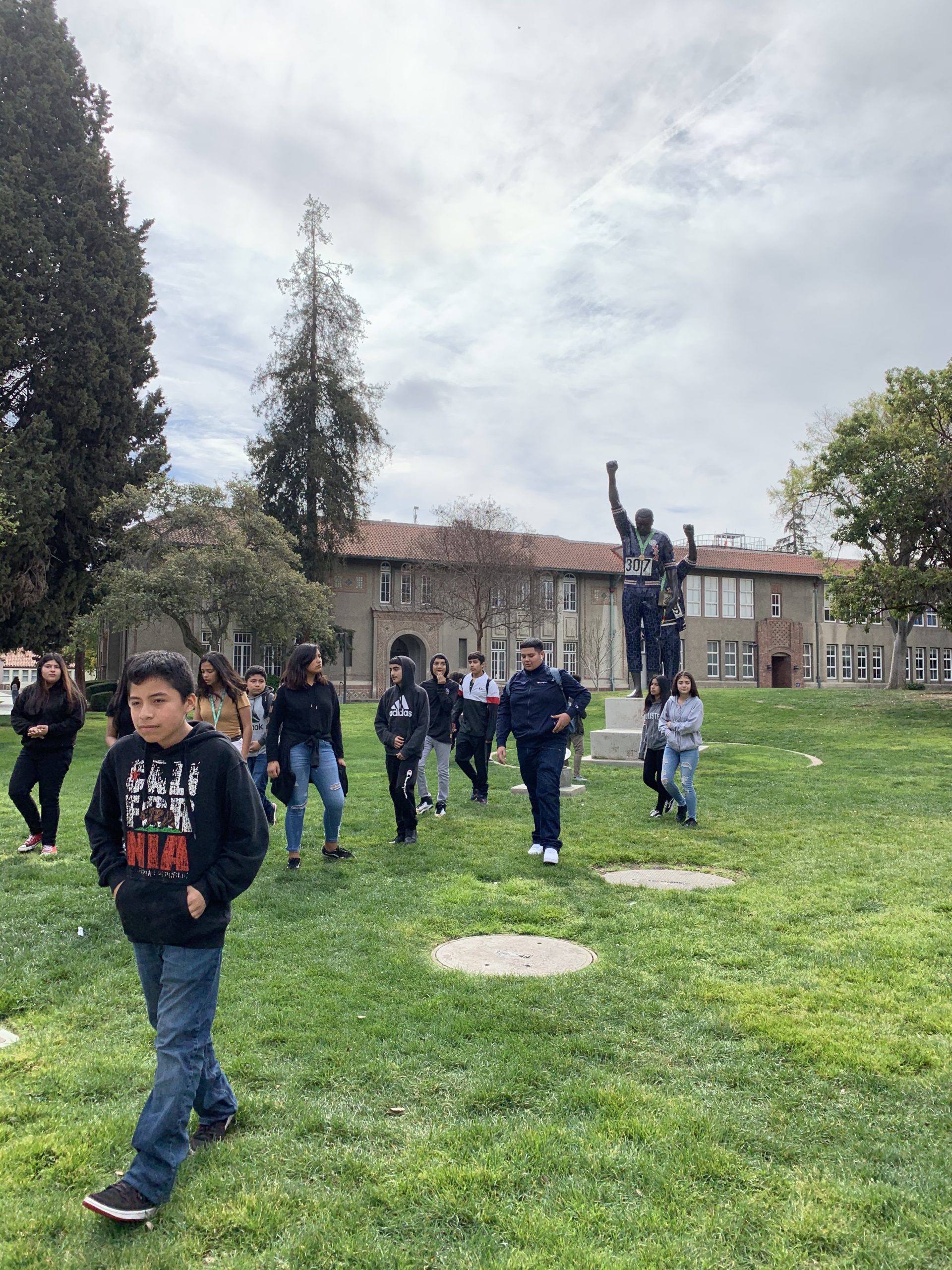 Next we arrived at San Jose State University. The students had lunch there and we were able to tour the campus and look at the student housing. We had a guest speaker, Diana, from the Student Homelessness Alliance (SHA) on campus, speak to us about homelessness in the student body population and what the school is doing to address this issue. It was important for the Y-PLAN students to understand that homelessness is a very complicated issue and does not just happen to certain groups of the population. Diana shared with the students the difference between short term homelessness – the kind most students experience, and chronic homelessness. They shared that SHA and the school are negotiating new strategies to support homeless students. One of the strategies they were considering was adding 12 beds inside the student resources building that can be occupied by students when they need a place to sleep or stay for a few days, similar to the beds in a shelter. SHA is also trying to pass a CA State bill that would include covering housing costs through the funding Cal Grants provided CA students, so they would have one less thing to worry about since their housing costs could be covered if this bill becomes a law.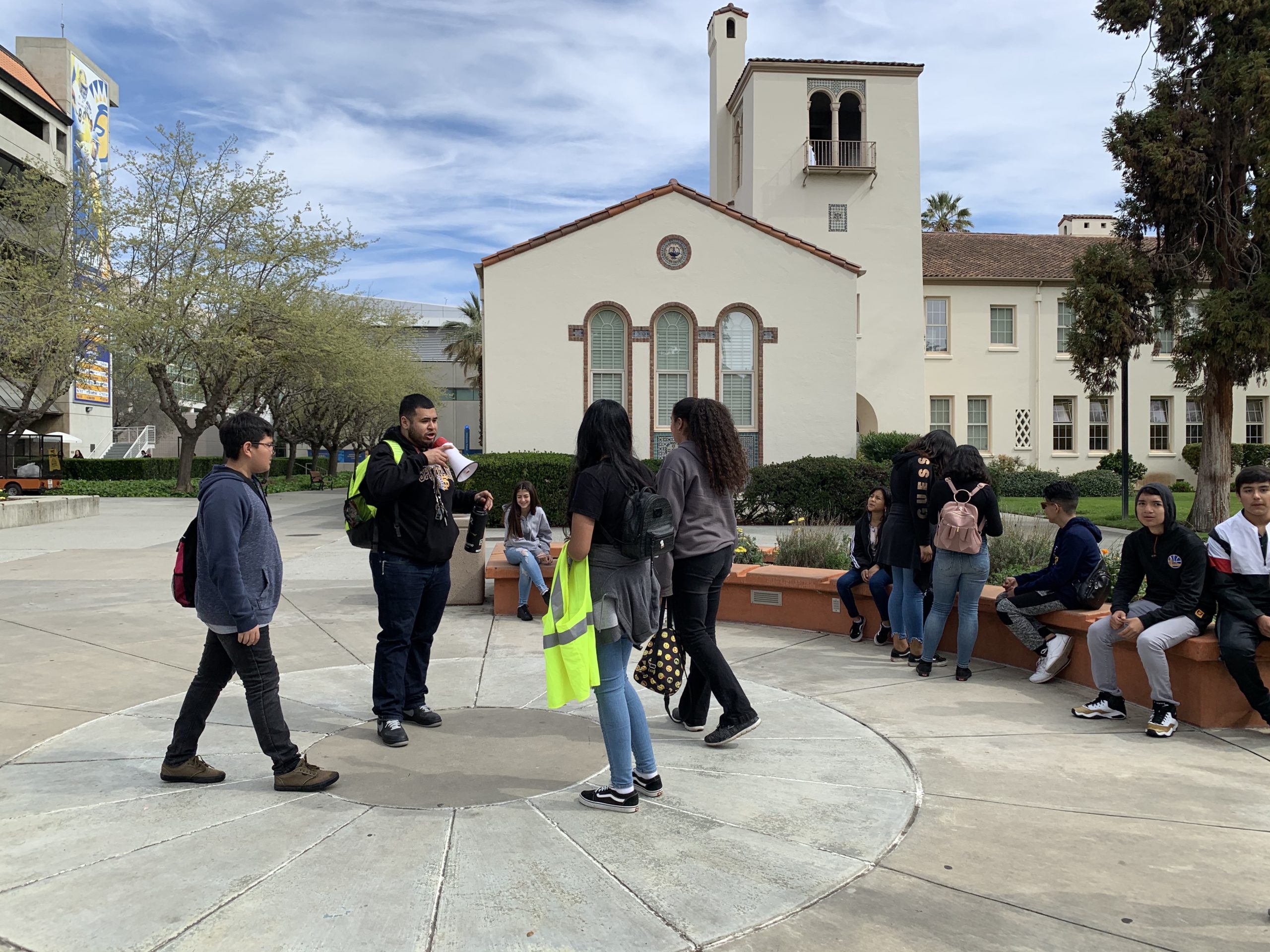 After this conversation we walked around the neighborhood around SJSU campus. We passed by a student garden in an empty plot between two apartment buildings. Two of our students started having a debate about the importance of the garden. We had stopped to point it out and one student said he thought it was a waste of space. He said that if we are in a housing shortage, "Shouldn't that garden be removed to make space for more housing?" A second student responded saying that it provided the community with an important feature. The gardner produced food and gave people somewhere to hang out, and a balanced debate ensued. One student saw a housing-only approach, perhaps without considering that housing does not just have to be apartments, that it can be more than that. The second believed in the importance of gardens to provide people recreation as well as a sustainable source of healthy food, both of which are vital to the community. I offered that they, and the rest of the class, think about this a bit more as we continued our walk. Does housing just have to be housing, or can it be more? I told the first student to think about a building with a garden, and how that can offer more for the residents living there. The first student still seemed a little tied to the idea of only building housing and nothing else, but hopefully it is something we can continue to work on and figure out together.
I was really happy with the students' engagement throughout the day. Even when students make comments as "jokes," they have validity because of the experiences they have with housing and in their own communities. All students shared good insights throughout the field trip and were listening attentively to the facts and information shared throughout the day.
As the Y-PLAN Coordinator for this project, I was really happy to work with this group of students. I was especially excited to work with Escuela Popular because they are a dual immersion school and their students and staff are all bilingual. Being Mexican-American myself I am able to connect with the students linguistically and culturally, and this project has allowed me to connect with them as a mentor as well. I've realized through our work that our life experiences are linked by the common challenges we all face across our cities today, regardless of age or neighborhood.