We provide thoughtful, objective, and empirically-driven research and policy and practice recommendations to federal, state, and local leaders to ensure high quality learning environments for all children in schools that are sustainable centers of communities.
EDUCATION EQUITY REQUIRES MODERN SCHOOL FACILITIES: THE CASE FOR FEDERAL FUNDING FOR SCHOOL INFRASTRUCTURE
The Rebuild America's School Infrastructure Coalition
Mary Filardo, Jeffrey M. Vincent, and Kevin Sullivan
Every day millions of elementary and secondary school children in the U.S. attend public school in deteriorated and obsolete facilities that harm their health and undermine achievement. Why? Because capital funding for public school facility infrastructure remains the most regressive element of public education finance.
TO LIVE IN THE COMMUNITY YOU SERVE: SCHOOL DISTRICT EMPLOYEE HOUSING IN CALIFORNIA
by Sean Doocy
The current housing affordability crisis in California, coupled with stagnant wages for teachers and school district staff, has contributed to high teacher turnover and widespread teacher shortages. In response, school districts have begun to develop employee housing programs as a strategy to recruit and retain high-quality teachers and staff. This study provides a detailed look at the current school district housing landscape, investigating the policy and legal context as well as key takeaways from existing projects.
We present findings from a study for Berkeley Unified School District (BUSD), which shows that current BUSD employees need housing assistance and would be interested in living in district-owned employee housing. Based on this detailed analysis of BUSD's potential employee housing program, along with a comprehensive understanding of this emerging typology, we offer insights for other school districts across California and the country as they explore their own employee housing initiatives.
---
FINANCING SCHOOL FACILITIES IN CALIFORNIA: A 10-YEAR PERSPECTIVE
Study for Getting Down to Facts II, led by Stanford University and PACE
Eric Brunner and Jeffrey M. Vincent
California's 6-million-student public school system includes a vast inventory of publicly owned buildings and property. All of these facilities need to be maintained and some need major renovations to ensure health, safety, and educational suitability. Some communities also need new school buildings to house a growing student population.
Research suggests students learn better in classrooms that are modern, comfortable, and safe, but the age and condition of school facilities varies widely across the state. According to a recent estimate, California school districts need to spend between $3.1 billion and $4.1 billion annually just to maintain their existing facilities. Further, the total amount of facility funding needed for California schools during the next decade for modernization and new construction is expected to be about $117 billion.
Meanwhile, many observers raise concerns about the state's current policies related to school facility funding. They cite disparities in school facilities conditions and revenues across districts, and argue that the state's school facilities funding system does not target aid toward districts with the greatest facility needs.
This study explains California's approach to financing public school facilities and examines the level and distribution of state and local school facility funding since 2006, including facility funding for charter schools.
KEY FINDINGS:
Local sources of school facility funding greatly outstrip state support.
School facility funding is volatile and has declined since 2006.
Wide disparities in school facility funding that are systematically related to school district property wealth, income, and students' backgrounds result in a relatively regressive finance system.
Charter school facility funding continues to expand.
Download full technical report
Visit Getting Down to Facts website
---
Small Districts, Big Problems: Understanding Barriers to Planning and Funding School Facilities in California's Rural and Small Public School Districts
Vincent, Jeffrey M.
In 2017, the California Department of Education (CDE) announced the "Small School District Assistance Initiative," aimed at providing targeted assistance to small and rural school districts in the state. To aid CDE's efforts, this study investigates the facility challenges and issues facing rural and small school districts in California. We utilize a mixed method approach to understand the capital investment patterns and facility planning processes of rural and small public school districts in California. In Part II we present findings from analysis of school district data on facility-related characteristics and spending trends. In Part III, we present findings from interviews with 40 rural and small school district officials from across California.
---
Center for Cities + Schools, 21st Century School Fund, Center for Green Schools, and National Council on School Facilities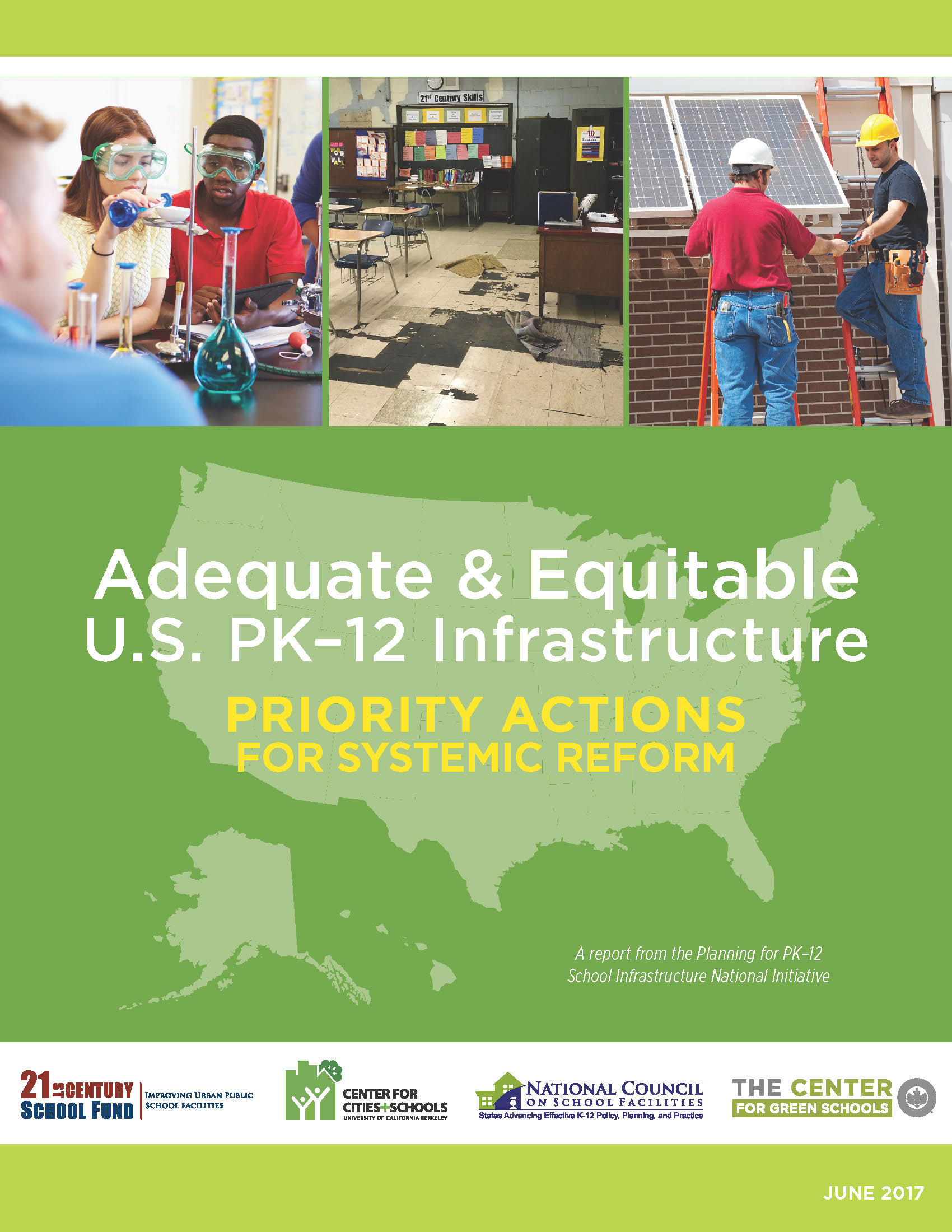 Our country's elementary and secondary (PK–12) public school infrastructure is in crisis. Every day, millions of children in the U.S. attend public school in unhealthy, unsafe, educationally inadequate, environmentally unsustainable, and financially inefficient facilities. Our public school facilities have broad impacts on children and communities: student, staff, and community health; school quality and academic achievement; economic development; and environment and natural resources. We need effective and efficient systems to ensure responsible stewardship of our PK-12 public school infrastructure.
With much at stake, national leaders launched the Planning for PK-12 Infrastructure Initiative (P4si Initiative) in 2016 to formulate a systems-based plan to address the PK-12 infrastructure crisis. This report presents findings from the Phase 1 national research engagement process to identify the challenges to adequacy and equity in PK-12 infrastructure and to propose system reforms. Our recommended priority actions are designed to develop and support the essentials for modern PK-12 public infrastructure stewardship. Phase 2 of the P4si Initiative will move the 55 priority actions forward to achieve a paradigm shift in our PK-12 public infrastructure systems.
---
Vincent, Jeffrey M., Miller, Ruth, and Dillon, Lianne
California Journal of Politics and Policy, vol. 9, no. 3

As California looks to implement a Health in All Policies approach into state decision making, and weave health, equity, and environmental sustainability into more policies, a better understanding of the relationship between school siting and walkability is needed, particularly considering that the state provides funds to school districts for new school construction projects. This study measures the walkability around a sample of schools sited and constructed in six high-growth counties in California from 2003-2011.
---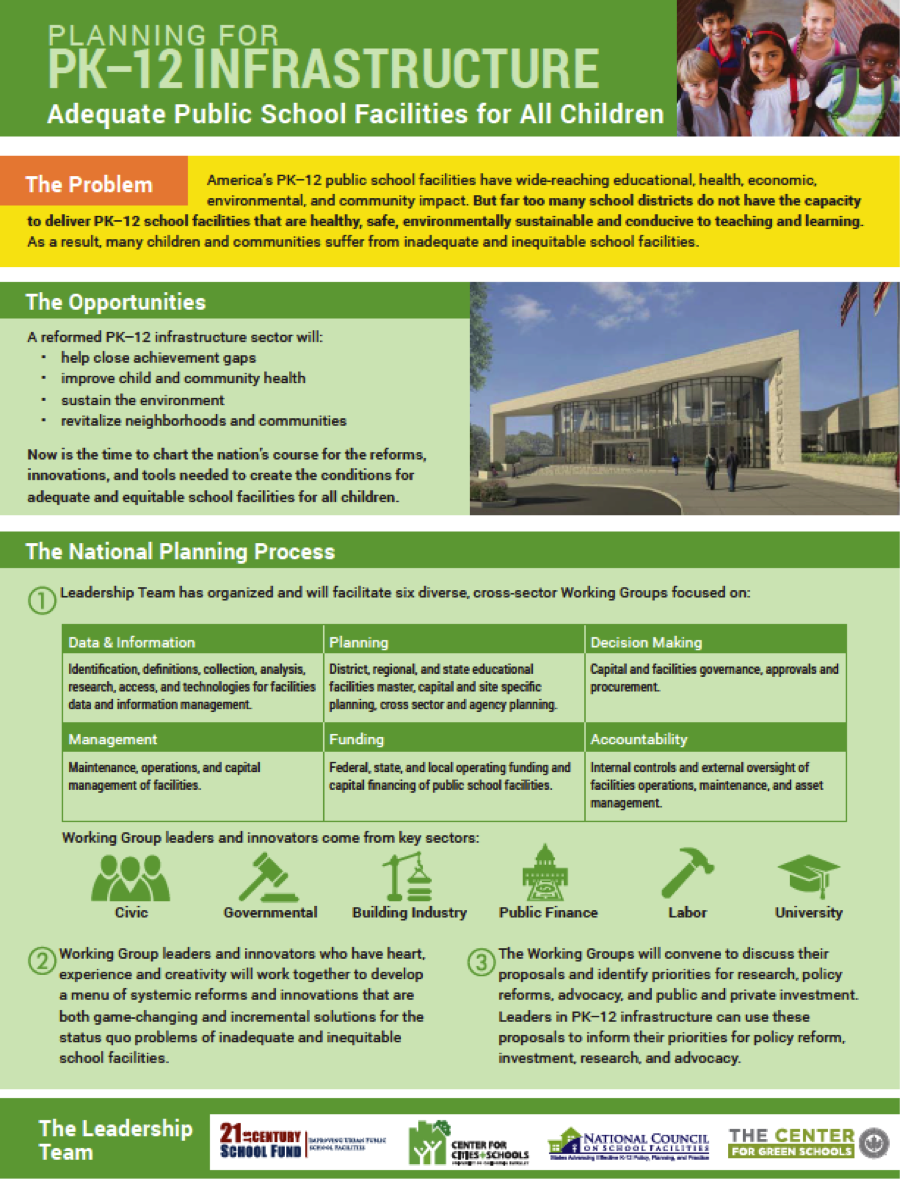 CC+S is partnering with the 21st Century School Fund, The Center for Green Schools, and the National Council on School Facilities to address the structural problems of inequitable and inadequate school facilities found in too many communities across the U.S.
Through this initiative, six national cross-sector working groups have developed a menu of solutions to guide government, industry, labor, and the civic sector in the delivery of high performance public PK-12 infrastructure for all children. The six working groups are organized around basic elements of a well-managed facilities program: Data and Information, Educational Facilities Planning, Management, Funding, Governance and Decision Making, and Accountability. This map identifies policies, practices, and tools needed to structure, manage and fund the public and private capacity for equitable and efficient public school facilities for all communities.
Initiative Summary and Working Group Descriptions (PDF)
This initiative is funded by the Leadership Team organizations and the W.K. Kellogg Foundation.
---
Liz S. Jain and Jeffrey M. Vincent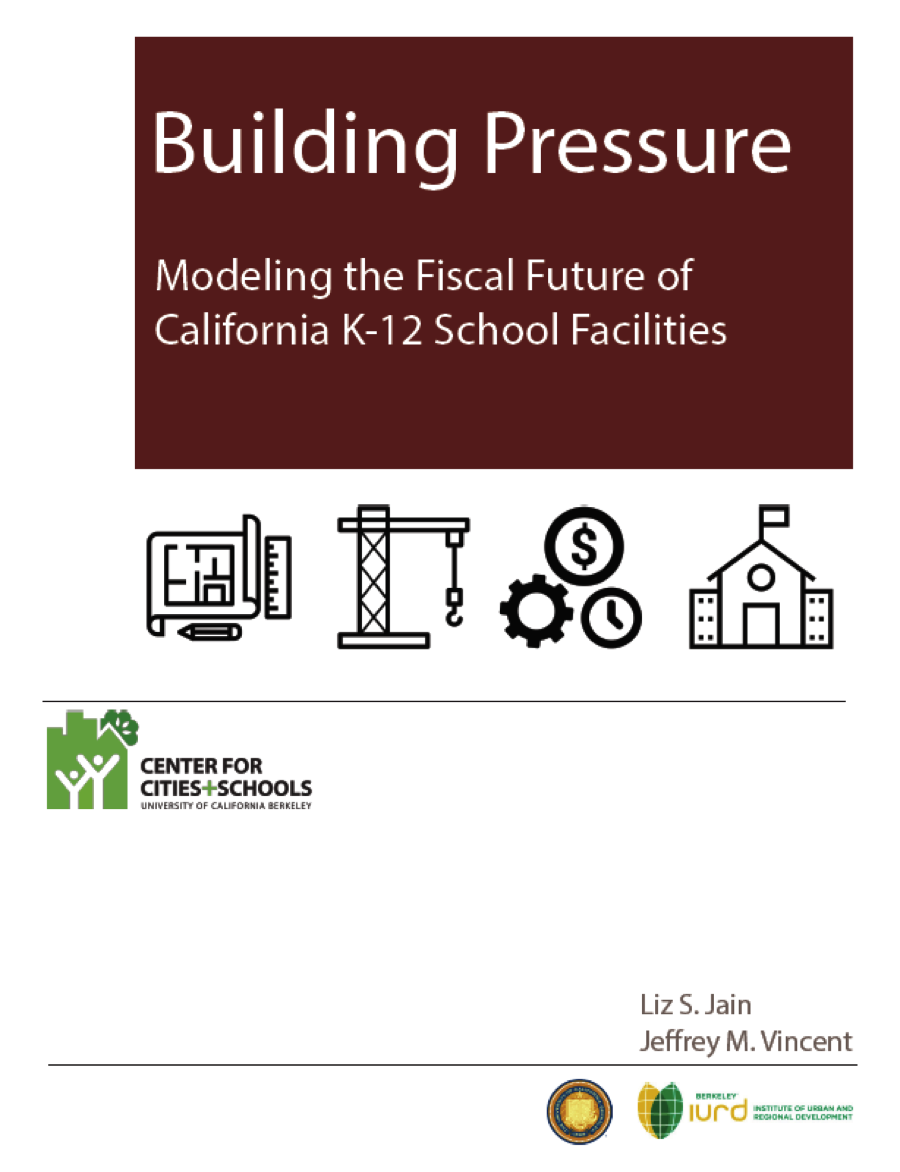 September 2016
Public school districts across California, particularly those in low-wealth areas, experience significant funding shortfalls for their facilities. Amidst this trend of widespread underinvestment in California's K-12 public school facilities, state funds to aid school districts in facility construction and modernization projects are depleted. Whether the 2016 statewide ballot measure (Proposition 51) passes or fails, state lawmakers are likely to face continued pressures to meet the vast infrastructure needs of public K-12 facilities.

With this study, we aim to inform voters and to provide broad guidance for policymakers regarding the relative merits of various long-term state funding approaches for public school facilities.

Based on California's historical experience, the scale of current needs for K-12 infrastructure investment, and examples from other states, we identify four policy scenarios applicable in the Golden State's current political climate (Scenario 1: No State Support; Scenario 2: State Competitive Grant Matching Program; Scenario 3: Small State Role Targeted to High-Need Districts; and Scenario 4:Equity-Focused State Grant Formula). We then estimate available facility funding for each K-12 school district under each scenario. Our findings suggest that California needs a principled, long-term program for public school facilities funding that promotes adequacy, equity and affordability.
---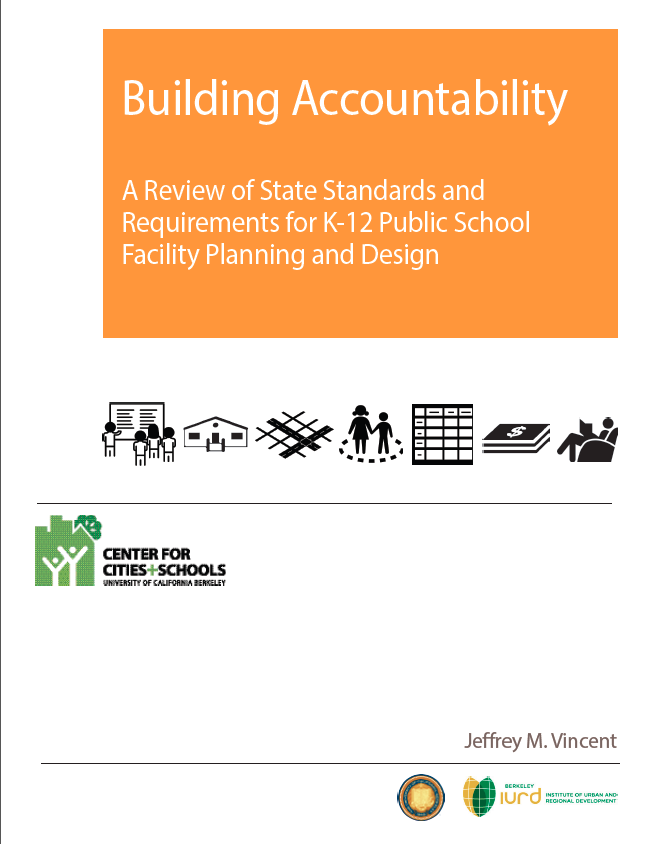 Jeffrey M. Vincent, PhD
July 2016
To inform state lawmakers on appropriate policies for K-12 school facility planning and design, this paper investigates standards in seven state policy areas (educational space, minimum essential facilities, indoor human comfort/environmental quality, school site size, planning process, maintenance, and charter schools) in ten case study states: California, Colorado, Florida, Maryland, Massachusetts, New Mexico, New York, Ohio, Texas, and Washington. Identifying national trends in state standards for K-12 school facilities, we find that school facility standards advance four state interests:
State Interest #1.That children in the state attend public school facilities that adequately support the education program.
State Interest #2.To protect and/or advance the health of, safety of, and environmental quality for children and/or communities.
State Interest #3.That there are not gross facility disparities across the state that would disproportionately undermine the achievement of specific groups of students.
State Interest #4.That school districts design, build, and operate cost effective and efficient school facilities.
Drawing on lessons from the field, our recommendations are directed specifically to the California Department of Education, but applicable to all states:
States should maximize availability of facilities planning and design technical assistance to local school districts, to uphold state standards and leverage numerous benefits to the public/taxpayers. State agencies are uniquely positioned to play a technical assistance role to bring this value to all school districts.
States should regularly collect information on the conditions and qualities of all K-12 school facilities and grounds in the state. By collecting up-to-date information on school facility conditions and qualities, state leaders and the public have a way to know whether or not the various standards are having the desired effect(s).
States should conduct a public review and update of all K-12 facility standards every few years. State standards, guidelines and regulations for school facilities should be periodically reviewed and updated to reflect evolving industry best practice, new research findings, alignment to broader state infrastructure goals, and changing educational program emphases.
States should ensure there is adequate and equitable school facility spending to uphold standards. California policymakers can use state school facility funding and the standards in tandem to ensure that all children attend facilities that are safe, healthy, educational suitable and affordable to taxpayers.
---
Jeffrey M. Vincent and Liz S. Jain
After decades of dedicated investment, state funding to assist local California school districts in the construction, modernization, and maintenance of their school facilities has come to a halt. Our analysis of school facility spending across California finds that, compared to industry standards, there is an ongoing, structural pattern of inadequate and inequitable spending in many school districts:
• Majority of school districts underspend on facilities
• Wealthy districts spend more on facilities, especially on the capital side
• Districts serving low-income students disproportionately spend more per student on M&O from their operating budgets to fund facilities
Overall, these findings suggest that many districts—particularly those serving high-need students—risk grossly underfunded facilities budgets, deteriorating schools, and declining educational outcomes if they are left on their own, without state support for capital needs. The report concludes by identifying policy reforms that will move California to a more coherent system of school facility finance that promotes adequacy, equity, public accountability, and affordability.
---
Jeffrey M. Vincent and Liz S. Gross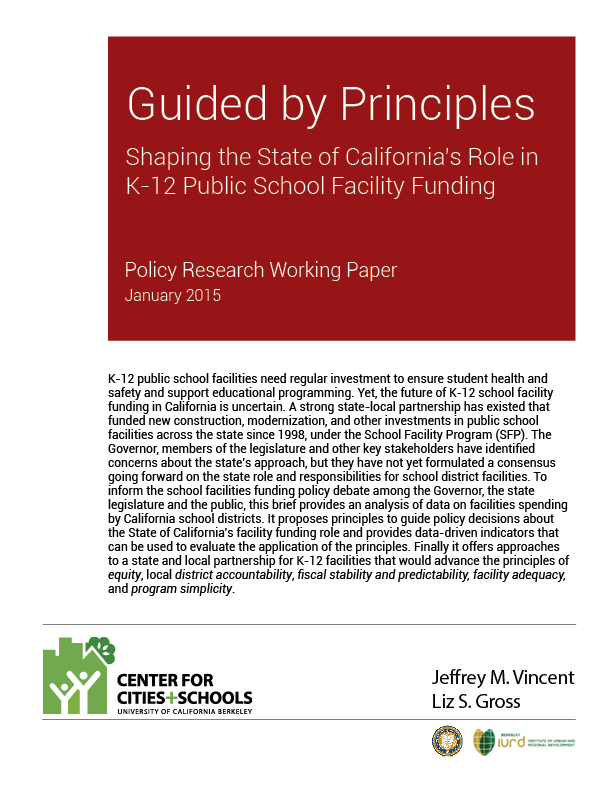 K-12 public school facilities need regular investment to ensure student health and safety and support educational programming. Yet, the future of K-12 school facility funding in California is uncertain. A strong state-local partnership has existed that funded new construction, modernization, and other investments in public school facilities across the state since 1998, under the School Facility Program (SFP). The Governor, members of the legislature and other key stakeholders have identified concerns about the state's approach, but they have not yet formulated a consensus going forward on the state role and responsibilities for school district facilities. To inform the school facilities funding policy debate among the Governor, the state legislature and the public, this brief provides an analysis of data on facilities spending by California school districts. It proposes principles to guide policy decisions about the State of California's facility funding role and provides data-driven indicators that can be used to evaluate the application of the principles. Finally it offers approaches to a state and local partnership for K-12 facilities that would advance the principles of equity, local district accountability, fiscal stability and predictability, facility adequacy, and program simplicity.
Presentation to the California Assembly Education Committee
Presentation to the California Senate Education Committee
---
Jeffrey M. Vincent
California lawmakers are debating the future of the state's role in providing school construction and modernization funds to local school districts – a school facility funding role the state has played since 1947. Previous statewide school construction bond authority is exhausted. To inform this policy debate, our paper describes the role each of the 50 states plays in K-12 school facility funding, summarizing each states' funding formula.
---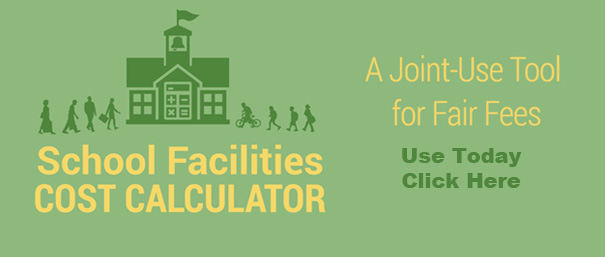 The School Facilities Cost Calculator: A Joint-Use Tool for Fair Fees, a free tool that helps school districts and communities determine the costs of owning and operating their facilities and develop a fair and transparent joint-use fee structure, is now available in an interactive web-based format. The Cost Calculator includes rich data from nearly 15,000 school districts across the country—and is also available as a downloadable Excel file. The School Facilities Cost Calculator will enable community organizations interested in utilizing school building space to negotiate appropriate subsidies for fair fees.

The School Facilities Cost Calculator was developed by the 21st Century School Fund, a nonprofit dedicated to modernizing public school facilities, and the Center for Cities & Schools at the University of California, Berkeley. Two national health foundations, Active Living Research and Convergence Partnership, sponsored the Calculator's development.
The Calculator is FREE to use! Try it today. Download the user guide here.
Email Jeff Vincent if you'd like to be invited to future tutorials on the Calculator.
---
Jeffrey M. Vincent
Journal of Planning Education and Research June 2014 vol. 34 no. 2 153-168
Despite the growing interest in expanding the joint use of K–12 public schools by public health and planning practitioners to promote healthy, sustainable communities, the topic has received little attention in the urban planning and public health scholarship. The objective of this article is to situate joint use in the academic literature focused on the links between built environments and health. I examine the "state of the field" of K–12 joint use through studying the academic and associated literature, interviews, participant observation, and case examples. I develop a joint use classification system to aid researchers and practitioners.
---
WEBINAR: Healthy School Facilities: Planning for 'Good Repair' in Local Control Accountability Plans // A Primer for Parents, School Board Members and Community Advocates (April 3, 2014)
Under California's new Local Control Funding Formula (LCFF) K-12 funding system, Local Control and Accountability Plans (LCAPs) must address "school facilities in good repair. " (as defined in California Education Code § 17002d). This webinar will give participants the knowledge and tools to actively participate in their school districts good repair plan. (Sponsored by The California Endowment)
How will school districts assess "good repair"?
How can parents advocate for improved school facilities?
Speakers:
Jeff Vincent – UC Berkeley, Center for Cities + Schools
Bill Savidge – Assistant Executive Officer, California State Allocation Board
Joe Dixon – Assistant Superintendent, Santa Ana Unified School District
Brad Strong – Children Now
---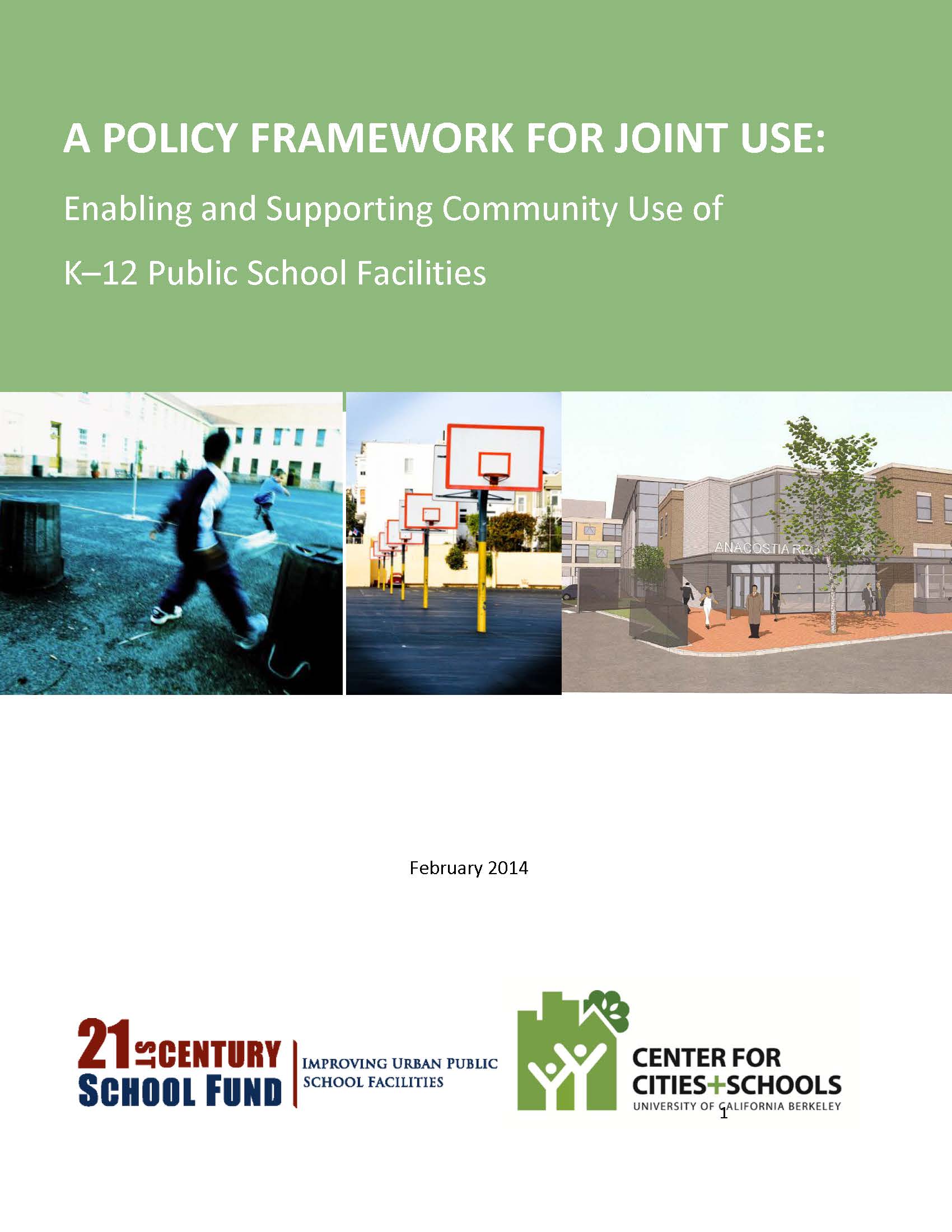 Jeffrey M. Vincent, CC+S and Mary Filardo, 21st Century School Fund
Joint use of public school facilities is a complex but manageable approach to efficiently enhancing the services and programs available to students and supporting the community use of public schools. Building upon on our 2010 paper titled Joint Use of Public Schools: A Framework for a New Social Contract, this paper identifies the policy framework needed to support sustainable joint use of public schools. Our goal with this paper is to provide local and state leaders with the policy framework needed to enable and support community use. The policy framework addresses the challenges to harnessing the opportunities and benefits of the community use of K–12 public schools. We discuss the policy elements that have been and can be used to incorporate joint use into normal planning and operations of school districts and local and regional public agencies and to do so in a sustainable and fiscally-responsible manner. The framework addresses policy at the state and local levels and acknowledges that joint use requires public and private agencies to work together in new ways. This paper also describes the need for public transparency and understanding of the full cost of ownership of public school facilities as a critical part of policy.
In collaboration with Active Living Research and the Convergence Partnership
---
21st Century School Fund and Center for Cities + Schools
This paper adds to the growing conversation about and demand for joint use as a way to provide services to children and families in convenient locations, improve opportunities for physical activity by increasing use of school recreational and outdoor spaces, leverage capital investments, and more, provide a conceptual frame for the joint use of PK-12 public schools. We establish definitions for joint use and frame the basic challenges and opportunities to facilitate better conversations and planning for these type of collaborations
---
Jeffrey M. Vincent and Ruth Miller PLUS Report, 2013
SFUSD, like many districts, allows use of its classromms, gymnasiums, and other indoor facilities to external groups. But similar to other districts, SFUSD has struggled to apply use fees consistently, fairly and equitably. Building from the recommendations of the 2010 report, San Francisco's Public School Facilities as Public Assets: A Shared Understanding and Policy Recommendations for the Community Use of Schools, and the working group, this report proposed an updated, revised pricing methodology and fee schedule in accordance with California's Civic Center to increase transparency, consistency, and align to SFUSD's education goals.
---
Schools trying to be integrated and serve their local communities often face a challenging question: Are "diversity" and "walkability" compatible? This summary document, drawn from a national dialogue among leaders in health and public education, with accompanying research, answers this question in the affirmative. The report highlights key obstacles and outlines the full range of factors that determine how and where schools are built, who attends which schools, and how patterns of population and settlement continue to reproduce inequality in communities across the country. The report presents a preliminary agenda for tackling the challenges, listing action steps for promoting diverse, walkable, high-quality schools for all children.
The original framing paper was written by Jeffrey Vincent and Deborah McKoy of the Center for Cities and Schools at the University of California, Berkeley and Mary Filardo of the 21St Century School Fund in collaboration with PolicyLink, the Safe Routes to School National Partnership, and ChangeLab Solutions.
---
Jeffrey M. Vincent, Mary Filardo, Jordan Klein & Deborah L. McKoy
This report presents research findings and policy recommendations from a year-long process involving a diverse stakeholder group to establish a more effective "joint use" strategy in San Francisco that supports students, families, schools and communities. The report includes: a) detailed descriptions and diagrams of current SFUSD facility policies and processes; b) findings on current utilization, management, policy, and budget; and c) policy recommendations to encourage a "culture" of community use of schools that prioritize partnerships with organizations that provide programs and services to SFUSD students and that are aligned with the District's goals. Report prepared for San Francisco Unified School District and San Francisco's Department of Children, Youth, and Their Families.
---
This report takes a comprehensive look at the state of K-12 school facilities in California, focusing on state-level policies and funding patterns. The recommendations lay out a detailed framework that re-envisions the state's role in K-12 infrastructure to appropriately support educational quality and contribute to healthy, sustainable communities goals. Our hope is that this report helps guide state leaders in aligning infrastructure investments for efficiencies and multiple benefits for Californians. The report includes a message of support for implementation from California State Superintendent of Public Instruction, Tom Torlakson.
California Department of Education + CC+S Press Conference on Report:
---
Jeffrey M. Vincent, Deborah L. McKoy, Ken Alex, Connie Mitchell & Kathleen Moore
On December 6, 2012, UC Berkeley's Center for Cities & Schools, California Department of Education, California Strategic Growth Council and the Health in All Policies Task Force, California Department of Public Health and the Governor's Office of Planning and Research brought leaders from across California together to discuss aligning important policy agendas: ensuring high-quality, opportunity-rich schools in healthy, sustainable communities. The main goal was to provide guidance for increasing both state and local collaborative inter-agency work towards "win-win-wins" in education, health, and sustainable community outcomes. The partnering entities realize that the success of our communities, cities, and regions depends on high-quality schools, just as high-quality schools depend on the vibrancy, health, and sustainability of our communities. State and local policy leaders increasingly recognize how the conditions, qualities, and locations of K-12 school environments affect not only teaching and learning but also equity and healthy community objectives, including land use, growth, and congestion.
---
Smart Schools for Sustainable Communities: Aligning Sustainable Communities Planning and Public Education in California (Invited Policy Roundtable)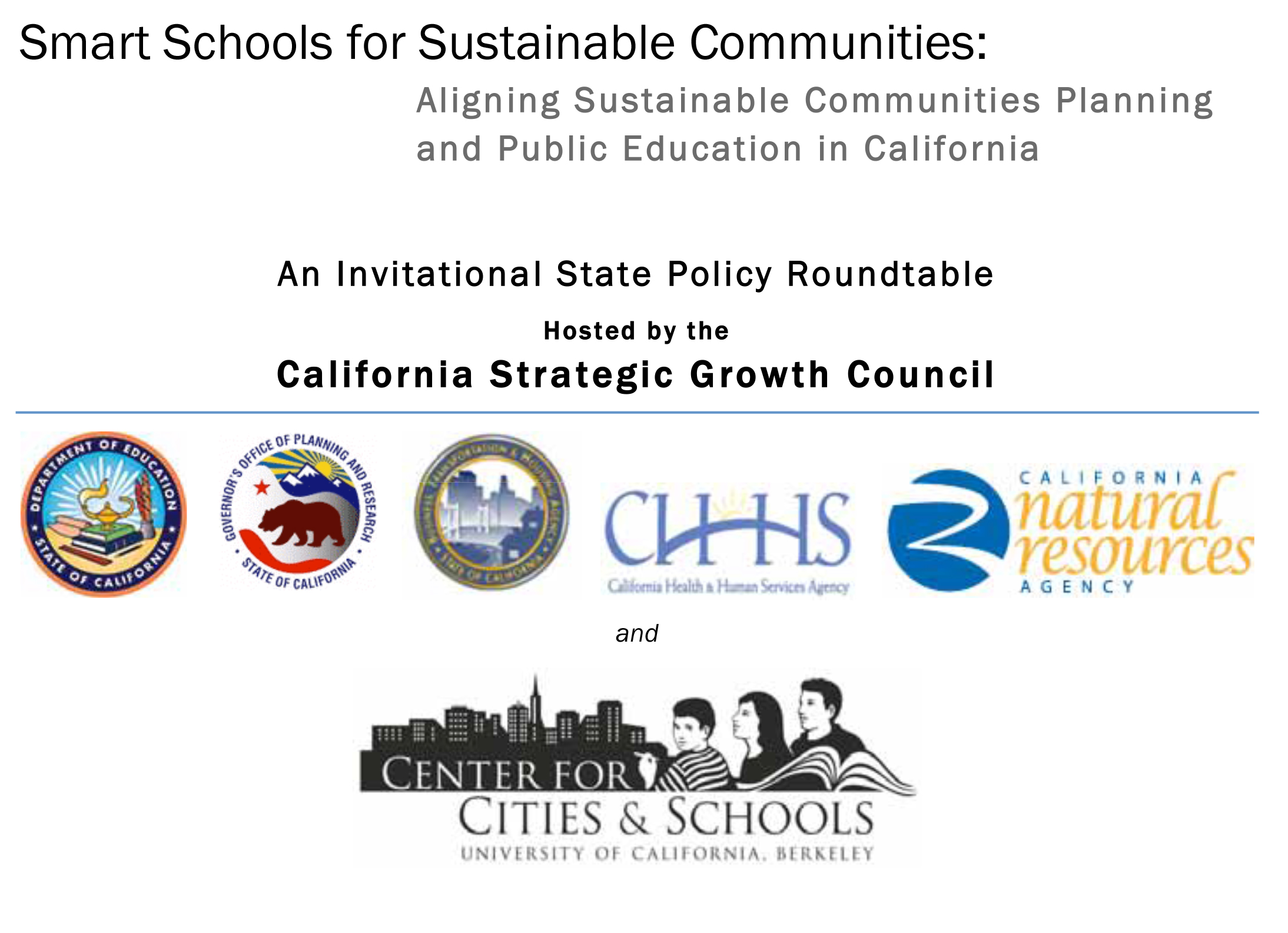 CC+S partnered with the California Strategic Growth Council and the California Department of Education to host an invited roundtable, bringing together local and state leaders together to discuss promising strategies for linking public schools to the creation of healthy, sustainable communities. Topics included, integrating schools into regional Sustainable Communities Strategies and local planning activities, school siting and design, and green construction. Participants worked together to identify policy opportunities for improving educational experiences and realizing sustainable communities.
Download Roundtable Summary Report (PDF)
Download California Department of Education Presentation (PPT)
---
CC+S joins PACE (Policy Analysis for California Education) to explore California's historic $82 billion school construction investment opportunity to advance educational quality and lift local communities. This report contributes to a new conversation about how mindful school construction decisions can enrich metropolitan areas and sustainable forms of regional development.
Download Re-Visioning School Facility Planning and Design for the 21st Century: Creating Optimal Learning Environments
In partnership with the California Department of Education, CC+S designed and facilitated a two-day roundtable (October 15-16, 2008), convening 75 national and state education and design leaders to explore the relationship between school design and learning and to generate recommendations for improved state policy on school design. From this "public research" event, CC&S crafted a proceedings summary with detailed state policy recommendations generated by participants. For more information on the Roundtable, visit CDE's website.
Download Executive Summary (PDF)
---
The Complex and Multi-Faceted Nature of School Construction Costs: Factors Affecting California
Over the past ten years, public education construction has seen unprecedented growth and California is among the front runners driving this trend. Rising costs, however, are increasing rapidly, impacting school districts' ability to deliver the schools they are promising their constituents. This research report addresses the void in understanding school construction costs by addressing two key questions: What are the factors affecting school construction costs in California? In what ways do these factors compare nationally and in other states? We use interviews, focus groups, and policy and statistical analysis to compare California and seven comparison states.
Executive Summary (PDF)
---
Jeffrey M. Vincent
Funded by the Council of Educational Facility Planners International, this study categorizes the types of joint use used by school districts utilized in California. We discern the challenges and lessons in joint use partnerships and make policy, procedural, and research recommendations to better support the joint use of public schools throughout the country.
Download Executive Summary (PDF)

Policy roundtable hosted by the California Department of Education and facilitated by the Center for Cities + Schools.
The roundtable explored the historical, contemporary, and visionary future contexts of school facilities in California to advise the state on policy reforms to promote learning environments that support 21st century education programs. This report is a summary and analysis of the roundtable proceedings. It also serves as a guide for further reevaluation of school facilities planning and design policy in the state of California. Funding for this project provided by the California Department of Education.
Download Executive Summary (PDF)
---
CC+S testimony at the Joint Informational Hearing for the California Senate Committee on Housing and Transportation and the Senate Select Committee on State School Facilities: "Schools as Centers of Sustainable Communities: A Vision for Future School Facility Construction," December 15, 2009.

Download Hearing Agenda (PDF)
---
CC+S Policy Brief, 2009
California's ongoing school construction investment and innovations in public education, coupled with the new infrastructure planning approach in SB 375, create a strategic opportunity to make land use decisions that better support students, families, and communities.
---
Deborah McKoy, Jeffrey M. Vincent & Carrie Makarewicz
In ACCESS 33 (4): 18-26, 2008
This article discusses the ways in which schools affect urban development and transportation, acknowledging that their location, design, and physical condition may be some of the most important determinants of neighborhood vitality. As California continues to grow and the state continues to make significant investments in public school facilities, crafting a vision and strategic supporting policies to ensure growth and prosperity becomes ever more important. The article presents three key recommendations to align school planning with broader infrastructure planning and investment.
---
A Joint Report from CC+S and Public Health Law and Policy (PHLP), by Jeffrey M. Vincent and Tamar Cooper
While successful joint use partnerships can be found across California and the country, lack of information, guidance, and best practices keep many localities from pursuing this collaborative strategy. CC&S partnered with Public Health Law and Policy (PHLP) to conduct initial research on joint use school facility partnerships in California. Our report looks at joint use partnerships in the California policy context, focusing on three cases: opening up existing school yards for public use in San Francisco; building new joint use gymnasiums in Rosemead; and building a joint use child development center in Clovis (appendices include formal case agreements). The report provides key lessons learned and recommended steps to crafting effective joint use partnerships.

Download Executive Summary
Download Full Report (with Appendices)
---
Jeffrey M. Vincent and Paavo Monkkonen
Journal of Education Finance 35(4): 313-330, Spring 2010
In this article, we measure the impacts of three public school construction regulations on the costs of construction in a model that incorporates a more comprehensive set of project and locality characteristics than previous research.
---
CC+S partnered with the Local Government Commission and other members of the Ad-Hoc Coalition for Healthy School Siting to provide school facility planning and design policy recommendations to the California Department of Education (CDE). The Ad-Hoc Coalition for Healthy School Siting is a group of five entities across California that have analyzed research and policies related to school location and design, and corresponding impacts on education, health, transportation, and community design. Our first policy memo in 2008 obtained support from 42 California-based organizations. Key aspects of "healthy school siting" include locations that are walkable, bicycle-friendly, and that are well integrated into communities and neighborhoods.
---
CC+S and the American Architectural Foundation convened more than 40 policymakers and practitioners from across California to dialogue on the state's massive ongoing investment in building new schools.
---
Mary Filardo, Jeff Vincent, Ping Sung & Travis Stein. Washington, DC: Building Educational Success Together (BEST)
This study documented the growth in K-12 school construction and renovation spending across the country between 1995 and 2005. Our analysis finds disparities in spending by student incomes, neighborhood incomes, and race.