Y-HEAR
Youth-led Homeless Education Action Research
Why Y-HEAR?
California's Growing Student Homelessness Crisis
In just ten years, the number of unhoused K-12 students in California has jumped 48%, with more than 244,000 students identified in 2019-2020. On top of higher absenteeism and suspension rates among unhoused youth, housing insecurity is a primary factor in students dropping out entirely. Despite this, data on learning outcomes for unhoused students are missing or incomplete. While there is now a housing questionnaire to be administered by California districts to try to identify students, there is no requirement for schools to track housing status under state or federal law.
Almost 270,000 students in K-12 schools lacked stable housing in 2018-19, numbers that almost certainly have grown since the pandemic and economic downturn began last spring, researchers said.
The Unfulfilled Promise of McKinney-Vento
The federal McKinney-Vento Act of 1987 guarantees certain rights and services to unhoused students so they are able to enroll, attend, participate fully, and succeed in school. Yet inadequate state and federal funding has made it difficult to staff programs that serve students and their families accessing these entitlements. McKinney-Vento requires all local educational agencies to designate one homeless liaison to identify unhoused students, train school-based staff, and provide services to unhoused students. In practice, underfunded homeless liaisons often have other primary duties and are unable to fulfill their responsibilities under McKinney-Vento.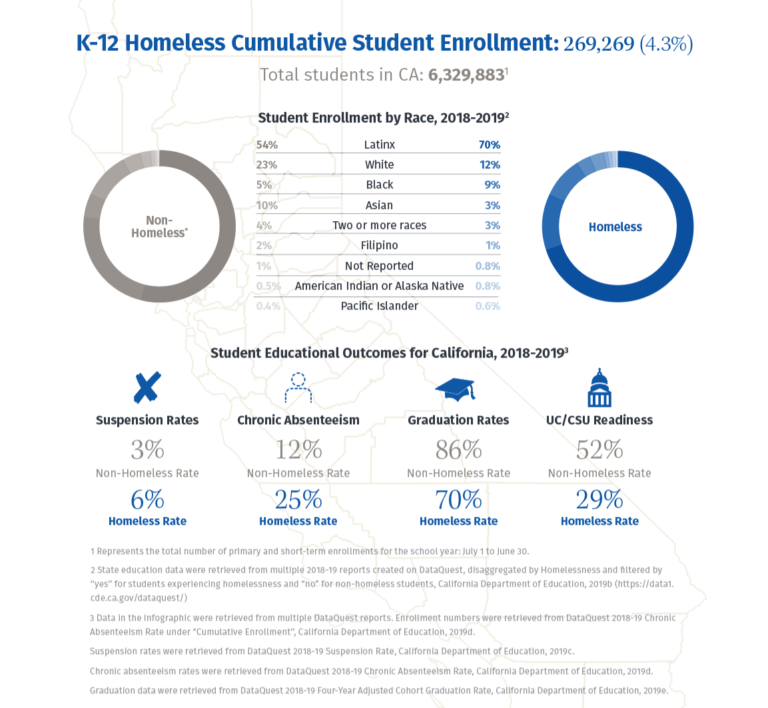 2020 UCLA report report found that just 9% of school districts in California received federal funding from the McKinney-Vento Act to meet the mandates of the law. This means that "two out of three students experiencing homelessness in California attend schools that receive no dedicated MVA funding."
– Bishop, et al., 2020, pg. 10,
Report
The Invisibility of Homeless Students
The global COVID-19 pandemic has lifted the veil on systems of structural racism and pernicious inequalities across our nation, cities, and schools. The data we do have shows unhoused students are more likely to be English Language Learners and eligible for special education services. A staggering 7% of African American students, 6% of Native American or Alaskan students, and 6% of Pacific Islanders students in California were identified as unhoused in 2018-19 (Moses 2020, National Alliance to End Homelessness report).
"It's a largely invisible population. The national conversation on homelessness is focused on single adults who are very visible in large urban areas. It is not focused on children, youth and families. It is not focused on education."
– Barbara Duffield, Executive Director Of Schoolhouse Connection, January 2022
Chance for Real Change
In 2022, California made a historic $4.1 billion investment in community schools, along with $500 million to enhance high school students' college and career readiness through the Golden State Pathways Program Act, which prioritizes funding for districts serving above-average populations of unhoused youth. Around the same time, Congress allocated an unprecedented $95 million in federal support for homeless education in California through the American Rescue Plan.
This level of state and federal funding is unprecedented, but the support is also time-limited, with federal funds ending in 2024 and state funds expiring in 2029. This short window of opportunity makes Y-HEAR's work to increase access, support, and outcomes for unhoused youth pursuing their college and career goals all the more crucial and urgent.
"This is a critical moment. I feel our over twenty years of action research and direct work with local, state, and federal government system, along with schools and over ten thousand young people, has led us – and prepared us – for this important work."
– Dr. Deborah McKoy, January 2023
Header image by US Department of Education. CC BY 2.0 license.