In Memoriam: Prescott Reavis
The joy on these children's faces says it all: working with "Mr. Reavis" on architecture and planning projects was an inspiring and delightful experience. Prescott's sudden death on February 8, 2022 has deeply saddened and touched the hearts of all who interacted with him. He was a deeply admired and respected man. The loss of such a powerful and beloved mentor has rippled through the many communities in which he lived, worked, and played.
I have known Prescott for over twenty years and worked with him in Y-PLAN Elementary since 2009. During that time, I have had the privilege of seeing him in action — up close. He was my "think and do" partner. Along with many of his colleagues in SF NOMA (National Organization of Minority Architects), we have introduced hundreds of children in public schools in Oakland, Richmond, San Francisco, and beyond to the world of planning, design, and community activism. Prescott brought so much integrity and verve into our curriculum and his interactions with young students. Whenever a child—or an adult for that matter—asked him for help, he almost always said "yes" and backed it up with action. To quote his brother John, "he set an awesome example of kindness and generosity for others to follow."
Beyond working with 3rd – 5th grade students in Y-PLAN, Prescott facilitated projects and programs with many more young people across the age spectrum. He taught architecture studios at UC Berkeley, Cal Poly SLO, and his alma mater Howard University. He facilitated workshops for high schoolers at the Youth Art Exchange in SF. And he headed up NOMA's Project Pipeline, the intensive summer architecture camp for Bay Area middle school students. Recently, he was working with the City of San Francisco on the Child Friendly Cities initiative. Prescott also gave talks and lectures about environmental and social justice to adults in grass-roots settings as well as in boardrooms and civic arenas. His goal in all endeavors was to inspire and mentor future visionaries and civic leaders.
During his many years of teaching, facilitating, and leading children and youth of all ages and backgrounds, Prescott never wavered. He was consistently humble, yet proud. He was talented and accomplished, yet extraordinarily open-handed in sharing his gifts and skills. He was high minded and also down to earth. In his interactions with people, he was both gentle and fiercely passionate about issues and principles that he profoundly cared about. In all his endeavors, he consistently gave credit to everyone on his team, even though, without his leadership, many efforts would have been difficult to pull off.
In recent years, Prescott was "on fire" as an advocate and public thought leader. During the pandemic, he founded Kulima, an organization devoted to people in underserved communities and aimed at improving their built environments to be equitable, healthy, joyful, and culturally abundant places. As Kulima's Director, he worked collaboratively with community activists on a range of projects with a focus on equity, social and environmental justice in Oakland, with a special emphasis on his home community of East Oakland.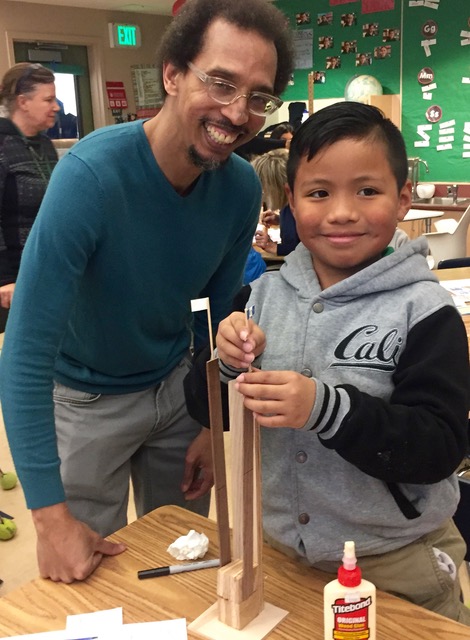 A week before his death, while we were in the car driving away from Malcolm X Academy in San Francisco, Prescott shared his latest epiphany with me. "It's all about spatial literacy!" he exclaimed. "This is the next frontier for me, to help cultivate this form of literacy for everyone." He was very excited about developing and advancing this theory and translating it into action across the myriad contexts in which he worked. Hopefully, Prescott's spirit as a spatial activist will continue to inspire and motivate others to cultivate spatial literacy in themselves and others. He would want everyday citizens of all ages to use their collective knowledge and voices to engage in their spaces and shape the physical environment to express their hopes and needs.
This is a tremendous loss for all who have known and worked with Prescott in the Y-PLAN network. We all adored, respected, and learned from him. For the past year and a half, he had been working with a team of adults* and a group of children (now in fifth grade) at Malcolm X Academy on issues of environmental justice. As part of this spring's project, we are designing and building a fruit orchard and other amenities on the school campus. We are dedicating this project to Prescott and his legacy. There are no more words to express how deeply we miss him. We will cherish him in our hearts always.
*Teacher Rebecca Seid and Aid Theresa Bryant; Architects D'Sjon Dixon, Margaret Ikeda, Yulia Grinkrug, and Evan Jones; CCA architecture students; Planners Luiz Barata, Lisa Chen, and Danielle Ngo with SF Planning Department; Angela Chung, and UC Berkeley Y-PLAN students.
Digital Links
Video of one of his last presentations to Margaret Ikeda and Evan Jones' CCA students on January 31, 2022
GoFundMe Prescott Reavis Scholarship
National Organization of Minority Architects (NOMA)
Designing Justice + Designing Spaces (DJDS) – Oakland-based architecture and real estate development non-profit shared in an Instagram post