Y-PLAN Strength and Resilience (2020-2022)
Like so many, this pandemic has changed how we at CC+S work and deliver our action research programming. Over the last two years, we've been able to shift our Y-PLAN partnerships online, off line, and using hybrid models! Despite the challenges of remote learning, inspiring projects have continued across California and Bay Area cities, including Los Angeles, Oakland, San Francisco, Richmond, San José, San Rafael, and Sacramento.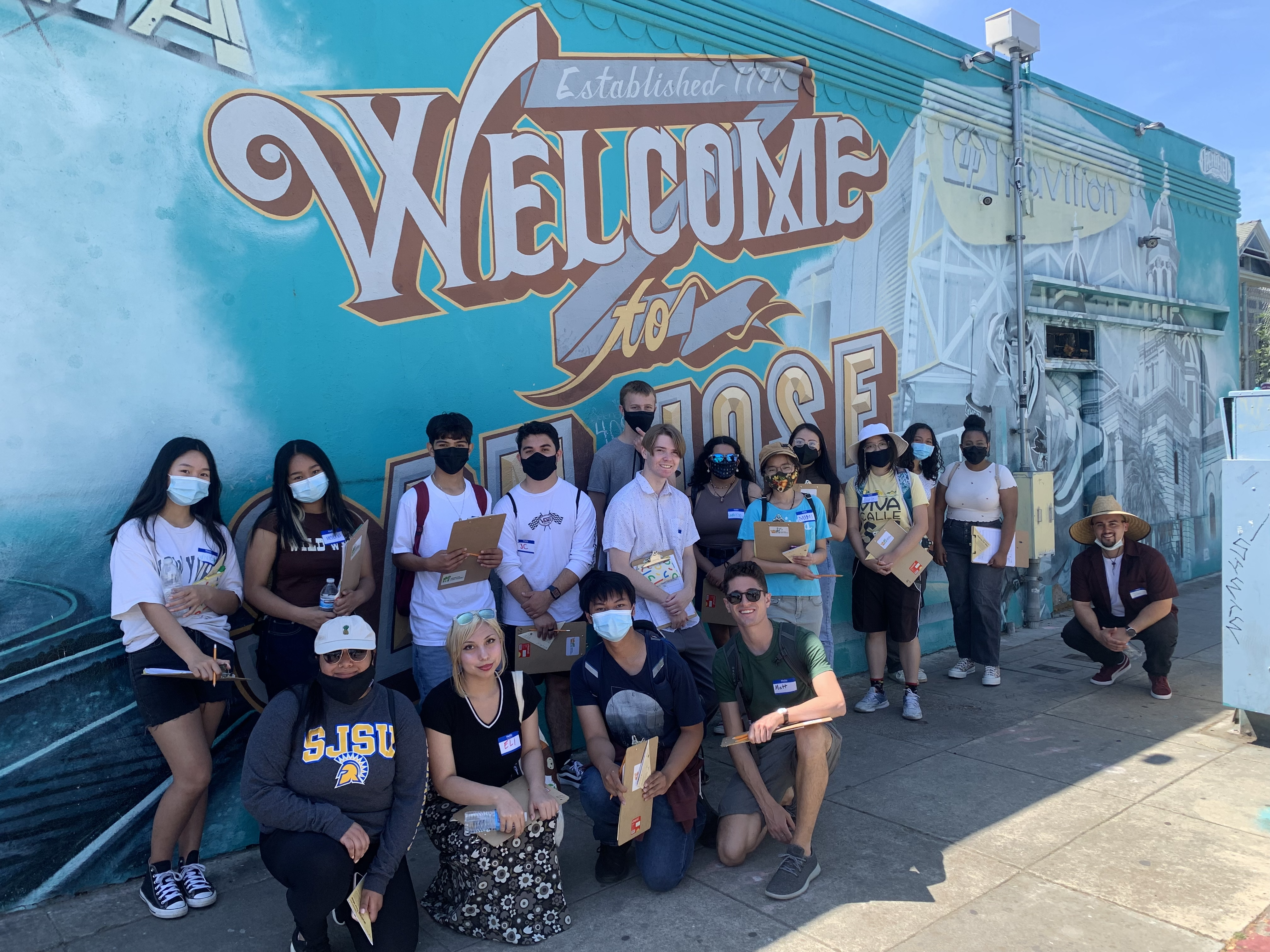 Looking to deepen our reach and impact, we received support from the Stuart Foundation – one of our earliest supporters – to expand the impactful/original model of Y-PLAN started at UC Berkeley. We partnered with key public university campuses in California, including San José State, UC Davis, UC Irvine, and Cal Poly Pomona to collaborate on how we can share the Y-PLAN transformative strategy to far more young people. Through the Y-PLAN Connects: Building Community in Place Higher Ed Hub model, we have already engaged over 200 undergraduate and graduate students in civic change. Together, we are learning how to leverage and broaden the power and resources of higher education as a core partner to support city-school connections and collaboration.
As we broadened our higher education networks, we deepened existing civic partnerships and… drumroll… even published a book – Planning Cities with Young People and Schools: Forging Justice and Generating Joy – capturing key learnings and best practices from over 20 years of Y-PLAN projects.
See below for additional highlights:
Y-PLAN Connects public access digital platform utilized by over 1,200 participants – Key Topic Areas: Mental Health, Schools and Communities; Educational and Environmental Resilience, and Homeless Student Policy and Practice
Y-PLAN Elementary students brought their creativity to hybrid learning – Navigating and adapting to online and then hybrid learning is not easy, and yet our San Francisco and San Rafael students handled it with humor and creativity!
Civic partner participation doubled during 2021-2022 – Reflective of the power of virtual platforms for expanding opportunity
Local Youth Voice Impacts Statewide Equity Policy at CDE and SGC – Working in partnership with the California Department of Education Office of Equity, Y-PLAN was recognized as a statewide model for youth voice, equity, and engagement. Three Y-PLAN students were invited to serve as keynote speakers at the 1st CDE Equity Summit in July 2021
We have some great content lined up to share with you this spring – stay tuned and watch this blog space!